More than one third of English colleges are currently rated less than 'good' by Ofsted, whose boss has refused to rule out funding as a root cause.
In its annual report next month, the inspectorate is expected to show that the overall ratings at general further education colleges have plummeted for the third year running, and that just 69 per cent of colleges were rated 'good' or 'outstanding' in 2017.
The findings back up Amanda Spielman's recent comments to the education select committee, when she admitted that colleges "have the biggest funding challenge" and said Ofsted had seen "disappointing outcomes" in FE.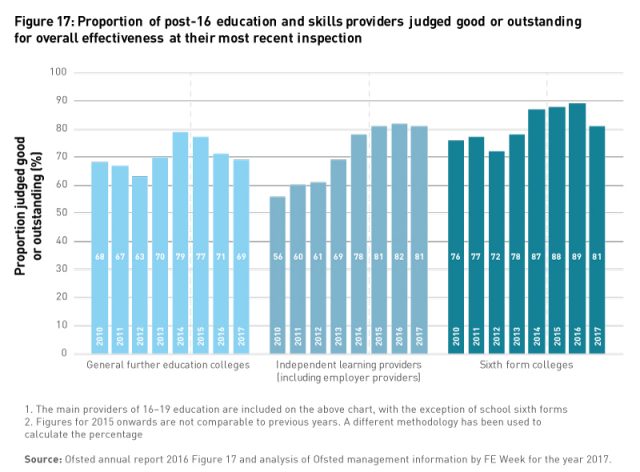 "We have seen a deterioration at a time when school outcomes have been stable or increasing slightly, but it is a correlation," she said. "I cannot definitively conclude that it is a causative effect."
She added that colleges are dealing with "an enormous amount of work" and "a big challenge" as they face "reforms in practically all areas."
Ofsted's annual report is due next month, and is likely to address this decline in standards.
Last year's report warned that "many general FE colleges face a period of continuing turmoil".
The Association of Colleges' chief executive, David Hughes, wants more funding for colleges in this month's budget and said a "rise in rates to reflect the true costs of delivering high quality further education" is needed. 
"It is clear that the annual real-term cuts in income for colleges, combined with challenges created by constant reform, mean it's often difficult for colleges to make necessary and sustained improvements," he added.
Although he accepted there had been "a number of disappointing inspection judgements", he warned that Ofsted's statistics are based on a "risk-based approach" of returning to the same colleges.
FE Week's own analysis shows that sixth-form colleges and independent learning providers were rated 'good' or 'outstanding' 81 per cent of the time, a massive 12 percentage points ahead of colleges.
The ratings slump continues an annual trend which has seen the number of high-achieving colleges fall by 10 per cent in just three years, after a high of 79 per cent in 2014.
Over the last academic year, 18 colleges that were previously grade one or two declined to grade three or four, including Blackburn College and Bury College, which both slumped from 'outstanding' to 'requires improvement', and Hereward College of FE which fell from 'good' to 'inadequate'.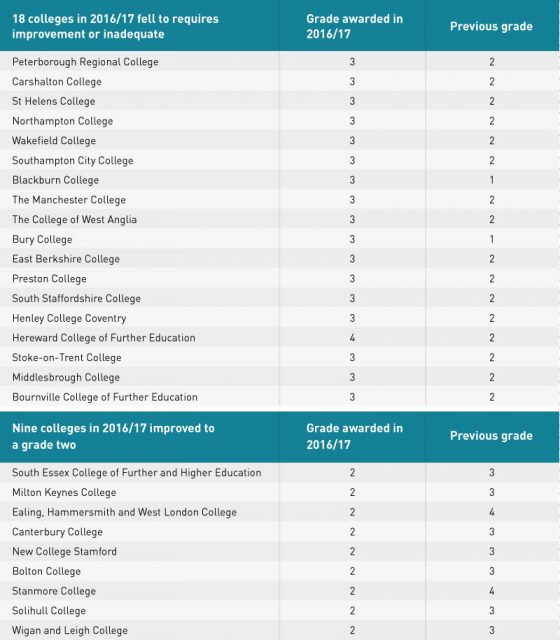 Just nine colleges improved to a grade two, including Stanmore College and Ealing, Hammersmith and West London College, which both climbed up from a grade four rating.
A spokesperson for the DfE said there are "many high-performing, innovative colleges across the country" but acknowledged that "there is more to be done to ensure we have the same standard across the board".
"We have taken steps to champion high quality further education and put in place new funding and support to target weaker colleges and help them improve," she said.
This includes the National Leaders of FE programme, launched last month as part of a package of support unveiled over the summer, which also includes a £15 million college improvement fund, as well as an expanded role for the FE commissioner and more support for FE teachers over the next year.
 Ofsted did not comment.