Top civil servants have inadvertently exposed a rift at the top of the Department for Education over the future of college independence, ahead of a delayed FE white paper.
In a Public Accounts Committee meeting on Thursday the Education and Skills Funding Agency director, Matthew Atkinson, told MPs he would "definitely like more power" to intervene in the running of colleges.
He had already told the influential committee the Hadlow College and West Kent and Ashford College insolvencies would probably cost the taxpayer over £60 million – and £6 million had already gone towards paying administrators their hourly fees.
Meanwhile 64 colleges are at risk of running out of cash, said Atkinson, who also revealed the government would spend around £70 million on emergency funding for colleges this year, "more than we thought" would be needed.
However, he was quickly forced to backtrack on his call for more powers after his more senior fellow panellist Susan Acland-Hood, permanent secretary of the Department for Education, disagreed with him.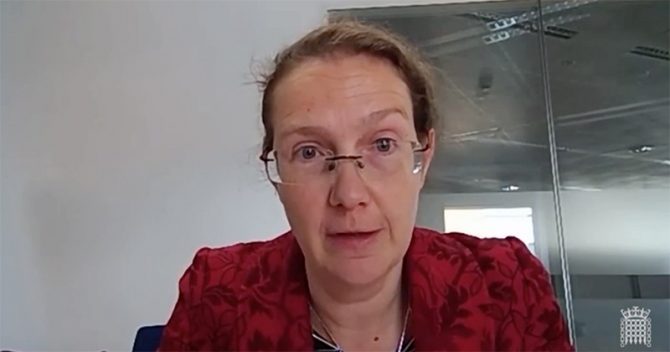 Quipping that she "appreciated Matt's desire for ultimate power", Acland-Hood urged caution in "increasing DfE powers to intervene and act, as opposed to trying to support good-quality college capacity, and build it up".
"I'm not sure I would frame it in terms of the independence of the sector being a barrier to its health and sustainability.
"I think it's really important, given the amount of public money going in, where there are real difficulties and failures, we can both support and intervene."
She said the "most powerful thing" the government had done was supporting "really good" college leaders to take on and bring forward improvements in colleges. 
"My starting point wouldn't be that we should focus on continually adding powers as the solution to all of these challenges."
Atkinson then attempted to downplay his own comments as "slightly flippant," saying: "It is not actually necessary to have more powers. 
"It is helpful to have the insolvency regime as an absolute fall back because it tends to make people behave a bit better."
Yet their exchange has inadvertently lifted the lid on a tug of war going on between the department and its agency about whether colleges should be stripped of some of their independence. 
Speaking to FE Week after the hearing, committee member Sir Geoffrey Clifton-Brown, the Conservative MP for The Cotswolds, said it was a revealing exchange as: "It exposed the fact the government obviously don't think the system is working properly.
"I mean, he wouldn't have said that unless he felt he needed more powers." 
FE Week was first to report in May that the DfE was working on a plan to bring colleges back under public ownership, as part of the FE white paper.
The third civil servant giving evidence to the PAC was the chief executive of the ESFA, Eileen Milner, who under repeated questioning appeared to confirm a likely delay to the publication of the white paper, which she now hoped would be published before April 2021.
The FE Commissioner's annual report for 2018-19, released last February, detailed how the number of colleges entering formal intervention had risen by two-thirds on the previous year, mostly as a result of leaders' and governors' "weak decision-making".
Two influential reports from former local government boss Dame Mary Ney and the National Audit Office censured the government for how it intervened with struggling colleges.
Ney's report, commissioned by the DfE, and released in July, said a "lack of a sector-wide strategy" and cuts to the ESFA's staffing and resources had created a relationship between government and colleges that is "largely contractual" and "focused on financial failure, which inhibits colleges being transparent with government".
She recommended ESFA staff become "active participants in nurturing college development" and called for a "long-term consideration" of a "new regulatory regime".
The NAO report from September, which revealed the government was intervening in 48 per cent of colleges as of last February, recommended an evaluation and improvement of the effectiveness of the DfE's intervention regime.
The FE sector has attempted to pre-empt a grab by the government on its independence, with the Association of Colleges-backed Independent Commission on the College of the Future proposing earlier this month that colleges ought to create their own networks which would have powers over the funding and accountability of individual colleges. 
The association's chief executive, David Hughes, said colleges were keen on the proposal and the commission had reached "a consensus with employers, government, students and colleges about the system needed to get the most out of colleges over the coming years".