Dusty. Sleepy. Antiquated. Three words used regularly to describe a) how I feel on a Monday morning and b) the House of Lords.
But Tuesday night's Skills Bill debate was quite the opposite. The noble lords and ladies found their voices, blood pressures were raised and papers were emotionally waved about.
Quite right too. There's important stuff in the Skills Bill.
Early on in the debate, their lordships debated how far the government should go in dictating the contents of local skills improvement plans. It was Labour's Lord Andrew Adonis who critiqued "generations of [local skills] plans" that have seemingly not made enough of an impression to become permanent fixtures. "Consultants are salivating," he mocked – but only half-jokingly.
"The people who will actually do these skills improvement plans are not all the big employers… they will be consultants."
But it was the matter of the government's level 3 reforms that really ignited passions on government and opposition red benches alike.
T Levels an attack on individual choice, say Lords
For Conservatives like education veteran Lord Ken Baker and former universities minister Lord David Willetts, the government's plans to withdraw qualifications that rival T Levels was seen as an attack on traditional Tory values of individual choice and, in Willetts' words, "trusting the judgment of the people".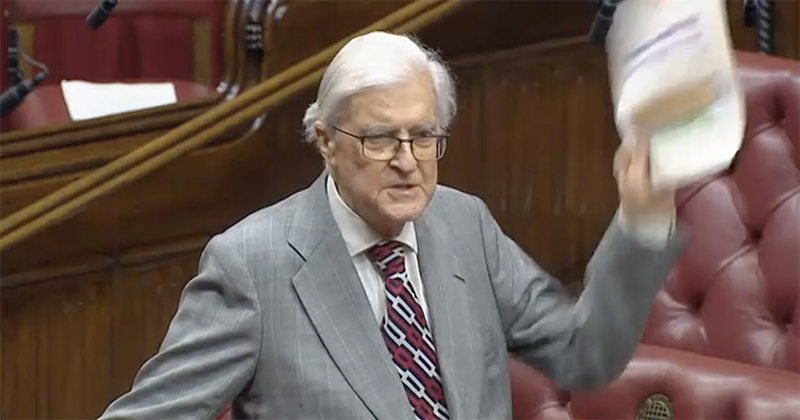 Baker was characteristically less subtle.
Waving around a copy the DfE's equalities impact assessment on the level 3 reform, he emotionally quoted how BAME students and students with learning difficulties would be "more strongly negatively impacted by being unable to achieve level 3 in the reformed landscape.
"Scrap the blasted landscape!" he cried.
Skills Bill amendments must get past MPs
Sparky rhetoric aside, the Lords executed its function as the revising chamber impeccably on Tuesday. The Skills Bill is arguably better now; with new requirements on LSIPs to engage with local and combined authorities and have a focus on green industries – thanks to the group Peers for the Planet.
The bill now also includes a four-year moratorium on defunding technical qualifications so that T Levels can prove themselves.
The Lords reconvene on Monday to complete their "report stage debate", with 39 remaining amendments to debate, including on careers guidance in schools, the lifelong learning guarantee and abolishing the equivalent or lower qualifications funding rule.
Readers must be mindful though, as FE Week reported last week, that government defeats are easier to achieve in the Lords than in the Commons.
Without an equally direct and, crucially, cross-party campaign in the Commons later this year, it is entirely possible that Zahawi can do as Williamson did, and ignore everyone, including 86 per cent of DfE's own consultation respondents, telling him he's making a BTEC blunder.