UPDATE: An hour after publishing this article the ESFA sent out electronic letters confirming the additional AEB funding (click here for details)
————————————————————————————————————
The ESFA has begun telling private providers that they will receive a resolution to the adult education budget tendering chaos later this afternoon, FE Week can reveal.
This announcement is unlikely to be made public today, and will instead be shared with relevant parties via the DfE's sourcing team eTendering portal.
The AEB procurement has been a particularly hot potato ever since providers were informed of its outcome on August 4, when many lost out unexpectedly on huge sums.
Some providers who won contracts have had their funding cut dramatically compared to previous years, but the government appeared to give special treatment to protect various Learndirect Ltd contracts across Whitehall, including the Life in the UK Test it administers for the Home Office.
The nation's biggest FE provider was awarded a grade four from Ofsted – something that usually prompts the ESFA to apply an "early termination of funding agreement."
However, as first reported by FE Week and subsequently confirmed by the skills minister Anne Milton, Learndirect Ltd was instead handed funding allocations from August 2017 to July 2018 worth £45 million after it benefited from a tender rule change at the eleventh hour.
Learndirect Ltd had applied for funds during the procurement and prior to the Ofsted inspection, but the DfE confirmed it later withdrew its bid.
The DfE repeatedly declined to comment on when Learndirect Ltd withdrew its tender, along with failing to explain why the tender rules were changed for those that did not bid.
The rule change was to the maximum 2017/18 contract value, which went from £589,148 (see image) to being 75 per cent of the allocation for 2016/17.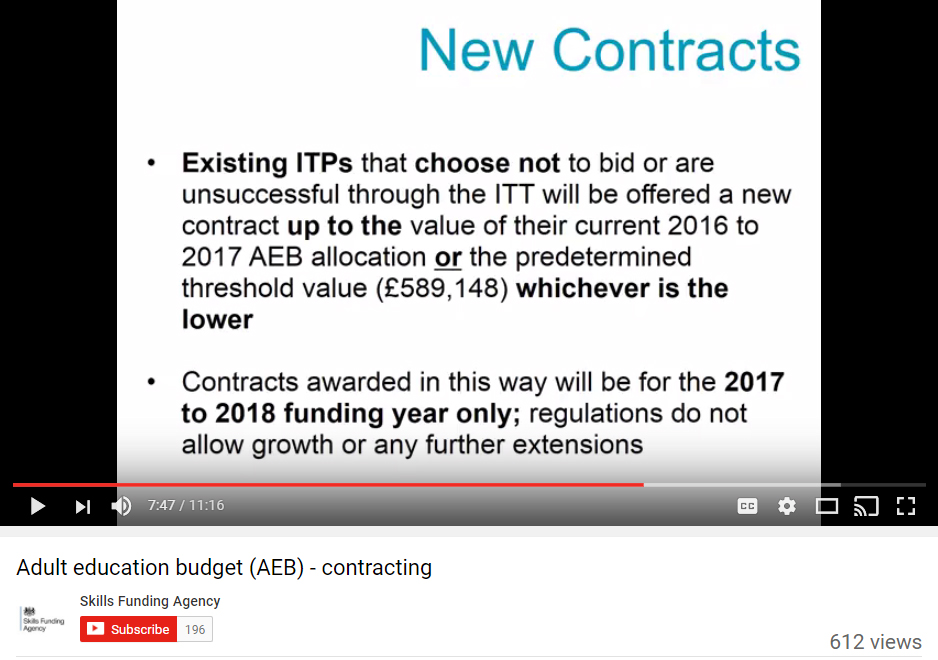 Good news perhaps for those that did not bid or withdrew, but many providers, such as Somerset Skills & Learning, who did apply were handed dramatic cuts. In this case, located in an area of low priority, SSL's funding fell from £3.4 million to just over £111,000.
In fact, had it chosen not to bid, it would have been awarded over £2 million, based on 75 per cent of the previous year's contract.
The Financial Times characterised this as "a topsy-turvy world where losers end up winners, and where 'winners' end up on the brink of insolvency".
FE Week understands that following a challenge from affected providers, the ESFA has been seeking legal advice under the cover of Regulation 72 within the Public Contracts Regulation 2015. This states that under certain conditions "contracts and framework agreements may be modified without a new procurement procedure".
However, with political pressure from Conservative MPs mounting over the case of Somerset Skills & Learning, a U-turn of some sort is inevitable.
The ESFA could award additional funding through in-year growth bids, but alone this is unlikely to be sufficient as the process will take too long for some providers already on the verge of issuing redundancy notices.
And given the news that more than £200 million of the AEB has been underspent in 2016/17 , the most likely scenario is that additional funding has been found for successful bidders like Somerset Skills & Learning.
FE Week understands that the SSL issue in particular needed resolving ahead of the Conservative Party conference next week, and everyone will benefit to avoid any legal challenges over potential claims of special treatment.