The apprenticeships giant First4Skills went bust in March after its skills funding was pulled due to an 'inadequate' Ofsted rating. Around 200 staff lost their jobs, while around 3,700 learners were affected, and 14 subcontractors found themselves without a prime. Jude Burke looks into what has happened since.
Six months after First4Skills' collapse, 97 per cent of its erstwhile learners have been found new training providers.
But the future is less rosy for more than 50 learners being trained through one of its 14 former subcontractors, Lionheart in the Community, after its contract was moved to another provider that has since gone bust in shady circumstances: Talent Training.
Talent was disgraced in June after an FE Week exposé found it offering banned inducement payments to an employer.
Its skills funding was pulled and it went into administration in early September.
London-based LITC has now complained of being left "in limbo", and having to endure a "nightmare situation" of not being paid since January [see below].
A Department for Education spokesperson said only one subcontract had been transferred to Talent, and claimed that the number of learners who had been on First4Skills' books in Liverpool when it went bust was much lower than had been reported, at just 3,700.
Of those, "3,550 apprentices were moved over to other providers", they said.
The remainder didn't transfer for a variety of reasons, including some who didn't want to continue with their studies.
"When providers are issued with a closure notice, we make sure to work with the provider and employers to put safeguards in place and ensure no apprentices lose out as a result of the contract ending," he added.
It is not clear how long it took for the apprentices identified by DfE to be switched.
A former First4Skills employee claims apprentices were still waiting to be transferred up to three months after the provider folded, although FE Week has been unable to verify this [see below].
It's also not clear if the number of learners transferred included adult learners as well as apprentices.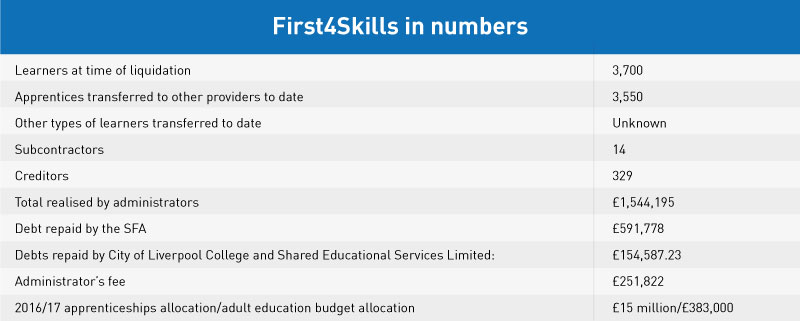 The provider had a 2016/17 apprenticeships allocation of £15 million, and an adult education budget allocation of £383,000.
The administrator brought in to wind it down revealed in April that the firm had £705,150 in the bank at the time of its demise.
A final contract payment of £670,000 had been due from the SFA by the end of March, but hadn't been paid by April.
The delay was attributed to the SFA's review of apprenticeship grants to employers paid by First4Skills.
But when FE Week asked the agency about this delay in August, we were told that "the ESFA considers this matter resolved"; this is corroborated by the administrator's second report in July, which shows a payment from the agency of £591,778.
An intercompany debt of £81,167 also appeared in the April report, owed to the firm by its majority shareholder, City of Liverpool College, along with £412 owed by Shared Educational Services Limited, a subsidiary of the college.
However, by July, "further investigation of the transactions" between First4Skills and SESL meant the arrears had ballooned to £74,354.
FE Week asked City of Liverpool why this debt had grown so much, but it declined to comment.
In total, the amount realised by the administrators – including cash in the bank, money owed by the SFA, intercompany debt and other asset realisations – stood at £1,544,195.
But related costs amounted to £390,594 – including a cool £251,822 in administrator's fees.
A spokesperson for the administrator, RSM Restructuring Advisory, said its remuneration was drawn from "asset realisation in accordance with approval obtained from creditors".
She claimed the firm was working to "agree creditors' claims", but that none had yet been paid.
First4Skills' creditors – of which there are 329, according to the April report – will "receive dividends" although the amounts still have to be confirmed, she added.
The April report estimated that £155,644 was owed to preferential creditors, relating to "employees' arrears of wages and holiday pay", and indicated they would be paid everything owed.
The former First4Skills employee, who did not want to be named, told FE Week that he and others had been paid statutory wage and redundancy claims.
FE Week contacted all 14 subcontractors, which were owed a combined total of £558,983 in April, to find out how they'd been affected by the collapse.
Of those willing to comment, all bar one said they were still waiting to hear how much money – if any – they would get back.
However, one told FE Week that – contrary to what the administrators told us – they had been paid.
A spokesperson for the Challenge Network, which held a subcontract worth £1,239,057, said it had "worked closely with the administrator to claim funds owed to us".
The majority of subcontractors that spoke to FE Week told us they'd been able to transfer all their learners to new primes, with no break in their studies.
____________________________________________________________
"Nightmare" when Talent Training collapsed
Lionheart in the Community, based in London, delivers apprenticeships in business administration, customer service, health and social care, children and young people's workforce, hospitality and retail, and had a subcontract value of £190,440.
A "nightmare" situation got worse after still it transferred its subcontract to the now-disgraced Talent Training.
Like many people in the sector, Alice Piller-Roner, its head of work-based learning, first heard about First4Skills' collapse when FE Week broke the news that Friday.
But it was the following week before she received any official notification from the Skills Funding Agency, even though LITC had been subcontracted for First4Skills for two and a half years.
"That's when the whole drama started," Ms Piller-Roner said, as they were given just 48 hours to find an alternative prime for the 98 apprentices on programme at the time.
"The whole issue started on the Friday, and they gave us until Thursday on the following week – but we did it," she said.
However, the contact name and number LITC had been given at the SFA suddenly became unavailable – "as in the phone number was no longer valid as of the following Monday" – so she had no idea if their proposal had been accepted.
After a period of calling and emailing the agency, LITC was able to get "initial approval" in April for a new prime – Talent – to take on board its learners.
But, she said, an official phone call to Talent to confirm the arrangement "never arrived".
In the meantime, one of LITC's employers got in touch with the SFA directly and was told "it had all been sorted and that now our centre was delivering under the umbrella of Talent".
"That completely destroyed our relationship with employers. It makes us look like idiots," she said.
It took intervention from the Association of Employment and Learning Providers, and LITC's own contacts at the SFA via its loans contracts, before it finally got confirmation that it could transfer its learners to Talent in July.
But now LITC is "back in limbo" because Talent went into administration itself earlier this month.
While all of this has been going on, LITC hasn't received any funding – in fact, Ms Piller-Roner said the last payment it received was in January.
The situation was "extremely difficult for the business", and management were "only getting paid half our salaries".
"We didn't feel like we could or should abandon our learners because of our mission as an organisation," she said.
While LITC's apprenticeships delivery has taken a hit, Ms Piller-Roner said that, despite everything, she remained confident that "we will definitely manage to get through this".
____________________________________________________________
Smooth apprentice transfer to JGW Training
JGW Training, based in Derbyshire, delivers primarily digital marketing and management training with some business administration, with a subcontract value of £950,157.
Less than 24 hours after FE Week broke the news of First4Skills' demise, Chris Ash, JGW's director, was already in communication with the SFA.
"I was having email communication with them over the weekend, which they were responding to instantly," he said.
In fact, Mr Ash had nothing but praise for the support he received from the SFA "right from provider-manager upwards", all focused on "trying to get things resolved as quickly as possible".
JGW Training had around 200 apprentices on programme funded through First4Skills at the time it collapsed.
He was able to transfer around half of those learners to its own direct contract, but had to find a new provider for the other half.
With the help of the SFA, Mr Ash was able to organise a new prime for the remaining apprentices "within a week" – although the process of transferring the contract took longer.
But "not one learner suffered as a result of the process", Mr Ash insisted.
"Every single one of our learners that was funded through First4SKills continued to be supported in exactly the same way as they had been before the administration process," he said.
The First4Skills subcontract had been worth around "50 per cent of our monthly income", so its loss did have an impact.
The four months when they "had a gap in revenue" were "painful", Mr Ash said – although they didn't have to make any redundancies as they were "able to essentially plug the gap financially ourselves".
Perhaps surprisingly, he described the First4Skills fallout as a "positive experience" – due to the outpouring of support he received.
"That was brilliant," he said. "Because when you know you've got that level of support from your own employers and learners – it's fantastic."
____________________________________________________________
Three-month wait for learners
Many of First4Skills' learners may have gone as long as three months without being trained, a former member of staff has informed FE Week.
The ex-employee, who asked not to be named, said "there were some I know that weren't trained for about three months" after First4Skills went bust in March.
The company's demise had come as a "shock" even to those who worked there, they said.
Staff were told of the company's fate on the Friday via letter, after being sent home from work earlier in the week, he said.
They and other staff members had received wages and redundancy payments they were owed – but were told they wouldn't be getting any unpaid expenses.
"I was owed something like £500, and got nothing," he said.
The whole situation had left them feeling "very disappointed, very bitter, and shocked".