With colleges across the country pressured into mega-mergers and the government dishing out special treatment to the ailing FE goliath Learndirect, FE Week editor Nick Linford asks Ofsted's chief inspector Amanda Spielman about whether a provider can ever be too big to fail.
The trend towards huge merged colleges is creating a whole new set of problems for those who have to oversee them.
Key among them is whether such giants, the constituent parts of which are often miles apart and offer a massive variety of provision, should be considered too big to fail, like banks during the financial crisis.
Would the knock-on effects for learners, employees, and subcontractors be too damaging to allow failure?
Ofsted's boss does not think so; she believes the market needs to be reformed to allow the rest of the sector to "absorb" the aftershocks of a big failure.
"For a properly functioning market that provides security, you need to make sure that there's capacity to absorb the failure of any one provider," said Amanda Spielman. "It's about making sure that you've got capacity to absorb failure."
Mergers of two, three, four and five colleges would not become a problem for Ofsted, she says, if they are treated like multinational corporations.
"For the very big entities, there's an analogy with audits in other sectors," she says. "Multinationals are huge companies which get audited, and at the end of the day you look at the main operating units.
"They're all audited individually, and consolidation is the kind of model that will have to be thought about with some of these very large emerging groups."
When asked about funding for Ofsted, to cope with added inspection responsibilities, she concedes that the inspectorate is doing a lot more with a lot less.
"The spending review settlement means I think we have about 30 per cent less resource than we had in 2010," she admits. "We've had to develop different models, different ways of risk assessing and looking forward."
She adds that inspection "isn't just a thing", but has a purpose.
You therefore have to design systems "according to what purpose you're expecting inspection to serve, what kind of risks it's helping to manage", she says.
But the systems aren't fit for purpose right now, especially when applied for example to mega-colleges, right?
"They're evolving," she replies. "I believe they are fit for purpose."
"The topic of campus inspection has already been floated," she adds, discussing an idea that came up six months ago with Ofsted's deputy director for FE and skills, Paul Joyce.
He said plans for "campus level" inspections, which would involve different reports for separate local college campuses that exist within a large merger, were under "active" consideration with the Department for Education.
Back in March, Ms Spielman herself discussed the evolving challenges with inspecting increasingly large college groups. So how can the inspectorate possibly be expected to give them an overall judgement?
"The most useful way of reporting on a large, diversified, multi-site college is not necessarily the same as a smaller one," she admits.
---
Merged goliaths spreading across the capital city
In a damning opinion piece, education expert Professor Frank Coffield has claimed in no uncertain terms that Ofsted's inspection methods for large, merged colleges are "unjust". But how many of these mega-mergers are there? FE Week takes a look at the capital, where the super-size trend has taken hold with a vengeance.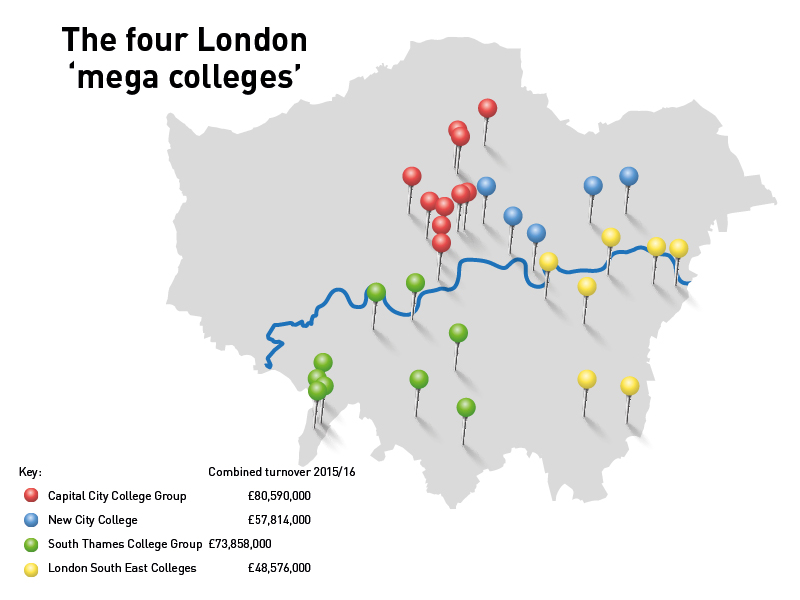 Even before the London area reviews ended last November, the capital's colleges had already begun to consolidate, and the process is only getting faster now the reviews are over.
The biggest is the Capital City College Group, formed in August 2016 when City and Islington College merged with Westminster Kingsway College.
City and Islington College earned £44 million in 2015/16, according to Education and Skills Funding Agency accounts, while Westminster Kingsway brought in £36.5 million – giving the new 27,000-learner group a combined income of £80.5 million.
If plans for the College of Haringey, Enfield and North East London to join it go ahead in November, the new entity would enjoy a further £29.9 million added to its bottom line, based on 2015/16 figures – for a very healthy total of £110.4 million.
Another central London mega-college formed at the same time, this time when Hackney Community College joined Tower Hamlets College, creating New City College.
It welcomed a third member, Redbridge College, in April, adding a further 3,000 learners and bringing the total to around 15,000.
A fourth college, Waltham Forest, has begun working collaboratively with the group, although it has no plans at this stage to formally join.
Hackney's 2015/16 income stood at £24.6 million, with Tower Hamlets bringing in £19.1 million and Redbridge £14 million – giving the group a combined turnover of £57.8 million.
Carshalton College, Kingston College and South Thames College meanwhile merged this August, forming South Thames Colleges Group, which has 22,500 learners.
Based on 2015/16 figures, the new group has a combined turnover of £73.9 million: £33.9 million from South Thames, £27.3 million from Kingston, and £12.6 million from Carshalton.
The smallest of the capital's mega-mergers is made up of three colleges from south of the river, Bromley, Bexley and Greenwich, which merged in August 2016 to form London South East Colleges.
The group may only have a mere 13,000 learners, but it still brought in nearly £50 million in 2015/16.
Another giant college is on the horizon, at least if controversial plans for Ealing, Hammersmith and West London College, which has a £42.9 million turnover, to merge with £9.2 million Kensington and Chelsea College go ahead.