The government is expected to announce which regulator will inspect the quality of learning for level 6 and 7 apprenticeships without a prescribed HE qualification, such as a degree, in the coming days.
FE Week was first to expose the lack of oversight for thousands of these apprenticeships in November, which are currently not the responsibility of Ofsted, whose remit only extends to level 5, or the Office for Students if the provider offering them is not on its HE register.
Ofsted chief inspector Amanda Spielman expressed her deep concern at the issue during an interview with FE Week in March: "There are places that go completely unscrutinised because they don't come within OfS arrangements and they don't come within our space," she said.
Asked at the time if she would like Ofsted to inspect the unregulated level 6 and 7 provision, she added: "I very much hope people will see the logic in us doing it."
After months of deliberation between the two regulators and the Department for Education, a decision is understood to have finally been reached and it'll be announced imminently.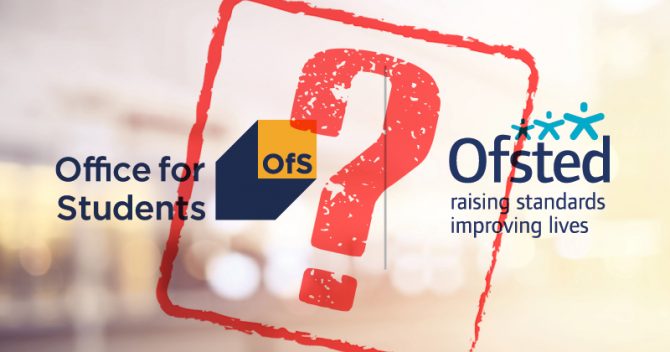 It comes as arguments continue over the affordability of higher level apprenticeships, which appear to be putting a huge strain on the programme's budget.
In December, the Institute for Apprenticeships and Technical Education estimated that the budget for England could be overspent by £0.5 billion this year, rising to £1.5 billion during 2021-22.
The National Audit Office then suggested the government should think about reducing the level of public funding for certain types of apprenticeships after finding levy-payers are "developing and choosing more expensive standards at higher levels than was expected", and warning there is "clear risk" that the programme is not financially sustainable.
Following this, the Association of Employment and Learning Providers called for all level 6 and 7 apprenticeships, including those with integrated degrees, to be removed from the scope of levy funding. This was unsurprisingly met with strong opposition from organisations such as the University Vocational Awards Council.
A week later the DfE's permanent secretary Jonathan Slater admitted during a Public Accounts Committee hearing that "hard choices" would need to be made if the treasury cannot find extra funding for the programme in the upcoming spending review.
And last week, FE Week revealed that plans for PhD-level apprenticeships have been thrown into doubt after the IfATE raised concerns they were not in the "spirit" of the programme.