A total of £5.2 million was shared among 19 general FE colleges during the recent adult education budget procurement, sparking complaints that the money did not go to independent training providers.
ITPs were told a year ago that their AEB contracts would come to an end this July, rather than being automatically renewed as before, and they were forced to take part in a procurement process for a pot worth
around £110 million.
Colleges did not have to take part in the bidding war, which at first resulted in major funding cuts for many ITPs compared with previous years.
The ESFA later found extra cash, and many providers learned in September if their allocations had been increased for November to July.
The figures for the full AEB procurement have now been revealed, and colleges have received an unexpectedly large sum.
"If colleges were allowed to tender for the £110 million AEB pot that was previously allocated to ITPs in addition to their allocations, then the whole budget should have been put out to tender," said AELP boss Mark Dawe.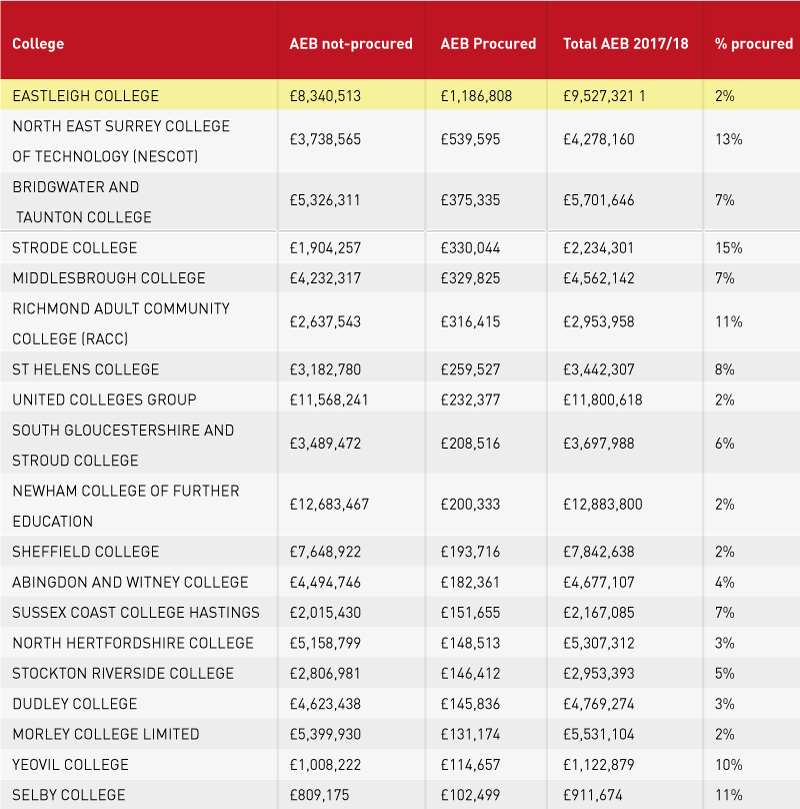 Eastleigh College received the highest sum at £1.18 million, on top of £8.34 million it gets in non-procured AEB funding.
"We have a high demand of AEB funding. Our provision is in priority areas, so we bid and were awarded it," said its principal Jan Edrich.
Middlesbrough College was awarded £329,825, on top of £4.23 million AEB that it didn't need to bid for.
"After discussions around employer and adult demand, we took up the opportunity to bid for additional funds to support the retraining needs of our regional economy. We were pleased with the outcome," said its
principal Zoe Lewis.
A spokesperson for the college added that "colleges were encouraged to participate" in the bidding process, so ITPs may wish to take up any complaint "directly" with the government.
Bridgwater and Taunton College was allocated £375,335 through the procurement, and £5.32 million otherwise.
A spokesperson said this was "to support the skills training needs of the nuclear new build at Hinkley Point C".
"Our bid was made with the full support of local colleges and independent training providers, the majority of whom are members of the Hinkley Point Training Agency and will work with us to deliver the vast number of skills interventions required," he added.
Neither North East Surrey College of Technology nor Strode College, the other two biggest recipients, were available for comment.
FE Week revealed in September that providers had failed to spend a giant chunk of the AEB over the past academic year.
A staggering £200 million remained unspent, which caused an outcry at many ITPs, which are exasperated now the extent to which colleges dipped into the procurement funding pot is clear.
"The invitation to tender for the adult education budget is open to all eligible organisations, which does include colleges," a Department for Education spokesperson said.
"As is normal, the procurement was done in accordance with procurement regulations for the public sector."