There were many winners to emerge from the AEB procurement, including two new prime providers which each received more than £1 million.
Top of the list of first-time primes is London-based Free to Learn, which has £2 million for November to July next year.
Its chief commercial officer was bullish about the company's ability to deliver as a lead contractor.
"Free to Learn is a pioneering organisation that's focused on providing high quality and worthwhile, vocational training to individuals throughout the country in order to make a difference and change people's lives," said Andrew Hibbitt.
"Although we have not held a direct contract for AEB previously, we have vast experience and a proven track record in delivering in excess of £10 million per annum as a subcontractor and are an organisation that is learner centred and passionate about quality."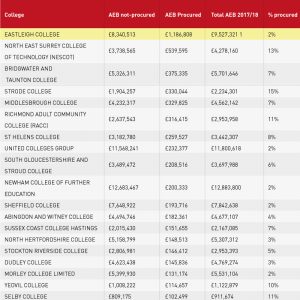 The firm was listed over the summer by the Education and Skills Funding Agency as subcontracting with 12 primes, including Barnet and Southgate College, Eastleigh College, and the FA Premier League, for contracts worth more than £8 million in total.
The company only has one director, listed on Companies House as Gabiele Gherscovic.
Jason Holt, the author of a 2012 government-commissioned review into apprenticeships for smaller employers, was briefly a director last year after the current owners bought out a firm he owned.
"Free to Learn purchased Holts Academy in 2016 and rebranded to the British Academy of Jewellery (hence the departure of Jason Holt) to support an industry in need of the next generation of jewellers," he explained.
The provider plans to use its allocation to deliver "high-quality training in key targeted areas, to support the local enterprise partnership priorities through training the unemployed and supporting them into work", and "traineeships in targeted areas, with strong successful outcomes and a key focus on progression into apprenticeships".
The second most remunerated of the first-time primes is Hertfordshire-based Best Practice Training & Development, which has been allocated £1.16 million.
Company director David Allenstein told FE Week that the provider had 20 years experience "of successful training delivery".
"We have worked as a subcontractor for several private providers and colleges since 2004, successfully delivering apprenticeships for numerous organisations – mostly in business skills, for example customer service, business administration, management, learning and development, etc.
"We have delivered classroom training, funded through the adult education budget since 2012, as a subcontractor, working on behalf of several private providers, local authorities and colleges."
It is listed by the ESFA as a subcontractor for 12 primes as of May this year, including NCG, New College Swindon, Cambridge Regional College, and Buckinghamshire County Council.
The combined value of these contracts is just under £900,000.
"We have a core team of nine permanent staff and 15 freelance tutors who will be delivering this contract," said Mr Allenstein. "We are not intending to subcontract any aspect of the delivery of this contract.
"We pride ourselves on delivering high-quality programmes that meet and surpass expectations in every respect, developing skills, positive attitudes and behaviours, meeting stakeholder and learner needs."