Colleges are taking on trainee teachers from universities, expanding class sizes and hiring additional invigilators to manage an influx of GCSE resit students this year, which are set to dent their finances.
But other areas of recruitment, such as higher education and adult courses, have taken a hit.
FE Week looks at the latest data on college enrolment, after 95 – nearly half of all FE colleges in England – responded to a survey run by the Association of Colleges (AoC).
English and maths resit boom costs colleges £24m
FE Week reported in August that there would be around 60,000 more students needing to retake English and/or maths compared to last year, after they failed to achieve a grade 4 or above.
The AoC estimates this flood of resitters will cost the sector around £24 million, including £21 million for additional teaching time and an additional £3 million in exam registration fees.
Colleges speaking to FE Week cited instances of 50 per cent increases in the number of resit students, but with little in the way of financial support to meet those demands.
Newcastle and Stafford Colleges Group is expecting to spend north of £500,000 this year due to an extra 770 resitters – to be spent on hiring five extra teachers, holding extra online tuition, exam registration fees and more invigilators for the November and May resits.
For Craig Hodgson, principal of NSCG, teacher recruitment poses the biggest challenge.
"Everything is a challenge, but the recruitment and retention of good English and maths staff is the biggest," he said.
To cope with that, NSCG partnered with Keele University so that trainee teachers from the university could work part time at the college. They will not be running their own courses, but will work alongside teachers in larger classes.
At City College Norwich, which has an extra 1,000 resitters, class sizes have risen from around 16 to 28, while they are expecting to fork out £100,000 on extra exam entry fees alone. The college also expects up to half of its exam entrants to have special educational needs.
That means more of them will be spread across different rooms, and that more staff will be needed to invigilate all the exams and to assess the students for their exam needs.
16-18s on the rise
Most colleges saw an increase in 16- to- 18-year-old enrolments, compared to 2022/23.
But while there was a similar trend last year, the level of growth was much greater in 2023/24, with 38 per cent of leaders who responded to the survey saying their college had seen a growth of 10 per cent or more. Last year, just seven per cent reported the same.
In total, 85 per cent of colleges said they recruited more than they had targeted for, compared to 58 per cent in 2022/23.
The proportion of colleges which took fewer 16 to 18 enrolments than they had targeted did drop as a result, at six per cent in 2023/24. Last year, 24 per cent recruited fewer 16-18 learners than they had targeted.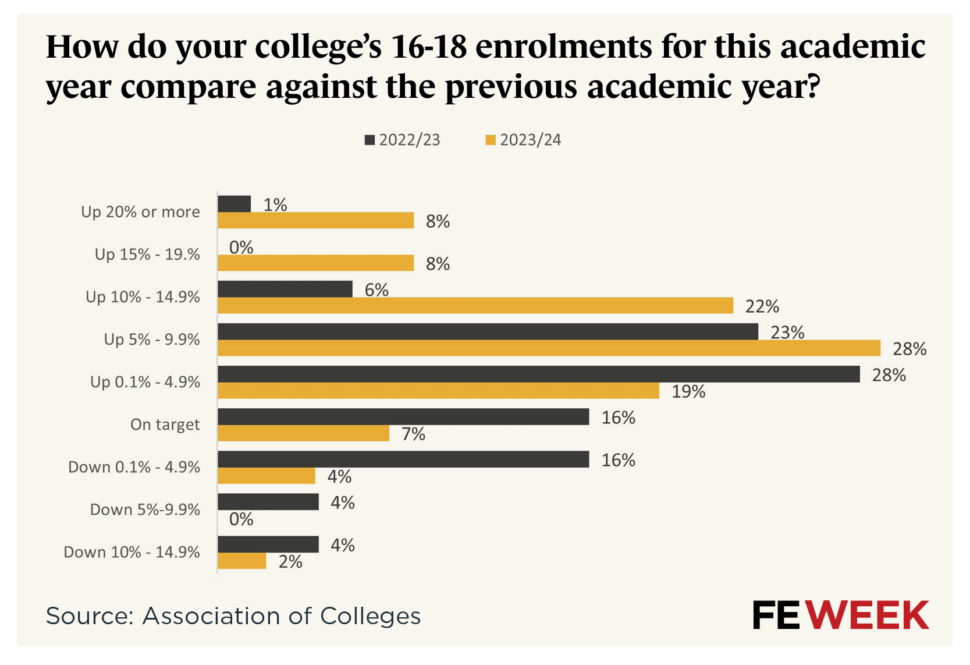 ESOL recruitment booms, waiting lists creep up
Colleges have also been coping with an uptick in ESOL learners, or English for Speakers of Other Languages.
Nearly half of all the colleges recruited more than their target, with 18 per cent of that amount taking on a fifth more than they had planned.
The AoC said "by far the biggest reason" for the increase was an increase in demand due to "displacement, refugee status, and asylum seeking".
Many colleges also increased their waiting lists after they realised they could not meet the high demand.
The number of adult Ukrainians enrolling for ESOL courses also stayed high, after the Russian invasion of Ukraine last year. More than a fifth recruited between 51 and 200 Ukrainians this year, up from four per cent last year.
Around four in ten colleges took on up to 50 Ukrainians for ESOL courses, which was similar to last year. But the data also shows a quarter of colleges did not take on any Ukrainians, up from 16 per cent last year.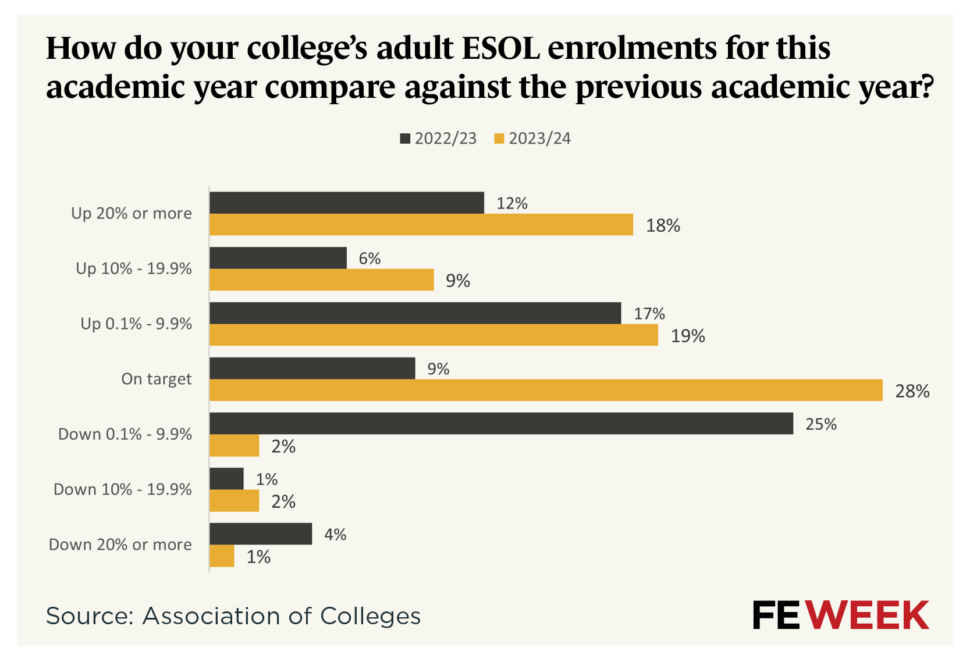 HE numbers slip
Fewer colleges are meeting their targets when it comes to higher education enrolments. The survey data shows that just 31 per cent successfully met their targets in 2023/34, in comparison to 42 per cent the year before.
Nearly a fifth missed their targets by between 10 and 19.9 per cent.
Those who are managing to grow their higher education enrolments also remain few and far between. Just nine per cent grew their enrolment numbers compared to 2022/23 – the same proportion as last year.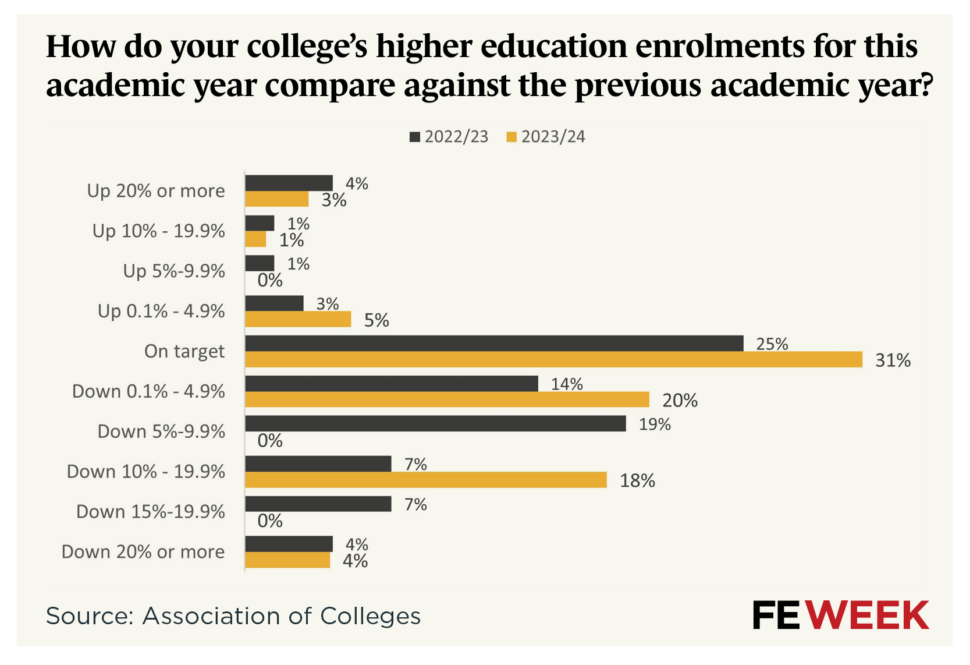 Adult education numbers improve, but continue to miss the mark
Two in five colleges recruited their target number of adult learners this year – more than the third that did so in 2022/23. Over a third had more adults enrol on courses than their target number – with the remaining portion seeing a small decrease, in all but one cases, of below 14.9 per cent.
AoC's survey showed that six per cent of colleges saw increased recruitment of over 20 per cent beyond their target recruitment number.