Princess Anne highlighted the importance of retraining and added her voice to calls for prison education reform in a speech at Learning and Work Institute's 100th birthday party.
Her Royal Highness spoke in her capacity as the institute's patron at its The Lifelong Learning Century event, which was held for an in-person audience at City Lit and also livestreamed.
This year marks 100 years since the formation of the LWI's forerunner, the British Institute of Adult Education, and the event took place during Lifelong Learning Week, an annual celebration of adult learning.
"If we look at working lives today, you won't be able to stay in the same job for your life, you will need to retrain. You'll need to perhaps change your career altogether," the princess said.
"Giving people the confidence that they can retrain is fundamentally important to those individuals and to the businesses they will continue to work with and want to be involved with."
However, she believes preparing for careers should start early on in a student's life, recalling a visit to a school where a teacher pointed out pupils "splashing paint around were becoming artists.
"The ones doing their figures were becoming mathematicians. And the other ones who were constructing and deconstructing with blocks in the corner were becoming engineers.
"She's right. That is terminology which introduces you to the careers in life," which the princess called "almost genius".
Princess 'despairs' at how prisons removed career opportunities
The Queen's daughter also used her address to speak out on prison education.
The quality of learning in the nation's jails has come under the spotlight recently, with Ofsted launching a review with the chief inspector of prisons, while the education select committee has been carrying out its own inquiry into the matter.
"The justice system doesn't encourage those on shorter sentences to actually get involved," Princess Anne said.
She added: "I equally despair at the fact that areas of prison life which used to create the opportunities for careers were removed on the basis they weren't seen to be relevant." She did not disclose to which areas she was referring.
The princess finished her address with a rousing call to the attendees, saying of Covid: "If we truly believe in lifelong learning, then that is a hiccup which we as supporters of lifelong learning can help learners through, and put them on a path to do just as much good as they thought they could have done in the first place."
'Good quality' careers education needed, says ex-SpAd
The centenary event also included a panel discussion, featuring City & Guilds Centenary celebration of LWI sees Princess Royal back prison education reform chief executive Kirstie Donnelly, Higher Education Policy Institute director Nick Hillman, and City Lit principal Mark Malcomson.
Hillman and Donnelly both talked up the importance of investing in "good-quality" careers guidance.
A former special adviser in the Department for Business, Innovation and Skills, Hillman said: "When I was working in Whitehall, we found you got more bang for your buck in terms of social mobility by spending on good-quality careers, information, advice and guidance than you did on almost anything else.
This, he said, was because it "stops people making poor decisions the first time around".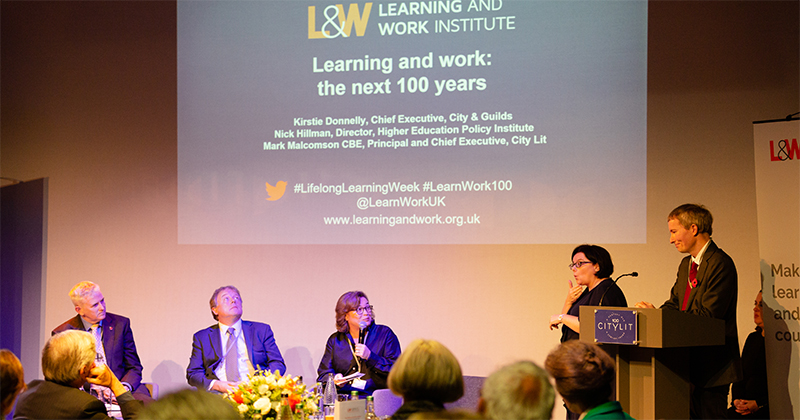 Donnelly told the audience the UK has "simply just got to invest in careers advice and guidance. Without it, we have a broken system."
But the advice and guidance must be done "in a much more modern 21st century way," which is mapped to local labour market opportunities.
This week, the institute has also published its annual adult participation in learning survey for 2021, which showed an increase in the proportion of adults who have taken part in education in the last three years, going from 33 per cent in 2019 to 44 per cent.
But it also showed disadvantaged adults are almost twice as likely to have not participated in learning since leaving full-time education as those from a higher socioeconomic background: 37 per cent to 18 per cent.
Lifelong Learning Week runs until Friday November 12, 2021.