College principals, former ministers and sector leaders are clamouring for the relaxation of funding restrictions on people looking to retrain, ahead of the new lifelong loan entitlement being rolled out.
The Department for Education is being pushed to rethink the equivalent or lower qualification (ELQ) rule, which since 2007 has meant anyone qualified to level 4 cannot access government loans or grants to study a qualification at an equivalent or lower level.
Sheffield College principal Angela Foulkes (pictured top), whose college trains around 10,000 adults a year, told FE Week the rule may mean "adults keen to retrain in construction, digital or engineering, who studied three A-levels a decade ago" cannot access public funding.
This, she argued, "denies learners the opportunity to reskill and go further in a new career where skills are in demand".
While the college did not provide examples of where the rule had stopped learners from retraining, Foulkes called the ELQ rule a "barrier" to the college working with local employers to deliver training in "priority sectors" that support the city and communities.
Rule could be relaxed for lifelong loan entitlement
According to the Office for Students, there are exemptions to the ELQ rule if it is for a qualification in a public sector profession, such as medicine, nursing, social work or teaching; or if the student is studying for a foundation degree or receiving a disability student allowance.
Mayoral combined authorities with devolved adult education budgets have begun to move away from the ELQ rule.
West Midlands Combined Authority is running a pilot offering fully funded care management qualifications at level 3 and 4 to black, Asian and minority ethnic women, regardless of their prior attainment.
The new lifelong loan entitlement will come into place in 2025, meaning learners will be able to access funding for four years of study between levels 4 and 6, either in full years or as modules.
It could lead to an end to the ELQ rule, with the skills for jobs white paper revealing the DfE is considering relaxing the restriction for courses funded through the entitlement to "stimulate provision" and "facilitate retraining".
With trials of loans-funded modular provision, intended to help in the development of the entitlement, set to start as early next year, more and more bodies have been calling for ELQ reform ahead of the entitlement rolling out.
Rethinking ELQ could be 'immediate first step' to retraining
Awarding body Pearson last week released its Spotlight on Workforce Skills report, which found providers and employers believe the rule has "contributed to the inexorable decline in part-time study".
The report says that by 2018/19, fewer than one in six of all undergraduates studied part-time compared to just under half in 2003/4.
Contributors to the report said the rule is likely to be a barrier for many learners accessing the new lifelong loan entitlement.
As such, it recommended the rule be amended so, for instance, a learner could use the entitlement for an undergraduate degree, then a level 4 course to reskill later in life.
The entitlement was recommended by Philip Augar's review of post-18 education, which also proposed scrapping the "complex" ELQ rule for learners taking loans to study levels 4 to 6.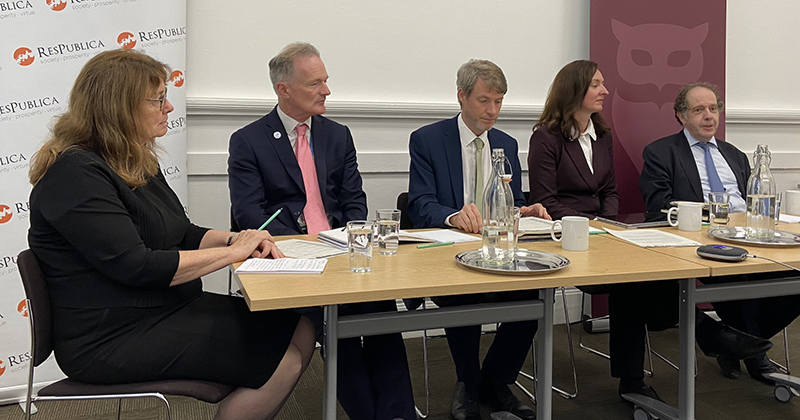 This week, the Lifelong Education Commission, chaired by Conservative MP and former universities minister Chris Skidmore, proposed that the DfE "reassess" the rule.
Its Pathway to Lifelong Education report, launched at this week's Conservative Party conference (pictured), said looking again at the rule would be an "immediate first step" to support retraining.
In response to the government's consultation on the national skills fund, which closed for responses last month, adult education provider network HOLEX called on the DfE to remove the rule so learners could apply for part-time maintenance loans to reskill.
DfE could 'quickly' help providers address skills shortages
These calls take place amid a supply chain crisis which has affected retailers and businesses, caused by a shortage of skilled workers in areas such as HGV drivers and butchers following Brexit and the pandemic.
Association of Colleges chief executive David Hughes said employers were "crying out for people to fill skilled and semi-skilled jobs", while at the same time, 600,000 fewer people were in work than before the pandemic.
"In that context, the ELQ rule is an obstacle which the post-18 review recommended should be removed when the lifetime loan entitlement is implemented."
The lifetime skills guarantee ought not to be limited to first qualifications, the AoC also believes. As University and College Union general secretary Jo Grady similarly said, in response to the national skills fund consultation, the lifelong loan entitlement "needs to be widened to ensure that older people who hold existing level 3 qualifications can retrain in different fields".
Hughes believes removing ELQ and broadening the guarantee could be fixed with amendments to the skills and post-16 education Bill currently being passed into
law by parliament. "So the DfE has the vehicle to change this and quickly help education address skills shortages while supporting people to level up."
ELQ rule is 'complex and unusual,' ex-minister says
Another former universities minister, Jo Johnson, now a member of the House of Lords, has proposed an amendment to the skills Bill which would make the lifelong loan entitlement available to anyone "regardless of prior qualifications".
Introducing his amendment to the Lords in July, Johnson called the ELQ rule "complex and unusual" in higher education, when other countries such as Canada and New Zealand did not have an equivalent restriction for their HE systems.
He expressed concern the Treasury will "put up a valiant attempt" to keep the ELQ rule.
But Johnson, who chairs the independent provider Access Creative College, contended that "any savings which the exchequer might make from retaining it are outweighed by the broader economic costs incurred by making it so difficult for students to retrain for new careers".
A DfE spokesperson said it was "vital" adults are "able to get the skills they need for good jobs, no matter where they are from".
They highlighted how the Lifetime Skills Guarantee, including the loan entitlement, is "are supporting adults to embrace lifelong learning".