Complementing the growth of Learning Curve Group's existing Ed-Tech solutions, CareersPro is designed to provide individuals, young or old, with the tools and resources to make informed choices about their education and career paths. This platform harnesses the power of artificial intelligence to deliver personalised recommendations, guidance, and costings that are tailored to each individual's unique skills, interests and aspirations.
Last year's Ofsted inspections revealed that 80% of educational institutions required improvement in their Careers Education, Information and Guidance (CEIAG). The platform has been built with this in mind and will give the likes of schools, colleges, local authorities and independent training providers the ability to offer careers guidance through an easy-to-use online resource.
Taking career advice and guidance to the next level
With a vast library of resources, including industry insights, salary data, and job descriptions, CareersPro has made it easier than ever for individuals to explore different career paths, empowering users to choose careers that align with them.
Users can explore careers that complement their skillset and make use of their existing qualifications. CareersPro gives them all the facts, so they can make well-informed decisions.
This innovative platform uses comparative judgement to discover what is most important to people in their careers. If users already have an idea of a career, they can browse the database of over 500 careers and explore which qualifications they'll need, what the local labour market looks like, and consider which skills they already have that match that career.
Building a CV has never been easier. CareersPro identifies transferable skills and provides a personalised career report for each user, meaning they can tailor their CV with the rich information from the platform.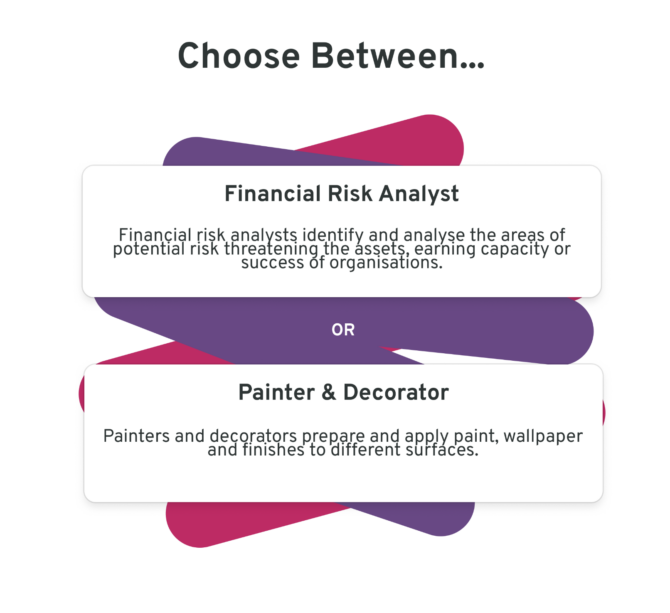 World-class careers advice using the power of software
CareersPro is at the forefront of EdTech solutions and has been designed to support education providers meet the Gatsby Benchmarks to offer world-class careers provision. It has been developed to align with the Gatsby framework, which all providers are responsible for implementing within their education setting. Legislation states that "careers information is a fundamental right for all children in the UK", so it is imperative that providers have the resources to facilitate young people's understanding of their possible career routes and how they can get there.
Far more than a career quiz, what really sets CareersPro aside is its AI-powered recommendation engine, which uses sophisticated algorithms to analyse the user's interests, skills, and career aspirations and builds a personalised career report. With this platform, users can be confident that they are making informed decisions about their futures.
Providers can purchase access for users in bulk, so they can explore careers, job opportunities and qualifications that will get them to where they want to be. There are a range of licence options available to support organisations of all sizes.
To book your demo today, visit https://www.lcgonline.co.uk/careerspro