Post-16 providers will see a 2.2 per cent increase in the national base rate for full time students aged 16 and 17 from August 2023 – equivalent to just an extra £100 per head.
The Department for Education announced the below-inflation rise today, which means the rate for full time 16- to 17-year-old learners on college courses of 580 hours or more will increase from £4,542 to £4,642 in the 2023/24 academic year.
The uplift also applies to those aged 18 and over with high needs.
The DfE said the new rate will continue to fund the extra 40 hours per student requirement introduced this year, adding that it aims to publish updated guidance on this rule, including monitoring and reporting requirements, by the end of next month.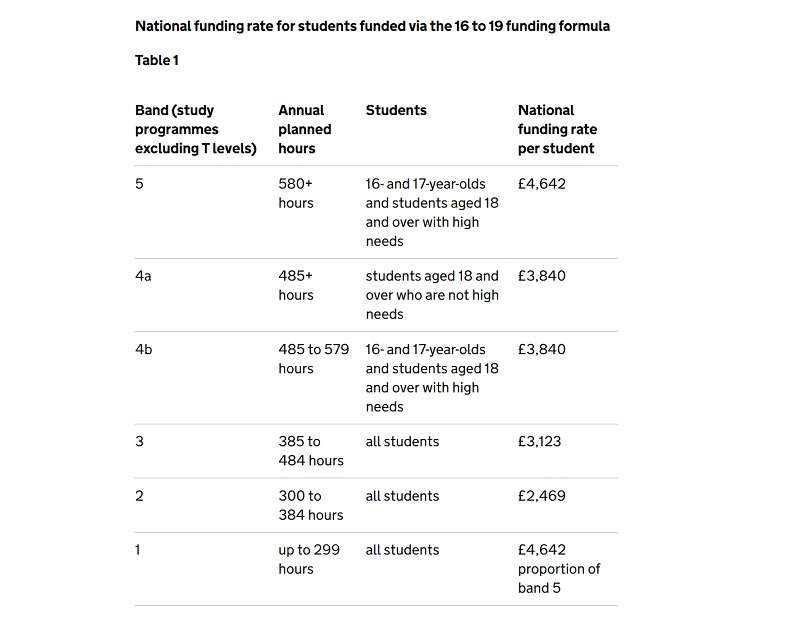 In addition, the funding bands for T Levels have also been upped by 12.4 per cent, or between £1,174 and £1,624, depending on number of study hours.
It comes as part of the £1.6 billion funding commitment in the three-year spending review period up to 2024/25.
The DfE said that programme cost weightings have also been increased for engineering and manufacturing, construction and digital subject areas (see table below) to help providers, colleges and sixth forms with the additional burden of recruiting and retaining teachers in those sectors.
The overall cash boost is worth around £125 million for 2023/24 – £85 million from the 2.2 per cent increase and £40 million in the subject-specific funding.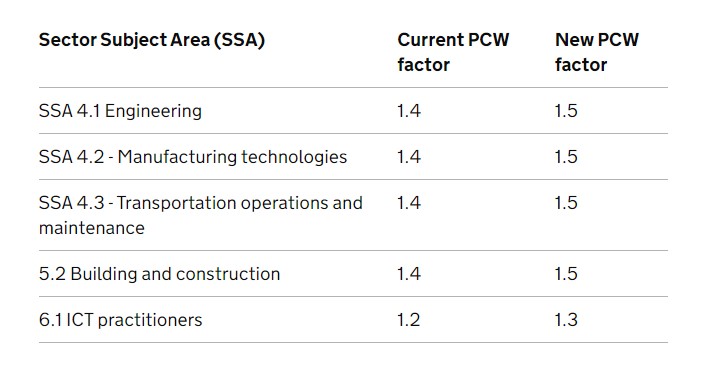 Elsewhere, the high value courses premium remains at £600, as does the advanced maths premium – cash for additional students studying specified level 3 maths qualifications.
But industry chiefs have said the funding uplift doesn't go far enough.
Association of Colleges chief executive David Hughes said any increase was welcome but a "well-below-inflation rise is nowhere near what is needed".
He added: "The decade of funding cuts has been made even worse with soaring energy costs and inflation, resulting in colleges simply not being able to pay enough to recruit and retain the staff they need. At the same time the economy is being held back by jobs going unfilled in exactly the sectors and roles which colleges can train and educate for if they are funded properly to do so."
James Kewin, deputy chief executive of the Sixth Form Colleges Association also said the uplift needed to be a lot higher, and said that some changes could "dampen the impact of the rate rise".
"We would also like to have seen a much-needed increase to bursary and free meal funding and will continue to make the case for adequate student support funding alongside a major increase to the funding rate," he said.
Robert Halfon, minister for skills, apprenticeships and higher education, said: "Our ambition is to transform young people's life chances by giving them the chance to climb the education and skills ladder of opportunity."