Vocational qualifications will be celebrated by hundreds of people at colleges and independent learning providers across the country to mark VQ Day 2015.
Winners of teacher of the year, employer of the year, and learner of the year VQ Day awards will be announced tomorrow (June 9), during a ceremony starting at 6pm at the Mermaid Theatre, Blackfriars, London.
The eighth annual VQ Day itself, which is a national celebration of vocational qualifications overseen by the Edge Foundation, will be on Wednesday (June 10) but events are taking place throughout the month.
David Harbourne, acting chief executive of the Edge Foundation, said: "We have been overwhelmed by the levels of support which VQ Day has enjoyed in previous years and are excited for 2015's celebrations.
"VQ Day provides the opportunity to celebrate the many first rate vocational learning opportunities which exist in the UK — and those who undertake them — ensuring they are valued as highly as their academic counterparts.
He added: "Those of us involved in the field of vocational education, whether as teachers, trainers, learners, employers or sector partners, know only too well how essential high quality vocational qualifications are to UK society, providing young people with the skills, experience, motivation and inspiration to get ahead."
Popo star Kate Nash (pictured right), who went on to record number one single Foundations and win the 2008 best female artist Brit award after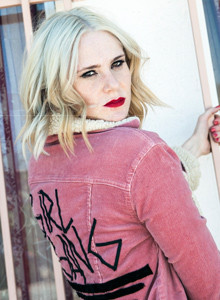 passing a vocational diploma in drama from The BRIT School, in Croydon, London, is an ambassador for this year's VQ Day celebrations.
She said: "University is definitely not the only option open to ambitious teenagers.
"There are alternatives to suit different career paths, whatever they may be, and I strongly challenge the elitists that think VQs don't offer the same opportunities as traditional more academic routes."
See below for a list of VQ Day events taking place across the country:
Events guide:
Southport College
When: June 8, 4pm to 7.30pm
Where: Southport College, Mornington Road, Southport, Merseyside
Open evening for anyone interested in learning about vocational courses available at the college
South Essex College
When: June 9, 7pm to 8.30pm
Where: South Essex College, Luker Road, Southend-on-Sea
The college is hosting its own awards ceremony recognising vocational qualification-related achievements
Nelson and Colne College
When: June 10, 9:30am to 3pm
Where: Nelson and Colne College, Nelson, Lancashire
The college will be hosting various skills demonstrations to celebrate vocational achievement and raise awareness of vocational courses. Activities will include beauty therapy, hairdressing, catering and hospitality, creative arts and sport. There are also plans to run an enterprise challenge with the college's business team
St Helens College
When: June 10, 9am to 3pm
Where: St Helens College, Town Centre Campus, Water Street, St Helens, Merseyside
More than 400 students from a number of schools in the area will be taking part in VQ Day-themed activities, including hands-on hair and beauty sessions, and demonstrations of how to use a drill and handsaw in construction, create a music video using 'green screen' technology, and check people's blood pressure
New College Durham
When: June 10, 9am to 3pm
Where: Whitworth Park School, Spennymoor & Tanfield School, Stanley
Aimed at students in years 9 to 11. The college's school liaison staff will visit the schools to educate learners about vocational qualifications, including engineering, sport, hairdressing and beauty therapy
Tresham College
When: June 10, 12pm to 1pm
Where: Manor Restaurant, Corby, Northants
Students will be presented with certificates for achieving excellence in their vocational subjects
YH Training Services
When: June 10, 9:30am to 4pm
Where: YH Training Services, Army Reserve Centre, Coldyhill Lane, Scarborough
The day, which is aimed at 14-16 year old students, college leavers, young people who are not in education, employment or training and 19 to 24-year-old Job Seekers Allowance claimants, will include a variety of taster activities, covering military fitness, command tasks, peer mentoring, camouflage and concealment, and an introduction to military careers
Truro & Penwith College
When: June 11 to July 13
Where: Truro and Penwith College, Gloweth, Truro, Cornwall
Taster events taking place on both college campuses, with 14 schools sampling various curriculum options and attending taster lessons
Yeovil College
When: June 13, 10am to 1pm
Where: University Centre Yeovil campus, Preston Road, Yeovil, Somerset
The motor vehicle team will be putting on a display to promote their part-time courses
Harewood and Avonbourne College
When: June 16, 9am to 4pm
Where: Avonbourne Sports Hall, Bournemouth, Dorset
It will be a mock interview day for year 10 students, who will already have lodged 'applications' for various vocational jobs by completing application forms and submitting CVs. They will be interviewed by employers
Derwen College
When: June 17, 11am to 3pm
Where: Derwen College, Whittington Road, Gobowen, Oswestry
There will be a variety of inclusive skills competitions and 'have a go' activities covering recycling, arts, ceramics and sports. There will also be a catering competition, restaurant service, word processing and functional skills session
Dearne Valley College
When: June 18, 10am to 12pm
Where: Dearne Valley College, Manvers Park, Wath-upon-Dearne, Rotherham, South Yorkshire
The college will host an event for year 10 pupils, with vocational tasters for subjects including construction, sport, public services, health and social care, early years and engineering
West Thames College
When: June 30, 10am to 4pm
Where: Feltham Skills Centre, Boundaries Road, Feltham TW13 5DR
Aimed at individuals aged 14-25, the event will include 'have a go' activities for subjects including engineering, construction, catering and travel/tourism. Employers including Network Rail, Sky, Mace, Allianz, Vision Express, Mark Warner Ltd, and the British Army will be giving on-the-spot interviews and providing information about vacancies for more than 150 job and apprenticeships. The National Careers Service will also be available to give one-to-one specialist career advice and guidance
Got a VQ Day event taking place that's not listed here? Get in touch with FE Week reporter Paul Offord by email on paul.offord@feweek.co.uk