The chief executive of the Skills Funding Agency (SFA) has warned providers that failing to adapt to changes in the FE sector could put their future in the market at risk.
Peter Lauener (pictured), who is also chief executive of the Education Funding Agency, described recent changes in the sector as radical and stressed the importance of providers finding ways to work with the new system, in a speech at the Skills Summit yesterday in London.
He told an audience dominated by colleges and training providers: "This is a radical, radical change programme and in any radical change programme there are some organisations, some employers that will adapt and work out the best way of working with the new system — and there are others that will take longer."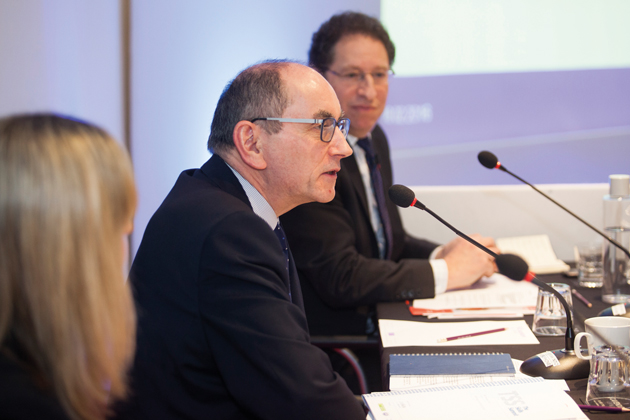 He warned that failing to adjust to developments, such as the impending introduction of the apprenticeship levy, could jeopardise providers' progress.
"There is risk in this, particularly probably for training organisations and for colleges if they don't adapt to the new world," he said.
Mr Lauener repeatedly acknowledged that the process would not be an easy one, but reassured his audience that though there were "some big, big challenges" there would also be "some big opportunities".
"There is, I think, a lot of opportunity for innovation. Providers do need to diversify; they need to be the first port of call for employers, whether that's colleges or independent training providers.
"That's the biggest single difference that we're looking to build into the system as the levy gets underway," he said.
He told his listeners that although he saw the future as "a challenging environment", he also looked to the next five years with "considerable optimism".
"There will be enormous challenges for colleges, for other providers, for employers, in all this. But there will be massive opportunities as well for apprenticeship growth," he said.
He said that with funding from the apprenticeship levy, the government target of 3m new apprenticeships by 2020 would be "an achievable target".
"I see no reasons why that should not be achieved with the tools that have been in place and the funding that has been put in place," he said.
When pressed in a question and answer session to expand on what the potential risks would be for providers who failed to keep up with this changing landscape, Mr Lauener replied: "In the system, the demand will come from employers and under the adult education budget will be a matter of meeting local needs.
"This will be national entitlements and other things but the exact provision needs to be right for the locality — people need to adapt to that and people who don't adapt won't do as well."
He said it would be "no good" to call for a return of the old system.
"The people who don't adapt to the market won't have a future in the market," he said.