Team UK got the chance to see the WorldSkills flag relay, leave a permanent sign of their skills, and visit Kazan's very own Kremlin today, a few days before WorldSkills 2019 begins.
Proving it's not all floristry, painting and metalwork with WorldSkills UK, the 41-strong party of 37 competitors and four team leaders took in the sights of the venue city.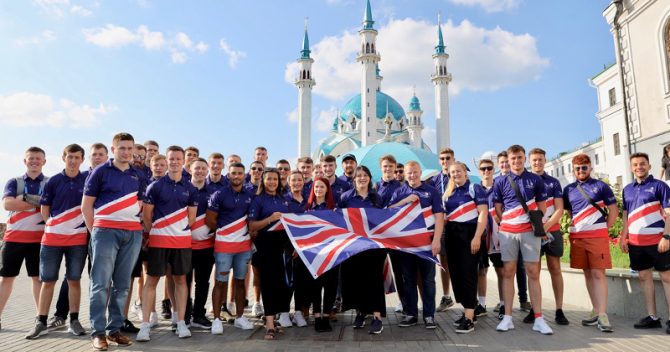 The two landscape gardener competitors got a chance to leave a permanent reminder of their visit by planting a tree at the site of the competition village.
Visual merchandising competitor Konnar Doyle said: "It's great seeing different cultures, even different buildings like Kazan's Kremlin."
He said he was looking for the medallion of excellence "at an absolute minimum" in his competition, but he faces challenge from competitors who have been practising for years, while he has been at it for five months.
We were honoured to be asked to plant a tree in the village in which we're staying @WorldSkillsKZN to commemorate the competition. Fortunately we had just the person for the job – Shea who is competing in #LandscapeGardening 🌲#bitwobbly #moresoilneeded pic.twitter.com/ljovDavSBA

— WorldSkills UK (@worldskillsuk) August 21, 2019
The medallion is given to competitors who score above 500 points, but do not achieve a bronze, silver or gold medal.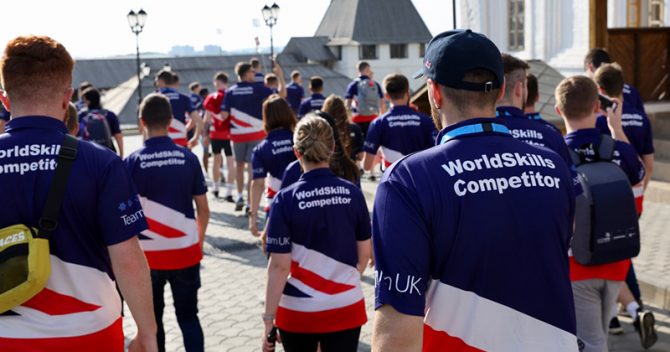 Manufacturing team challenge competitor Isaac Khan said they had been tasked with building an electrical wheelchair for their competition, which will be tested around an 2.5km obstacle course, involving a 200mm step.
The team has a "good attitude", he believed, and they would be happy with any result.
He said the competitors' village was "bigger than they expected" but it was "fantastic to see everyone getting along".
The WorldSkills flag relay took place at the competitors' village this morning, after it has been to Russia's space station, every country which has hosted a WorldSkills competition (with a short trip to Coleg Sir Gar in Wales), as well as the Madrid college which hosted the first WorldSkills competition in the the 1950s, and every region of Russia.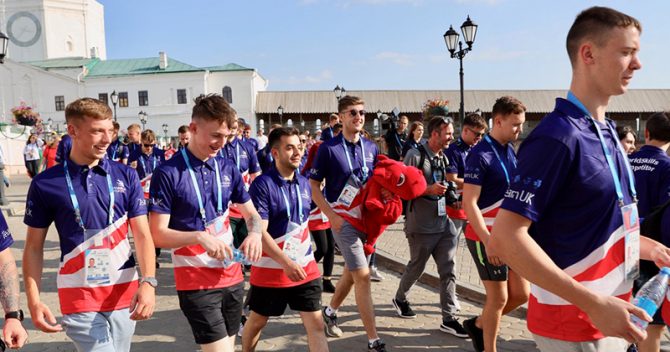 The flag consists of a WorldSkills logo and patches from everywhere it has visited.
FE Week is proud to be the official media partner for WorldSkills UK and Team UK. FE Week will bring you all the latest developments in the lead up to WorldSkills 2019 and will be onsite in Kazan to bring rolling coverage of Team UK's progress.
To find out more about the what, when and why of WorldSkills, read our handy guide.
Pictured: Shea McFerran, one of the landscape gardening competitors, with the tree he has just planted