---
Today, Team UK fly out to WorldSkills 2019 in Russia.  Here's our short, but handy explainer about the competition, competitors and what chance Team UK has of topping the medal tables at the closing ceremony in 10 days time.
What is WorldSkills?
WorldSkills is a biennial competition that will this year take place (from Friday 23 to Monday 26 August) in the Russian city of Kazan and feature over a thousand competitors from over 60 countries taking part in 56 competitions based around trade skills.
The competition will be officially opened on Thursday 22 and Russian president Vladimir Putin is expected to attend.
A closing ceremony is on the following Tuesday, when WorldSkills will be handed over to representatives for WorldSkills 2021, which will be held in Shanghai.
Who is in Team UK?
Team UK is fielding 37 competitors in 32 competitions and will be competing for gold, silver or bronze medals in such varied disciplines as visual merchandising, restaurant service, and plastering and drywall systems.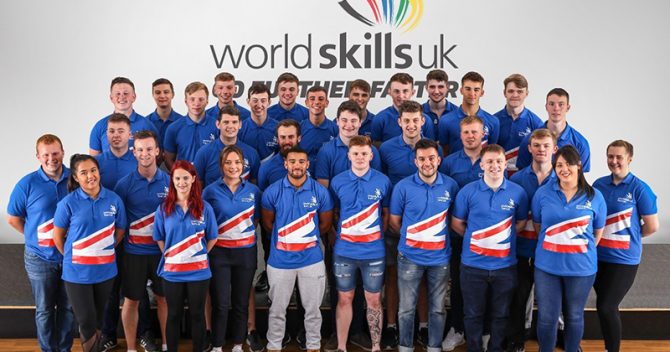 The team members were whittled down from 150 apprentices and learners from all around the country, after they competed in heats in March and April.
Once the final team was chosen, the competitors were put through their paces at a boot camp at Loughborough University, where they are trained by a number of professional coaches.
Competitors were taught how to diet, exercise and sleep to get them in prime condition and then each morning in Kazan, the competitors will have to be up at 6.30 for Yoga and stretching.
They have also been trained up for the competitions by training managers, many of whom are former competitors themselves and have helped the competitors get acquainted with what will be expected of them in Kazan.
FE Week visited two training days in the final weeks before the competition: in Gloucester, with hairdressing hopeful Phoebe McLavy; and Toyota UK in Derby with mechatronics team mates Jack Dakin and Danny Slater.
What are the UK's chances?
At the last WorldSkills competition, held in Abu Dhabi in 2017, the UK came tenth in the total medal points chart, with 21,261 points.
Team UK earned one gold medal, 3 silver medals, 3 bronze medals and 13 medallions for excellence.
The gold was won by Kaiya Swain, after she was voted the world's best young beauty therapist.
This time around, the UK is hoping to come in the top 10 of countries yet again.
FE Week is the exclusive media partner of WorldSkills UK and will be reporting live from Kazan.