Thirty-four of the UK's most gifted young tradespeople were told that the country "desperately" needs their "skills and inspiration" during a special send-off event ahead of the WorldSkills 2017 competition in Westminster today.
Anne Milton delivered a passionate keynote speech to the competitors in Team UK flying out to Abu Dhabi tomorrow.
The apprenticeships and skills minister said the UK could not give "enough publicity" to the team and lauded them as the most skilled young people in the country – and pleaded with them to share their experiences in inspiring the next generation upon their return.
"To those competing I'm sure you're nervous, apprehensive, excited," she said. "Irrespective of what happens in this competition, your job when you come back is to pull another person to do what you have done.
"We desperately need your skills, we desperately need you as ambassadors and, more importantly than anything, we desperately need you as an inspiration to the generation that are coming up behind you."
Ms Milton also offered some words of advice on how the competitors can win in their chosen discipline.
"Mind definitely, body definitely, spirit definitely, and there's one other thing I would add. When you are competing at this level you have to put your hand deep inside you and get hold of something in your soul. These competitions are won on that last degree of application.
"A huge well done to you all for getting to this stage, good luck and I hope to see you out there next week."
The minister was one of many heartfelt voices heard at today's event in the House of Commons, where parents, team leaders and staff from WorldSkills UK, which organises the nation's WorldSkills entries, came to wish the competitors luck.
Compère Peter Bakare, a former British volleyball Olympian, got the packed terrace pumped up with an opening speech before introducing shadow skills minister Gordon Marsden, who hosted the event.
"It is really important when at a time of doom and gloom that we have some really positive good news coming out of this country for skills," he said. "You're going out to Abu Dhabi to fight it out with the finest.
"Very best of luck to all of you, a message which is reciprocated by my leader Jeremy Corbyn who spoke about the importance of skills at our party conference. Go out there, do your best, come back, spread the news and we will be right behind you."
Dr Neil Bentley, the chief executive of WorldSkills UK, added that Team UK "represents this country's future".
"3D game-design, aircraft maintenance, cooking, mechatronics, plumbing, welding, restaurant services and many more – this alphabet of skills is what this country needs so that we can aspire and create and achieve what we want to do as a global trading nation," he said.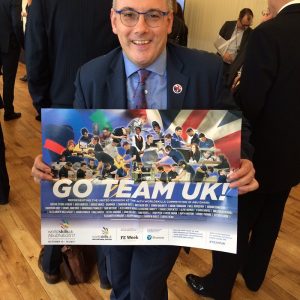 Other high-profile guests at today's reception included outgoing chief executive of the ESFA, Peter Lauener, the UTC architect Lord Baker, and Robert Halfon, the chair of the education select committee.
The competitors were each issued with a special enamel pin.
Speaking to FE Week during the send-off, 3D game-design competitor Dan McCabe, who won a gold medal at EuroSkills 2016 last December, said he was "buzzing" to get out to Abu Dhabi.
"The stress hasn't kicked in yet but the excitement certainly has," the 19-year-old said. "It is very familiar at the moment because it feels like Sweden and I feel like I've done it before so once I land in a different country the realness of it will kick in.
"The judges know what I can do so I'm going to try and show them something they have not seen before. I'd be lying if I said I wasn't hoping for a gold medal but I'm just made up to be at this event and heading out there."
The team will fly to Abu Dhabi tomorrow morning, in preparation for competitions which will run between October 15 and 18, where FE Week will be joining them.
Keep up with all the action before and during the competition on feweek.co.uk or on Twitter with the handle @FEWeek and the #TeamUK hashtag.