An emergency services volunteer and a carer who juggled looking after her disabled sister with studying are two of this year's BTEC Awards winners.
The eleventh annual awards were held today, virtually for the second year running, and recognised 19 winners across the swathe of BTEC subjects and centres.
Awarding body Pearson's senior vice president for BTEC and apprenticeships Cindy Rampersaud said it had been "another extraordinary year for learners, tutors, teachers, colleges and schools.
"The hard work and commitment demonstrated by our award winners, all of whom have achieved great things during a time of unprecedented disruption, is extraordinary and I am proud we are able to celebrate their achievements."
The ceremony was co-hosted by sports presenter Gemma Care, and presenter of the United View, YouTube influencer and BTEC ambassador Flex.
Young learner 'shone through'
The winner of the young learner and business and enterprise learner awards is Lily Carcaterra from Newcastle & Stafford Colleges Group, who has been juggling caring for her disabled sister with studying for a level 3 extended diploma in business.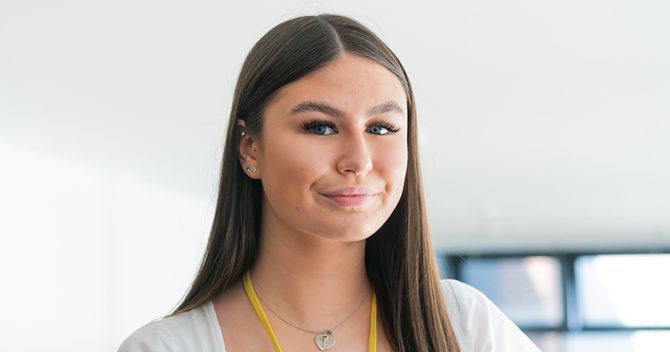 Pearson says she "shone through as a person of great strength," who advocates for her classmates and even found time for work experience.
"Powered by the determination to build a bright future through sheer hard work and academic achievement, she is independent, empathic, high-achieving, resilient and remarkable," the awarding body said.
Another of the honourees today is Jamie Smith (name changed for confidentiality reasons) from East Surrey College.
He has won adult learner of the year after standing out to the judges with his dedication to become a public servant, exemplified through his work as an emergency service volunteer and his work on the student-led donation drive at a local food bank.
His teachers call him "outstandingly calm," with a "compassionate disposition too".
BTECs 'are a game changer'
A number of winners were from BTEC centres around the world, including creative media learner of the year Tiago Bastos from Portugal and performing arts learner of the year Wilbert Kapinga from Tanzania.
Department for International Trade skills specialist Jonathan Ledger paid a "huge congratulations" to the winners, adding that: "For me, BTEC qualifications are a game changer. They change lives and they help people improve and contribute to business and society in a big way."
In addition to the award winners, the ceremony also included the 2021 Showstopper Challenge, a chance for students to showcase their performing talents.
Performances this year came from Bishop Challoner Catholic College, Jackie Palmer Academy, Clevedon School, and D16 Performing Arts College.
Clevedon School won an audience vote on their performances.
There was also an honorary award for Pearson's outgoing president for global online learning and the UK Rod Bristow for his support for BTECs.
The judges of the awards included Rampersaud and her Pearson colleagues Jane Baker, vice president, higher education qualifications; Derek Richardson, vice president and senior responsible officer for quality services and governance; Claire Riddle at vice president, marketing, BTEC and apprenticeships; as well as Shane Mann, managing director of FE Week publisher LSECT, and Kasim Choudhry, Thinkfest national director.
The full list of BTEC winners
BTEC Art and Design Learner of the Year – Lily Robinson from Kirklees College 
BTEC Business and Enterprise Learner of the Year and Young Learner of the Year – Lily Carcaterra from Newcastle & Stafford Colleges Group 
BTEC Child, Health and Social Care Learner of the Year – Aliyah Black from South West College 
BTEC Construction Learner of the Year – Joseph Kizhakechethipuzha from Dudley College of Technology 
BTEC Creative Media Learner of the Year – Tiago Bastos Nunes from ETIC, Portugal 
BTEC Engineering Learner of the Year – Dean Hargreaves from Blackpool and The Fylde College 
BTEC Hospitality, Travel and Tourism Learner of the Year – Caitlin Tohill and Caoimhe Tohill from St. Patrick's College 
BTEC IT and Computing Learner of the Year – Rey Poh from Sandbach High School and Sixth Form College 
BTEC Land-Based Learner of the Year – Kira Newey from NPTC Group 
BTEC Music Learner of the Year – Rowan Scourfield from The Priory School 
BTEC Performing Arts Learner of the Year – Wilbert Kapinga from Braeburn International School Arusha, Tanzania 
BTEC Public Service Learner of the Year and Adult Learner of the Year – James Smith from East Surrey College 
BTEC Science Learner of the Year – Jacob Cook from Bristol Free School and Sixth Form 
BTEC Sport Learner of the Year – Megan Piechowiak from Jumeirah English Speaking School, UAE 
BTEC College of the Year – Abingdon and Witney College 
BTEC International Centre of the Year – IVS Alliance, Netherlands 
BTEC School of the Year – The Bourne Academy 
BTEC Teacher of the Year – Eren Büktel from TED Atakent High School, Turkey 
BTEC Tutor of the Year – Nathan Smith from Chichester College Group