The Department for Education has today launched the registration process to deliver its flagship T Level qualifications from 2023, and has confirmed its Ofsted grade and financial health criteria will be relaxed.
Here are the key things you need to know before applying.
Different deadlines to register for planning support and funding
Providers have until midnight on 30 July 2021 to register if they want to received "implementation planning support" for T Level delivery from 2023.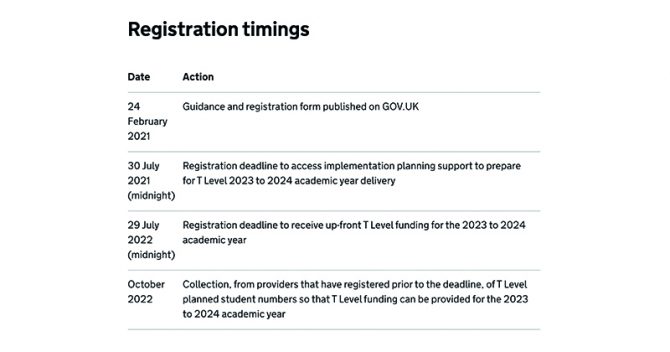 But the DfE is allowing until midnight on 29 July 2022 as the final deadline for providers to register to receive up-front T Level funding from 2023.
In October 2022, the ESFA will collect planned student numbers from providers which registered prior to the deadline, so funding can be provided for 2023/24 academic year.
What you need to register
Through a registration form, providers applying to deliver will need to submit their Ofsted rating, any structural changes they have had or whether they have converted to an academy, the T Levels and occupational specialisms they want to deliver, and whether they wish to deliver the T Level Transition Programme.
Providers will also need to give an indication of planned student numbers for the T Levels they wish to deliver.
The Education and Skills Funding Agency warns in the guidance the T Level Transition Programme is in the early development phase, and plans for the next phase of work has not yet been agreed with providers.
It will contact those interested in delivering the programme to share information and confirm a provider's next steps.
In order to deliver the programme, providers must be planning to deliver a T Level in the same route.
The new T Level routes for 2023
The four new routes, encompassing 20 different occupational specialisms between them, are: agricultural, environment and animal care; catering and hospitality; creative and design; and hair and beauty.
This will be the fourth year of the T Level rollout, which started last year with three T Levels in digital, construction, and education and health.
The final year of the rollout will be 2023, and the ESFA says: "This is the point at which we are broadening access to T Levels so that it becomes part of the mainstream offer for all students aged 16, 17 and 18."
Ofsted criteria relaxed for T Level providers
As announced last June, registration to deliver all of the T Levels available from 2023 is open to providers rated as 'outstanding' or 'good' by Ofsted.
Those rated 'requires improvement' or 'inadequate' can register to deliver for the first time, from 2023, but only for T Level routes which were introduced in 2020 and 2021: digital; construction; education and health; science.
But they can expand their delivery in 2024 to other routes, from which time any provider delivering 16 to 19 study programmes will be able to run T Levels.
For providers which have restructured or merged, and have not received a full inspection, the ESFA will use the lead provider's last full inspection grade to determine which T Levels they can run. If there is no lead provider, they will combine the ratings of all providers instead.
And for providers which have converted to an academy and not received a full inspection since, the DfE will use the last grade of the former school or sixth form college.
Although providers should put in their Ofsted grade from the time they register, if that grade changes after then, the ESFA has said it will look at each case individually and "discuss how this might impact on the provider's delivery planning".
If it drops to grade three or four, "much will depend on the point this happens in the planning process and the improvement work which is necessary," the guidance reads.
If a grade improves and the provider wishes to extend their delivery, there is a cut-off date of 29 July 2022 for taking that new result into account.
"After this, providers will have less than one year to prepare for T Levels delivery, so we would consider this to be too late to change their delivery plans," the ESFA says.
Financial health rules removed
As reported by FE Week in June, providers will also no longer have to submit evidence of prior experience of delivering similar subjects or financial health to deliver T Levels from 2023.
"All providers currently funded to deliver 16 to 19 study programmes will be eligible to deliver some of the available T Levels" from then, the DfE has promised.
Any questions?
Anyone with a query has been asked to submit an ESFA enquiry form, with the 'some other related/16 to 19 related query' option selected, and with 'T Levels 2023' in the query box, alongside the provider's name and UKPRN.