Traineeships are in decline and could die without more support from the government, the Association of Employment and Learning Providers has warned.
Alongside the shadow skills minister Gordon Marsden, the body hosted a special Westminster debate on the future of the scheme in Parliament this afternoon.
Panel members, including AELP's chair Martin Dunford and chief executive Mark Dawe, recalled that traineeships were widely supported by the government and the FE sector when they were launched in 2013, but said starts fell from 24,100 in 2015/16 to 20,300 in 2016/17.
The most dramatic fall was among 19- to 24-year-olds, dropping by almost a third over the same period from 9,400 to 6,400.
The most up-to-date figures will be out on Thursday, and expectations among attendees at today's debate were low that there would be any sign of a reverse in the trend.
Mr Dawe lamented that the "cold hand of government" was destroying what had been a "promising training programme", and claimed "there is huge latent demand for traineeships that is not being utilised".
"There is a problem with the Education and Skills Funding Agency not having the processes in place to ensure the traineeships gets the funding it needs, and that progress properly monitored, along with a lack of promotion," he said.
"The government is so consumed by T-levels and apprenticeships now, the danger is that traineeships don't get a look-in."
Mr Marsden harked back to New Labour's 1997 general election commitment to focus on "education, education, education", but said the emphasis for traineeships should now be on promoting "progression, progression, progression".
He was referring to confusion over how the scheme is perceived, and lack of clarity over how the government reports which learners progress to jobs or other training such as apprenticeships.
Traineeships were launched in 2013, as part of the government's drive to help the low-skilled unemployed below the age of 25 onto apprenticeships.
But their remit was set more broadly, so that they could also help learners onto a job or find other full-time education.
They are supposed to provide "essential work preparation training, English, maths and work experience needed to secure an apprenticeship or employment", according to government guidance
Many believe that this wider remit caused confusion over the purpose of the programme, and fewer trainers progress to apprenticeships than is desired.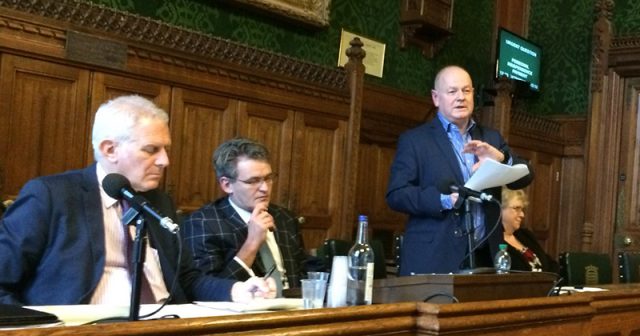 The Department for Education said in March last year that there were 10,500 traineeship progressions in 2015/16. Of these, "7,000 were to a job, apprenticeship, further full-time education or other training for those aged under 19, and 3,400 were to a job or apprenticeship for 19-24s."
FE Week lodged a Freedom of Information request to find out how many progressed to an apprenticeship, and found that just 600 of 3,400 overall progressions for 19- to 24-year-olds were to apprenticeships.
But Mr Dunford insisted today that "it was a good thing that traineeships were kept flexible" as "it's a good programme", and wants more government promotion for the scheme.
By aiming to take on young people interested in a wider range of outcomes than just apprenticeships, traineeships could cast the net wider, and ultimately produce "more progressions to apprenticeships".
Debbie Gardiner MBE, the chief executive of Qube Learning, agreed during today's debate that there was a problem with perception.
"We understand that traineeships are about getting young people into work and training," she said, by using a "short" window of opportunity to help them.
But too often employers are concerned that the lack of pay for learners they take on with traineeships can damage company brands.
Mr Marsden, however, closed on an optimistic note.
"We all forget how difficult it is to get the message across with relatively new initiatives like this. The key thing it needs is sheer bloody mindedness with regards to pushing ahead and promoting it," he said.
Mr Dawe agreed: "Let's keep on fighting."
Update, January 25: The latest data for August, September and October 2017, published today, showed a further decline in starts.
 There were 6,800 traineeship starts in those three months, a decrease of 6.5 per cent from the 7,300 over the same period the previous year. Of these, 5,500 were under 19 and 1,300 were aged 19 to 24, compared with 5,300 and 2,000 respectively in quarter one of 2016/17.