More than three quarters of colleges are now rated 'good' or 'outstanding' and none are deemed 'inadequate' by Ofsted as further education continues its ascent into excellence.
FE Week analysis of Ofsted results shows that an impressive 76 per cent of all general FE colleges are now rated in the inspectorate's top two categories, up from 69 per cent in 2016/17.
The last academic year also saw more than twice as many colleges move into Ofsted's sweet spot of grade one or two than fall out of the top ranks.
A total of 19 colleges moved up to grade two in 2018, with one climbing up the ranks from 'inadequate' to 'good'. In contrast, just eight fell out of the top category, with seven becoming grade three after being 'good' and one falling from 'outstanding' to 'requires improvement.'
David Corke, director of policy at the Association of Colleges, said: "This analysis only further goes to affirm the good work and support colleges provide to the 2.2 million people studying and training in colleges every day.
"As we edge ever closer to leaving the European Union, colleges will need to be supported adequately as they look to provide the right training and solutions – and this means the right level of investment."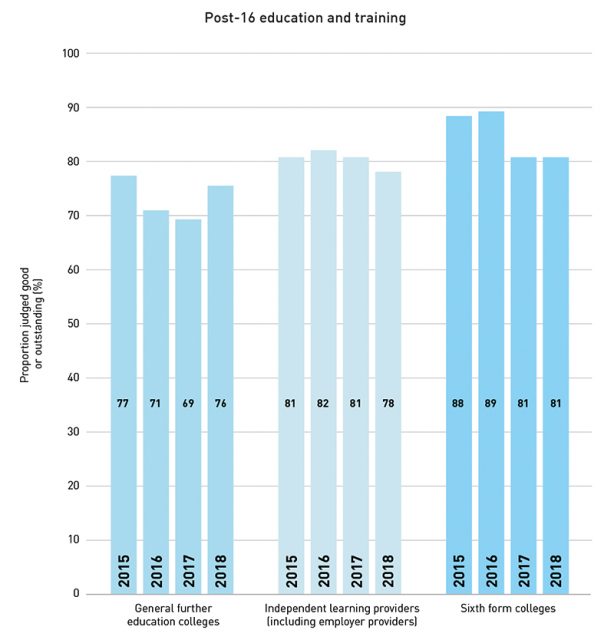 There are currently no colleges labelled as Ofsted's lowest grade of 'inadequate'. However, part of the reason for this is the mergers of poorly rated colleges which have been carried out over the past year. When two colleges merge, both have their Ofsted grades wiped.
Stockport College, Huntingdonshire Regional College, Mid-Cheshire College of Further Education, Redcar and Cleveland College and Amersham Wycombe College all lost their grade-four ratings after a series of mergers.
 The proportion of sixth form colleges rated 'good' or 'outstanding' has remained steady at 81 per cent, after falling from 89 per cent in 2016. Independent learning providers, including employer providers, have experienced a small fall from 81 per cent in the top two categories last year to 78 per cent this year.
 Across the entire FE sector, 63 per cent of providers were rated 'good' or 'outstanding' in inspections this year, bringing the total in the top half of Ofsted grades up to 80 per cent.
Amanda Spielman, the head of Ofsted, backed calls for more 16-to-18 funding last month, and warned that some colleges were struggling to reach the top Ofsted grades because of their tight finances.
In a letter to the public accounts committee on October 30, she warned that "real-terms cuts to FE and skills funding are affecting the sustainability and quality of FE and skills provision", and said this verdict was "based on our inspection evidence".
"My strong view is that the government should use the forthcoming spending review to increase the base rate for 16-to-18 funding," she wrote.
 "Over time our evidence shows that many colleges have reduced the teaching time allocated to some programmes of study, reduced the number of teaching and/ or support staff employed, reduced the number of courses offered and reduced the amount of enrichment or extracurricular activity provided.
"These measures all have an impact on the provision offered."
FE Week also discovered that six of the highest-rated sixth-form colleges have not been inspected in over a decade. Hills Road Sixth Form College, Circencester College, Woodhouse College, Carmel College, Richard Huish College and Winstanley College are all still rated as 'outstanding', despite the fact they were all last inspected between the November 2006 and October 2007.
Ms Spielman has previously urged the government to authorise more regular inspections of 'outstanding' schools and warned they lack oversight and create "real blind spots" for the inspectorate.
A spokesperson for Ofsted confirmed Ms Spielman's comments about the outstanding exemption, which was introduced in 2011, applied to all providers including FE.