Ofsted has denied cuts to its budget have affected the number of FE inspections it carries out, despite analysis by FE Week finding full inspections plunged by a third in just one year.
Inspections with an apprenticeship grade saw the most dramatic fall of over 40 per cent, leading to the shadow secretary of state for skills describing a "black hole on what we know about their quality".
The findings come less than three weeks before the chief inspector of Ofsted is due to publish her state of the nation annual report, on December 4.
The figures to August 31 2018 show that just 203 FE providers received full Ofsted inspections in 2017/18, a fall of 32 per cent from the year before when 298 were inspected.
Most strikingly, the number of ITPs – including employer providers – which received full inspections almost halved, falling 44 per cent from 126 to 70.
And the number of full inspections which graded providers on their apprenticeship provision dropped 42 per cent from 189 to 109.
However, the inspectorate has insisted that the fall in inspections "isn't a funding issue" and has "nothing to do with funding".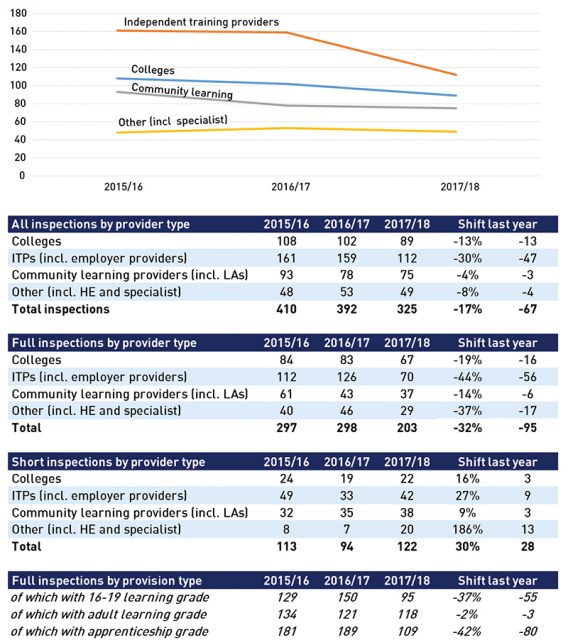 "We carried out the number of inspections that we intended to carry out in 2017/18, and included a sample of monitoring visits to new providers," a spokesperson said, adding that Ofsted now has the extra cash needed to monitor and inspect all new providers in 2018/19 and 2019/20.
"We deployed our inspection resources in 2017/18 to ensure that providers were inspected in accordance with the timescales and frequencies detailed within the handbook.
"We completed all the inspections we were required to, and in addition we deployed our remaining inspector resource to inspect a number of providers identified through our risk assessment process, and conducted a limited number of new provider monitoring visits."
However, shadow skills minister Gordon Marsden warned that the government's "failure to fund Ofsted adequately for colleges and apprenticeships is leaving a black hole on what we know about their quality.
"Taken together with the Department for Education's snail pace on delivering end-point assessment, it adds up to the department being asleep on the job whilst FE becomes ever more fragile."
Ofsted is in line to lose £15 million between 2016/17 and 2019/20 from its inspection budget, which is predicted to fall by 10 per cent from £141,685,000 to £127,100,000.
Between 2010/11 and 2016/17, the watchdog's financial resource was reduced by over £54 million.
In April, FE Week reported that Ofsted was in line to save around £400,000 this academic year by elongating the maximum period between inspections for 'good' providers.
Grade two providers previously received a short inspection within three years, but now can wait for up to five years before they are visited again.
A spokesperson for Ofsted said one of the reasons for the drop in the number of full inspections was because there were "a greater proportion of short inspections carried out last year" ahead of the change.
However, although short inspections did rise by almost a third – from 94 to 122 – this was not sufficient to make up for the plummeting levels of full inspections. The total number of inspections, when taking full and short together, still fell by 17 per cent last year, from 392 to 325.
The spokesperson also said apprenticeship provision is only graded in full inspections, hence the fall in the number of reports which inspected it. Although Ofsted has now introduced monitoring visits of new apprenticeship providers, she admitted that even when these visits are added to the number of apprenticeship judgments made in full inspections there was still an eight per cent drop compared with 2016/17.
The monitoring visits only assess providers on three measures – or four if they offer adult education – and only concentrate on new providers, meaning that existing apprenticeship providers are still going unmonitored.
The DfE declined to comment.