Sixteen college estates across England that are "nearing the end of their life" are sharing £600 million to undergo major rebuilds, FE Week can reveal.
The Department of Education has set aside the money pot to revamp college buildings which have "some of the worst condition need in England", according to an answer to a Freedom of Information (FOI) request.
Some of the buildings identified have been empty for long periods of time due to unsustainable running costs and safety concerns, while others cannot be used for teaching owing to extremely out of date facilities.
Of the hundreds of college buildings up and down the country, the Department of Education selected the 16 sites as the most in need. Assessors deemed the best way to get them up to scratch would be demolition and a full rebuild in most cases.
The fund itself forms stage two of the £1.5 billion FE capital transformation fund, which was launched by the Department of Education to refurbish and upgrade colleges in the UK.
Stages one and four of the total fund involved England's 180-odd colleges receiving individual allocations from pots of £200 million and £280 million respectively. Stage three of the total fund involves 75 colleges sharing £410 million.
But more than a year after stage two was announced, only one of the 16 colleges to get a slice of the £600 million, Newcastle & Stafford College Group, has managed to get a contract signed with a building contractor and started work, FE Week's FOI response shows.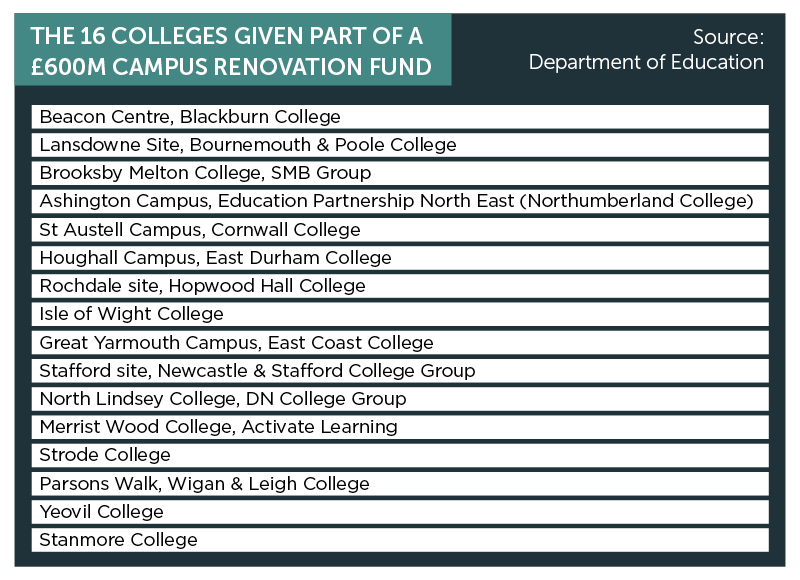 Last February, the college appointed Bowmer & Kirkland to develop a three-storey skills and innovation centre at its Stafford campus, for £23.5 million.
Work at Stafford is scheduled for completion and handover at the end of June, while the college expects the buildings to be occupied from September with its new cohorts, a spokesperson for the college said.
But work is far from starting at most of the other 15 colleges, which in the meantime are having to fork out money to maintain buildings, and in some situations, have had to leave buildings empty.
The £600 million fund is split between the different colleges depending on need. Around £40 million is going to Cornwall College, where the vast majority of its St Austell Campus (pictured top) will be demolished and then rebuilt into a new and improved campus.
St Austell campus is no longer fit for purpose. Originally, the main building was the headquarters for the local clay industry, which the college "remodelled".
"It's sadly a large office block, and it's not fit for modern day teaching," John Evans, chief executive and principal of the Cornwall College Group told FE Week.
The main six-storey building is not in a fit state, and the college has already moved out of the two top floors "because it leaks so badly", Evans added.
The longer that goes on for, the more money needs to be spent on maintenance – which drains money from frontline provision. That, coupled with an annual £750,000 spend on energy, means Cornwall College would have had to close the whole site for post-16 students and apprentices – leaving it with the task of trying to relocate around 1,200 students – without the injection from the FE capital transformation fund.
Cornwall's other campuses are more than an hour away and, with no sixth forms in St Austell the area would really have suffered, Evans said, and added that St Austell "deserves a high-quality post-16 facility".
BAM construct has been contracted for the Cornwall project, which will go to planning in June with an aim to start work in September and complete by the middle of 2025.
Elsewhere, most of the Isle of Wight College's pre-1970s campus, where too much funding is sapped up on energy and maintenance, will be demolished.
"It's really basic now," Ros Parker, principal and chief executive of the college said. "The buildings require an awful lot of investment to keep them going.
"Hopefully the new building will result in energy savings, and a more efficient and more effective build that will be more sympathetic to the environment."
Isle of Wight College is in a unique position in that it provides the only further education provision on the island, so it needs to offer "the broadest range of skills possible" to prepare islanders for work, Parker added.
The college expects the new build to offer courses in electrical installation, a restaurant that will be open to the public where catering students can practice their new skills in a professional setting, and new sports and fitness facilities.
Stanmore College's project will involve demolishing five buildings and a boiler house which are "beyond their economic life […] and cannot be retrofitted", according to Bob Pattni, the college's deputy principal for finance and planning.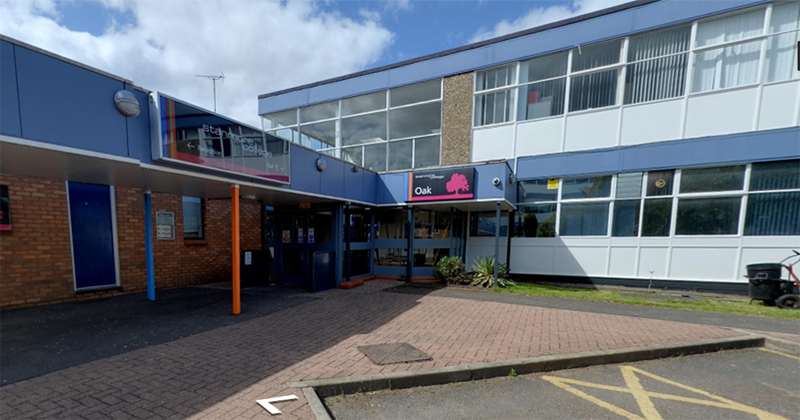 He said the capital funding secured by Stanmore, the value of which could not be shared due to DfE commercial sensitivity rules, would be used to help provide "an excellent standard of educational facilities" for students.
"Any efficiencies made through being more sustainable and reducing utility bills will be reinvested into the classroom and staff," Pattni added.
For instance, it could fund additional staffing, enhance continuing professional development, or go towards high tech teaching materials such as VR goggles.
Stanmore College has submitted an outline planning application for the project, which it expects to take three years from planning approval to completion.
Part of the £600 million funding is heading Yeovil College's way, as it undergoes a major repair worth more than £43 million, according to its most recent financial statement.
"[That] is a value the college would not be able to consider on its own," the accounts added. Three existing buildings will all be demolished and replaced, while a new construction centre will also be built.
There is no doubt the new funding is "very welcome" at all the colleges. "I can't state it enough, it's a massive game changer for post-16 education in St Austell," Cornwall's John Evans said. "On completion, it will become a draw for St Austell and have a positive impact on the local economy."
A DfE spokesperson said: "We want to build a world class further education system which delivers for all learners, and a key part of this is ensuring colleges are fit for the future.
"As part of this investment, the Department is working closely with 16 colleges in the second phase of the FE capital transformation programme, an initiative that spans multiple financial years, to improve some of the worst condition sites in the college estate in the most efficient way."