Conservative manifesto pledge: To replace vocational qualifications with T-levels that have 50% more teaching time
Catherine Sezen makes the argument FOR
In the run up to the general election the political parties are focused on the importance of skills; both employability and technical or vocational skills are on the agenda. Labour and the Conservatives explicitly refer to their commitment to the Skills Plan for technical education, though the Labour party would be looking to include the service sector.
At the Association of Colleges we are broadly supportive of the overall intention of the Skills Plan. Investing in, and raising the profile of skills is welcome. Ensuring that key stakeholders, particularly students, parents/carers and employers are aware of the best route to a specific occupation can only be a good thing – though comprehensive, impartial careers guidance will be essential.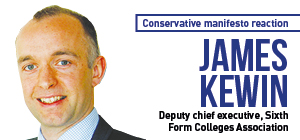 But what lies beneath Skills Plan headlines that make it feature so prominently in at least two manifestos?
At its heart the Skills Plan aims to provide 16-plus students with a clear line of sight to work. It divides the technical occupations into 15 routes, 11 of which will be predominantly college- or provider-based and four that will be delivered through work-based learning. Each route will have a common core followed by a specialisation year with an extended work placement of up to three months leading to a T-level (equivalent, we believe, to a Level 3). When students complete their route they will be able to progress to work, a higher apprenticeship or higher education depending on the occupation they wish to pursue.
Higher-level skills will be delivered at Institutes of Technology. In the Skills Plan these were aimed at Levels 4 and 5 and centred on colleges working in partnership with universities and employers. The Conservative manifesto refers to Level 6 qualifications delivered at universities. The Labour Party would invest more in the current FE structure, while the Liberal Democrats would invest in national colleges.
Students who are not ready to embark upon a T-level can take a transition year to help them work towards the required entry requirements. For some students it is acknowledged that this may take longer than a year and that the most appropriate destination may be a supported internship, traineeship or independent living.
There needs to be a huge cultural shift
On paper it all seems very feasible; students working towards clear occupational outcomes. But how will it work in practice? After all, students continuing to study English and maths sounded a good idea in theory, but as with English and maths, does the strategy meet the needs of students and employers?
How will the government sell the concept of technical education? There needs to be a huge cultural shift for this to be seen as equally prestigious as the academic route. One way the Conservative government started to do this was by announcing additional funding for delivery of T-levels, but is this enough?
Much of the additional funding will have to be ploughed into finding and monitoring work placements. Colleges currently struggle to access two-week work experience for all students. Occupation-specific placements will require far more employers to offer placements. Extended placements will also require a great deal of planning to ensure that they are meaningful for employers and students alike, while taking into consideration how they fit into the wider curriculum including GCSE English and maths retakes.
The T-level curriculum is yet to be confirmed though we do know that it is aimed at students working at Level 2 and above and that each route will be offered by only one awarding organisation or a consortium. It will be important that the offer is attractive to both current technical students and students who might be interested in T-levels rather than taking the 'academic' route. Will there be Level 2 and 3 T-levels aimed at different occupations?
We also await further details on the transition year, but it does appear that it won't be funded for 900 hours like the T-levels themselves. There are still questions over the role of applied general qualifications, especially where there is an overlap with routes such as the creative industries, and where there is no technical route, such as sport.
The outcome of the general election will be known by the early hours of 9 June; for the final version of T-levels we will have to wait a little longer. Let's hope they deliver.
Catherine Sezen is senior policy manager for 14-19 at the Association of Colleges