Conservative manifesto pledge: To replace vocational qualifications with T-levels that have 50% more teaching time
James Kewin argues AGAINST
The Conservative party's plans to introduce T-levels could eventually amount to an annual increase in funding of £500 million per year.
While there is unquestionably a need to strengthen technical education in England, this should not be instead of (or potentially at the expense of) what the government's Skills Plan defines as 'the academic option'. Increasing investment in technical, but not academic, education is based on a flawed analysis of the country's productivity challenge. The high-skill economy envisaged in the government's Industrial Strategy will be driven by leaders, scientists, technicians, engineers and others that in most cases will have followed the academic path during their sixth-form studies.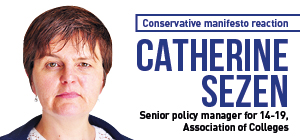 The £500 million pledged for technical education was underpinned by research conducted for SFCA by the Institute of Education that concluded sixth-form education in England was "uniquely narrow and short" compared to the high-performing education systems in Shanghai, Singapore, Canada and elsewhere. Unfortunately, this investment will have no impact on the vast majority of students in sixth form colleges as they are primarily studying academic qualifications such as A-levels. Our members provide the sort of academic education that the government variously describes as 'world class', 'high quality' and 'well regarded'. Yet in short, it is not considered a priority for further investment. This is a mistake.
While it is true that sixth form colleges and other providers have continued to deliver excellent academic exam results in the face of funding pressures, the development and progress of young people cannot simply be measured through annual performance tables. The funding that institutions now receive to educate sixth formers covers the cost of delivering three A-level or equivalent qualifications, and little more. As a result, the wider support offer to students has greatly diminished. For example, it is increasingly difficult to address the concerns expressed by employers that young people lack the skills to flourish in the workplace and many institutions do not have the resources to address the sharp increase in students reporting mental health problems.
The wider support offer to students has greatly diminished
SFCA's election manifesto and associated Support Our Sixth-formers (SOS) campaign calls for an immediate increase in funding of £200 per student to help schools and colleges to begin reassembling the range of support activities required to meet the individual needs of young people. The government was right to identify that students studying technical courses require additional support to succeed, but the same is true of young people studying A-levels and applied general qualifications – particularly disadvantaged students.
We are pleased that the Conservative party has adopted the second recommendation in our election manifesto and committed to undertaking a major review of funding across tertiary education. After ducking the challenge of including schools in area reviews, and focusing too narrowly on technical education with the cash injection for T-levels, it is important that an incoming Conservative government gets the scope of this review right.
It must include academic, as well as technical education and can begin by asking some pretty fundamental questions. For example, can we justify providing 21 per cent less funding for sixth formers than younger students? Is it good for our international competitiveness for sixth formers in England to receive half the tuition time as sixth formers in Shanghai? And most importantly of all – what does a rounded, high quality, sixth-form education actually cost to deliver? The proposed review is a golden opportunity to move away from funding sixth formers based on a notional number of annual hours and an arbitrary funding rate, and provide our young people with the sort of world class educational experience they deserve.     
James Kewin is deputy chief executive of the Sixth Form Colleges' Association