Theresa May spelled out plans to create a first class technical education system for the first time in our nation's history, in a difficult speech to conference.
The Prime Minister, who has a cold and was struggling to make herself heard, spoke about her high hopes for the government's FE reform agenda.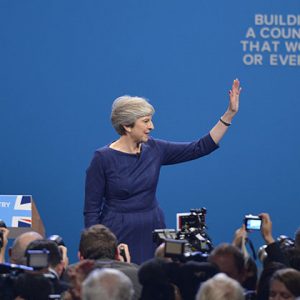 She stressed the need to invest the same level of energy and commitment to boosting skills training, for example through planned new "gold standard" T-level technical qualifications and Institutes for Technology, as usually goes into schools.
This, Ms May said, was about "preparing our young people for the world of the future, setting them up to succeed, taking skills seriously with new T-levels for post-16 education, and a new generation of Technology Institutes in every major city in England – providing the skills local employers need, and more technical training for 16-19 year olds".
Her plan, she further explained, was to create "a first-class technical education system for the first time in the history of Britain. Keeping the British dream alive".
The Prime Minister added: "As we roll out our modern industrial strategy, we will attract and invest in new high-paid, high-skilled jobs.
"We will continue to reform education and skills training so that people growing up in Britain today are ready and able to seize the opportunities ahead." 
But while Ms May was reinforcing her commitment to FE, the sign on the wall behind her was doing anything but.
By the end of her speech the motif, which had originally read "building a country that works for everyone", had lost an F and an E – prompting an amused reaction on Twitter, as photos of the disintegrating sign, taken by FE Week's editor Nick Linford, went viral.
Yikes! Now the "E" has also floated away…and then… pic.twitter.com/vRTtN6jUS8

— Nick Linford (@NickLinford) October 4, 2017
"Is this a subtle way of telling us FE has been dropped?" quipped one Twitter user, while another asked "Is this a subliminal message for FE?!"
While Ms May's words were applauded by the party faithful, her performance was fraught.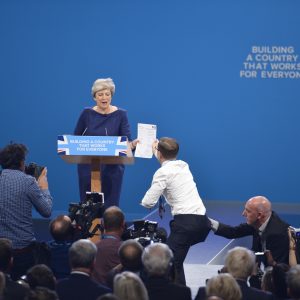 She was troubled by bouts of coughing that left her unable to speak at times – which at one point even forced the chancellor, Philip Hammond, to hand her a throat sweet.
And prankster Simon Brodkin – more commonly known by his comic alter-ego Lee Nelson – disrupted the speech by handing her a P45 before being bundled away by security.
While many commentators were quick to criticise Ms May's performance, some sympathised with her plight and leapt to her defence.
These included the chair of the education select committee, Robert Halfon, who tweeted his support.
"PM deserves suppt. Key measures: affordable housing, energy bill caps, Institutes of Technology more impt than cough or knucklehead coNmedian," he tweeted.
Earlier in her speech Ms May included "three million more apprenticeships" in a list of achievements since the Conservatives came to power.
And she promised to spread "prosperity and opportunity to every part of this country" by "tackling our economy's weaknesses like low levels of productivity, backing our nation's strengths, and bringing investment, jobs and opportunities to communities that feel they have been forgotten for far too long".