According to Stephen R Covey in his renowned book 'The 7 Habits of Highly Effective People', beginning with the end in mind means you should understand your destination before starting your journey.  This is important as it's only when you know where you're going and understand where you are now, that can you take steps in the right direction to arrive at your destination.
Profound stuff but it holds true for so many things in life. Including matching student apprentices to the right employer to kickstart a rewarding career for them.
One person who knows this to be true is Lynsey Whitehead, NCG Director of Apprenticeship Operations at Newcastle College.  "You might think as a teaching provider that we would start with our students but, in fact, we start with our employers because if we don't engage them at the front end, we simply won't get the right outcome for our apprentices," says Lynsey.  "By understanding what our local employers want, we can then match our apprentices and tailor their learning to meet the employer's needs.  That way, when the apprentice completes their training, they'll find themselves in a job they are fully capable of doing while meeting the needs of their employer."
While she puts the employer conversation first, Lynsey and her team are highly selective.  "We can be quite choosy and are not afraid to turn away employers who don't share our ethos or who can't provide what we expect for our students," she says.
Rewarding outcome
The most rewarding outcome for any college running apprenticeships is to see students safely into work. Colleges value apprenticeships as a fully guided route into the workplace but for Newcastle College, as well as the other colleges within NCG, it's not just about having a job at the end of the process, it's about having a career.  Likewise, the employer shouldn't simply be looking to fill a job vacancy when hiring an apprentice: they should be looking at how strategically their apprenticeship programme supports their workforce.
"Workforce development has never been so important and apprenticeships have a key role to play," says Tad Chapman, Head of End-point Assessment at Active IQ, the awarding body that oversees the leisure sector apprenticeships at Newcastle College.  "Apprenticeships not only offer an excellent route into an industry, they also provide a fantastic career pathway that will future proof workforce development by retaining – as well as training – the best talent in an organisation."
The approach taken by Newcastle College bears this out.  "We have employers return to us year after year both looking for new apprentices and to send us back staff who previously trained with us to take them to the next level," says Lynsey.  "It's not unusual for students to be with us for a number of years as they continue their training and develop their career over time.  We've seen quite a few enter the workplace at Level 2 or Level 3 working on the gym floor or as a PT and then achieve management roles a few years later.  It's very rewarding to witness."
Clear and focused delivery
Key to Newcastle College's success within its sports department is keeping things simple and clear.  "We essentially offer two apprenticeships to start with: the Level 3 Personal Trainer and Level 2 Community Activator Coach," says Lynsey.  "We purposefully avoid having too broad an offering at the outset. Concentrating on these two apprenticeship standards enables us to hone our expertise for our students.  Also, we know these two apprenticeships will fulfil local job roles and that's what we set out to do for our students."
The recently updated apprenticeship programmes in the leisure sector have really played to the strengths at Newcastle College by offering a broader scope of learning.  "The content in the new standards has improved considerably by being more closely linked to the real world," says Mark Urwin, Skills Trainer at Newcastle College.  "The new spec includes modules such as how to create a business and making sales as well as producing your own website and marketing skills.  This is really helpful for apprentices looking to set up their own business and also gives them a wider appreciation of how their employer's business operates."
Mark navigated the changes from the old apprenticeship frameworks to the new standards with relative ease, despite a four-month 'transition period' where he had some students completing the old-style apprenticeship while training a fresh cohort on the new standards.
Making his life much easier was Gavin Baxter and his team at Active IQ who expertly supported his transition to the new-style frameworks and End-point Assessment process.  Returning to the 'begin with the end in mind' analogy, students and their teachers need to understand what is expected of them in their final End-point Assessment before mapping out the steps to achieve this standard.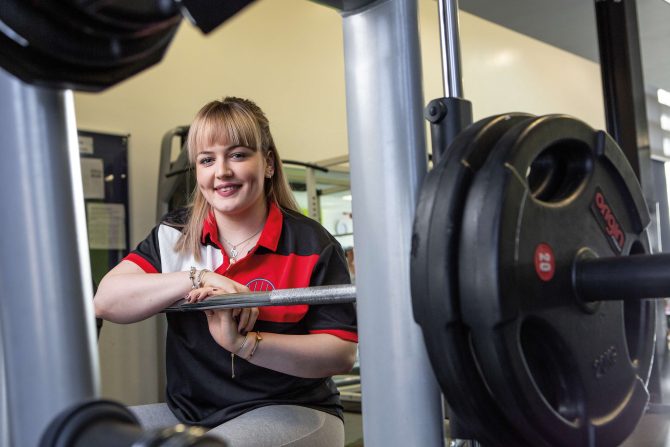 Expert partnership
Working in partnership with Active IQ, colleges can confidently navigate the entire process. With unmatched expertise as one of the first End-point Assessment Organisations to be approved on the Register of End-point Assessment Organisations, Active IQ excels in ensuring apprentices are regularly appraised and absolutely ready for their assessment. Combining high-quality printed and digital support resources with direct access to a designated Active IQ account manager keeps colleges and students completely on track.
"Gavin is really accessible to us and is highly responsive," says Mark.  "He's quick to answer questions and offer help, gives us full support and provides plenty of feedback to our students.  Active IQ has some excellent support resources including a full toolkit and a wealth of online materials, but they don't just expect us to plough our way through these," says Mark.  "They complement these resources by being there in person and on the phone addressing any particular queries or issues that we may have.
"When it came to delivering the new standards, Active IQ really helped us manage the new segments of business acumen and professionalism which I hadn't taught before.  With their help we managed to incorporate these new elements with ease."
Finally, in order to help apprentices prepare for the all-important assessments, Active IQ provides videos to show students exactly what is expected of them in terms of the practical observation, presentation observation and interview.  Intermittent checking of students' work by Gavin and his team ensure each apprentice stays nicely on track and gives them confidence going into the End-point assessment.
Teaching the teachers
A minor challenge facing Mark was the need for him to upskill before training his students on some elements of the updated apprenticeship. Areas such as social media and Facebook marketing were new to him.  Again, Active IQ stepped up to help by giving Mark access to the CPD training via its online Skills Hub resource.
"We have a great structure at the college whereby all staff are required to complete a set amount of CPD training," says Lynsey.  "They are actively encouraged to upskill and the Active IQ Skills Hub is the perfect route for this."
Mark relishes the opportunity to add to his skillset.  "As a qualified PT and former manager of a gym, I really enjoy learning new leisure sector skills and have recently qualified in TRX and kettlebell training with Active IQ.  Skills Hub also has a wide range of podcasts and webinars that keep me up-to-date on the industry news and views which is essential in order to inspire and educate my students."
Another way Mark keeps abreast of the fast-moving leisure sector is by undertaking regular industry placements to keep up with the current trends and methods being used. He has just finished a six-week three-hours-a-week placement at a body transformation gym. "My role usually involves shadowing others which gives me a great insight into the rapidly changing market where are our apprentices are headed," says Mark.  "I really like being in that environment and working alongside fitness professionals. There's always something new to learn and by joining people working day-to-day in the industry, it ensures I stay alert to how things are evolving," says Mark who believes it's vitally important for teachers to have first-hand experience of the industry for which they're training students.
Match making
Active IQ fully supports Newcastle College's free programme that matches employers with apprentices and helps to select the right modules to fully prepare the apprentice for their work.
"The flexibility of the apprenticeship to be tailored to a certain job role is what makes it stand head and shoulders above a generic vocational qualification'" says Gavin.  "By working closely with the college and employer, we can establish exactly what both parties need and then ensure the right modules are studied to achieve this outcome."
Mark agrees: "I've sat with employers and asked what they would like included in the delivery of the apprenticeship.  Experience tells me that if you get things right from the outset, the progression opportunities for the apprentice are fantastic and both they and the employer will return to us as they look to upskill and achieve their next level together."
Rewarding careers
Many rewarding careers have resulted for Newcastle College students from setting the right people on the right path with the right employer.  It's not unusual for one of Mark's students to start out as Level 2 Gym Instructor at a gym, then progress to a Level 3 Personal Trainer and a few years later return to college to train as a Leisure Manager.  As well as building the career for students, the apprenticeship scheme enables businesses to base their growth on the high-quality, work-ready apprentices who join them.
As we emerge from over a year of lockdown and disrupted learning and employment, having such a clearly mapped out route for learners and employers feels like a gift.
"I believe the leisure industry will continue to grow and offer excellent career opportunities to people," says Mark.  "It may look different as processes and expectations have changed since the pandemic but provided we all keep talking and understand what those new needs and wants are, I'm confident our students will do well in this sector."
Tad echoes Mark's sentiment.  "The beauty of our apprenticeships is their versatility which we can use to ensure learners are fully prepared for the world of work – even if that world has changed. Liaising closely with both the college and the employer is vital to ensure the training is valid and valuable.  By the time a learner reaches their End-point Assessment with us, we know they are absolutely ready to achieve the required standard and start work with confidence."
Active IQ is one of the first End-point Assessment Organisations (EPAOs) to be approved on the Register of End-point Assessment Organisations. With unmatched expertise, it offers 15 End-point Assessments (EPAs) for the new apprenticeship standards including these most popular with FE colleges:
Business Administrator
Community Activator Coach
Community Sport & Health Officer
Customer Service Practitioner
Facilities Management Supervisor
Personal Trainer
Teaching Assistant
Team Leader/Supervisor