Ofsted will conduct early monitoring visits at new providers entering the apprenticeship market to sniff out any "scandalous" attempts to waste public money, the chief inspector has said.
In front of hundreds of college leaders at the AoC Conference this afternoon, Amanda Spielman announced new measures to ensure that situations like the Learndirect debacle are not repeated.
She was speaking just six months after the launch of the Register of Apprenticeship Training Providers, where hundreds of new providers, some with no experience of running apprenticeships at all, were put in a position to receive millions in public cash.
"While it is early days in terms of understanding the volume of new providers entering the apprenticeship market, I do want to reassure you, our existing and experienced providers, that Ofsted will be monitoring these newcomers closely," she said.
"I can tell you today that I have asked my inspectors, over the coming months, to conduct early monitoring visits to a sample of new providers. This will allow us to evaluate how well prepared these providers are.
Ofsted will be monitoring these newcomers closely
"With the recent experience of Learndirect fresh in all of our minds, I have no doubt all of you are acutely aware of the risks faced when large sums of money appear to be washing around the system, with insufficient quality control.
"We surely all remember the lessons of the Train to Gain initiative and the problems that were encountered with Individual Learning Accounts. Insufficient oversight and quality assurance undoubtedly resulted in too many poor outcomes for learners, not to mention the scandalous waste of public money."
She added that when it comes to the new apprenticeship programme, the sector can be "confident that Ofsted will do all within our power to bring any such practice to light".
And with all of the apprenticeship reforms, she expects that some providers will "adopt different approaches" to delivering qualifications. She told delegates that she had already launched "some pilot inspections" to "test these new ways of working".
She also announced that the inspectorate was changing its "presentation and use" of performance data.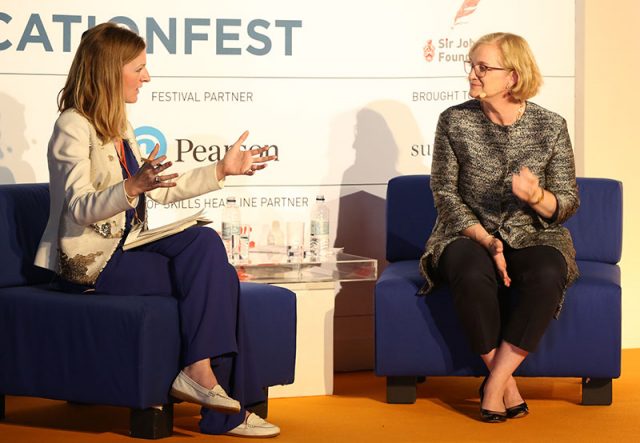 "I realise that the college sector is full of different measures and that, depending on the provision you offer, some are more useful than others," she said.
"That is why I have asked our data teams to review the way we present our data dashboards for inspectors to use.
"I want it to be clear to everyone, inspectors and providers alike, which measures are meaningful and significant and which are less significant at an institutional level."
Ofsted also is reviewing arrangements for its existing 'support and challenge' visits to all providers rated 'requires improvement', which FE Week reported last week.
The proposed changes include conducting a single monitoring visit, normally between seven and 13 months after the original inspection. The inspectorate is also proposing to publish these monitoring visit reports, so that "students, employers and the public are aware of the progress providers are making".
Lastly, the chief inspector lastly told delegates that Ofsted would soon publish a curriculum and study programme report.
This "substantial" piece of research is based on visits to 'good' and 'outstanding' colleges, interviews with employers linked to those colleges and the views of students at those colleges. From these visits, Ms Spielman said Ofsted has "been able to put together a picture of what the best level two study programmes look like".
The full research paper will be released "in the New Year".
FE Week is the premier media partner at this year's AoC Conference. You can follow live coverage of the event by following @feweek on Twitter and using #AoCConf.