Per student spending in further education and sixth form colleges will be ten per cent lower than when the Conservatives entered government, according to the Institute for Fiscal Studies.
Analysis of yesterday's autumn budget and spending review by the IFS revealed funding levels will be at around £6,500 by 2023-24 compared to over £7,000 in 2009-10.
The institute's director Paul Johnson this morning called the lack of spending on education, which is set to rise by two per cent a year until 2024-25, compared to four per cent on health, "the most striking contrast".
Spending per student in FE and sixth form colleges will "remain well below" 2010 levels, which Johnson said is "not a set of priorities which looks consistent with a long-term growth strategy or levelling up."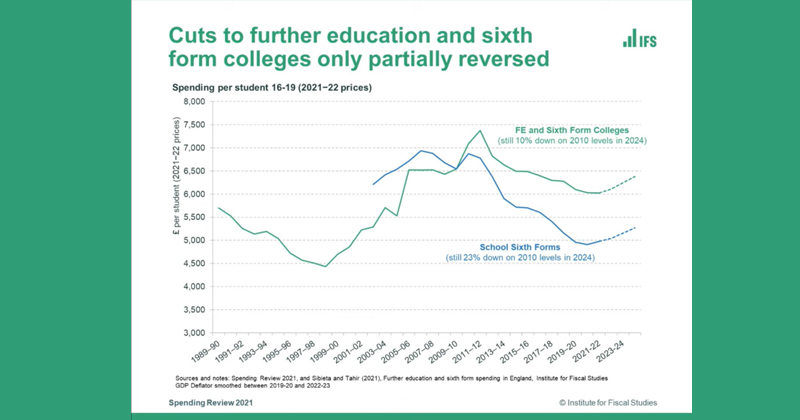 "For the chancellor to have felt it appropriate to draw attention to the fact that per pupil spending in schools will have returned to 2010 levels by 2024 is perhaps a statement of a remarkable lack of priority afforded to the education system since 2010. A decade and a half with no growth in spending despite, albeit insipid, economic growth is unprecedented."
This is despite chancellor of the exchequer Rishi Sunak promising to MPs yesterday the budget "invests in the most wide-ranging skills agenda this country has seen in decades".
His commitments included £2.8 billion capital investment to, for example, improve colleges and build 20 institutes of technology, as well as £324 million in 2024-25 for "additional learning hours" for 16- to 19-year-olds, and £1.6 billion to maintain per student funding rates in real terms.
Much of the funding appears to have been announced already though, upon which FE Week is seeking clarity from the Treasury.
'Plenty more' spending announcements needed to undo 2010s cuts
Following the budget, Learning and Work Institute chief executive Stephen Evans warned another £750 million would be needed to return investment in skills to 2010 levels.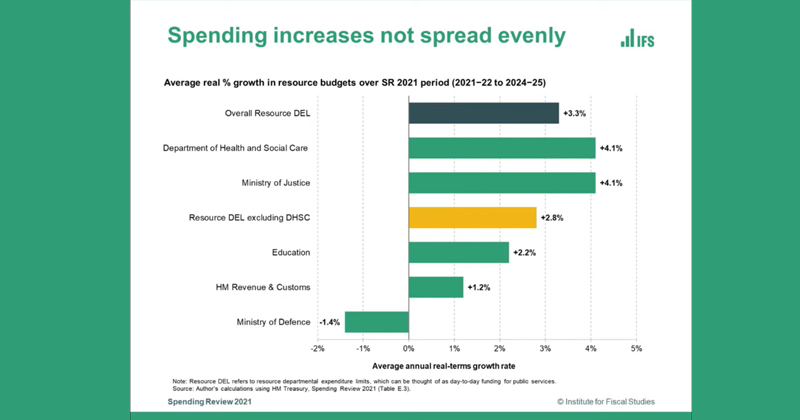 Speaking today about this week's "once in a decade" fiscal event, which laid out government spending until 2024-25, IFS research economist Ben Zaranko said Sunak will need "plenty more events like this to undo the cuts of the 2010s".
Johnson also joined in criticisms of the government for briefing several funding announcements in the days before the budget, which he said: "Served only to obfuscate".
The briefings by the Treasury, including about boosts for college funding and for T Level teaching hours, "revealed less than nothing," according to Johnson.