The government's record on improving the quality of the apprenticeships programme has come in for questioning.
Falling success rates, exemptions from minimum standards and publicly-aired doubts from the education watchdog's chief inspector Sir Michael Wilshaw (pictured below right) have cast a shadow over the government's 3m apprenticeship starts target for this Parliament.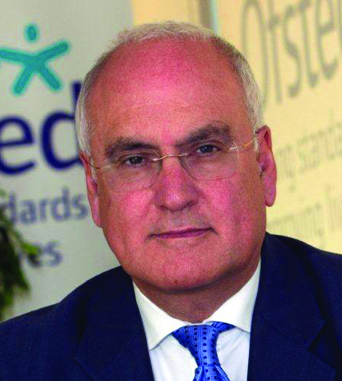 It's a situation that has led Shadow Skills Minister Gordon Marsden (pictured above) to warn against a "Soviet-style five-year plan simply churning out numbers at the expense of quality and progression".
He said he was "especially concerned" that success rates for apprentices aged 19 and above fell by almost six percentage points, from 74.3 per cent in 2011/12 to 68.4 per cent in 2013/14.
The same national success rates table, reported by FE Week in April, showed that overall apprenticeship success rates had fallen by nearly 5 percentage points, from 73.8 per in 2011/12 to 68.9 per cent in 2013/14.
Mr Marsden said: "These statistics should be a wake-up call to this government to establish if this trend is continuing. They should be talking urgently to colleges and other providers including representatives from both service and manufacturing sectors for their take on the situation."
It comes after FE Week reported last month that the government had rejected calls to stop employers running in-house 'apprenticeships' of less than 12 months, despite a 12-month minimum duration being a key element for ensuring quality for publicly-funded apprenticeships.
Meanwhile, the Skills Funding Agency (SFA) has said it will not publish achievement rates for the new apprenticeship standards in the national success rate tables, and that apprenticeship standards will not be included in minimum standards for 2015 to 2016.
The SFA has also opted to keep the minimum standard threshold for apprenticeship success rates at 55 per cent for 2014/15 — although it has said it is "intending" to raise that threshold to 62 per cent for 2015/16.
The Department for Business, Innovation and Skills (BIS) has also raised the possibility, in its consultation for the proposed large employers' apprenticeship levy, of allowing employers to use the services of providers that are not subject to an approval system or even Ofsted inspections.
Meanwhile, Ofsted chief inspector Sir Michael last year wrote in his annual report on FE and skills for 2013/14 that the "quality of apprenticeships is still not good enough".
It all comes with the publication of Ofsted's much-awaited review of apprenticeships expected on October 22.
A BIS spokesperson said: "The apprenticeship success rates from 2011 to 2014 do not reflect our fundamental reforms and the new [employer led] Trailblazer [apprenticeships] that will drive up quality."
"All providers will still be expected to follow the SFA Trailblazer funding rules, meet the expectations set out in their quality statement and will be subject to the terms in their intervention policy," the spokesperson added.
"During 2015/2016, the SFA will explore how to best incorporate apprenticeship standards into qualification achievement rates," he said.
The SFA declined to comment.