Association of Employment and Learning Providers (AELP) chief executive Stewart Segal urged the government to ensure that "all the facts are considered" before destination performance data is used to trigger "transformational improvements".
The Department for Business, Innovation and Skills (BIS) launched a consultation on Wednesday (September 30), which will close on December 2, on its proposal for an outcome-based success measure to complement the existing qualification achievement success rates.
The 38-page consultation document said providers that don't achieve "positive outcomes", should face "intervention action" for example by the Skills Funding Agency (SFA), Education Funding Agency (EFA), Ofsted, and FE Commissioner Dr David Collins.
However, Mr Segal (pictured above) told FE Week: "Performance has to be seen in context. Much of the [performance] data will be out of date by the time it is reviewed, so any decisions around intervention have to be made once all the facts are considered."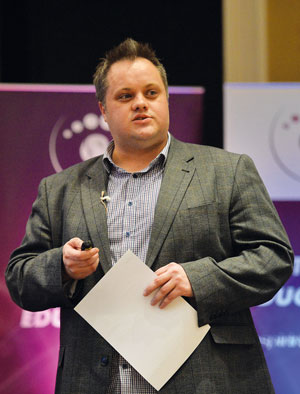 David Corke (pictured right), director of education and skills at the Association of Colleges, said: "Outcome-based success measures can be a useful indicator of the quality of FE as long as courses are judged on a wide range of factors.
"However, judging courses on their outputs creates a league table mentality which can lead to unfairly negative judgements being made on some courses."
The consultation document stated that: "By introducing minimum standards for learner outcomes, we expect to provoke transformational improvements in the provision that is delivered and will want them to be seen as having 'bite'".
It explained that minimum standards, based on current qualification achievement rates, are under the existing framework "not a target to aim for, but are typically set below the levels that a good or average performing provider is achieving".
The government would still, under the new framework incorporating the destination measures, "expect to set them below the level that a good or average provider is achieving", it added.
But "if a provider fell below the minimum standards on either qualification achievement rates or positive destinations, government would expect to apply its intervention arrangements to determine whether action was warranted," it said.
The document said the new outcome measures set for launch in summer 2017 into further learning and into or within employment including apprenticeships, learner progression, to a higher level qualification, and earnings following completion of a course.
But it added that the government was not proposing to use the earnings measure for the minimum standards framework, as it thinks that "is more appropriate for informing choice".
The government also proposed measuring the proportion of learners that progress to a qualification at a higher level than their existing highest level of attainment, initially covering only 19 to 20-year-old learners, in a previous three-month consultation on the issue launched last August.
But the latest consultation document, which features 10 questions, said that this had proved to be "impractical" because of "greater than expected complexity with creating the required data from the available sources".
In his foreword to the latest consultation, Skills Minister Nick Boles said: "In December 2014, I confirmed my intention to proceed with the new adult (19+) learner outcome measures for FE, to complement the qualification achievement measure we already use.
"The new measures have been developed using data from across government, matched robustly and securely."