A large community learning provider in Somerset has reopened courses today after the government granted it substantial extra emergency funding, but warned that it has no "long-term solution".
Somerset Skills & Learning, which teaches around 10,000 students and employs around 200 staff, received the good news it had been hoping for on Friday – that its AEB allocation for 2017/18 had been pumped up to just over £2.4 million.
It was one of many private providers to receive letters from the ESFA, confirming that extra cash had been found to bring private providers' AEB funding up to the value of 75 per cent of the amount they had last year.
SS&L was forced to put its courses on hold in August after it first received a measly £111,000 allocation despite being successful in the tender – a huge 97 per cent cut from the £3.4 million it had in 2016/17.
While the new cash allows SS&L to continue to deliver courses across Somerset this year, the provider still has a "significant shortfall", and a gap of almost £1 million it will need to address.
"We're obviously relieved that the ESFA has been able to find some additional funding outside of the procurement process to support Somerset's adult education provision, we need to remember this is just a transitional sum for this academic year only," said SS&L's chief executive, Susie Simon-Norris.
"As an organisation we will need to not only address the large shortfall in funding this year, but also prepare the organisation for future years under different funding priorities."
Ms Simon-Norris admitted SS&L would have to change as a result, and a restructure is "possible" – though "we don't know what the optimum solution will be".
"Our first priority now is to ensure our learners are able to start their courses and that they receive the high level of tutoring and service for which we are known," she said.
SS&L won much public support after its catastrophic initial funding cut became known. It later rallied the support of four local MPs to fight its case for more funding, and held emergency meetings with the DfE to reverse the cut.
"We've been overwhelmed by the support and messages of goodwill which we've received from the Somerset community, our learners and clients and of course Somerset MPs who have acted on our behalf, and for that we are hugely thankful," Ms Simon-Norris said.
Letters sent on Friday from the ESFA to providers affected by the AEB tender debacle focused on non-priority provision and delivery areas, and brought funding up to the value of 75 per cent of the amount they had last year, and therefore into line with other providers which did not bid or failed in the tender process.
New contracts for priority delivery will continue with opportunities to bid for growth.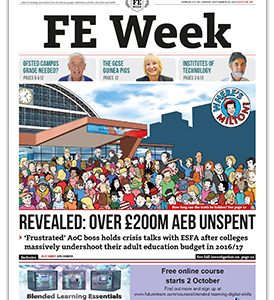 A spokesperson for the DfE said it "cannot confirm the budget at this stage of the procurement as contract talks are still taking place. The amount will be published once all contracts have been signed."
He added that this money "comes from underspends in the adult education budget".
FE Week had revealed just hours before this announcement that more than £200 million of the AEB in 2016/17 had gone unspent.