A welcome home reception was put on for the 34 heroes who made up Team UK and competed in Abu Dhabi last month, on day two of The Skills Show.
Hundreds of visitors and VIPs headed to the spotlight stage at Birmingham's NEC Arena to celebrate and welcome back the team (pictured above) who retained our country's top 10 position at WorldSkills this year, winning one gold, three silvers, three bronzes, and 13 medallions of excellence.
The event, which was hosted by Will Torrent, a former Team UK member who this week celebrated his 10-year anniversary since competing in Japan, included heartfelt speeches from WorldSkills UK's official delegate and chief executive of the ESFA, Peter Lauener, and chair of WorldSkills UK Carole Stott.
"Today we have some really important people to celebrate," Mr Lauener said. "I had the great privilege of being out in Abu Dhabi where we experienced a combination of high emotion, real pride in the team's achievements, and a lot of pleasure just seeing how much everyone can achieve with a lot of team work."
The welcome home reception was also used to recognise several individuals who have gone above and beyond the call of duty when competing for Team UK, and in promoting skills competitions across the country.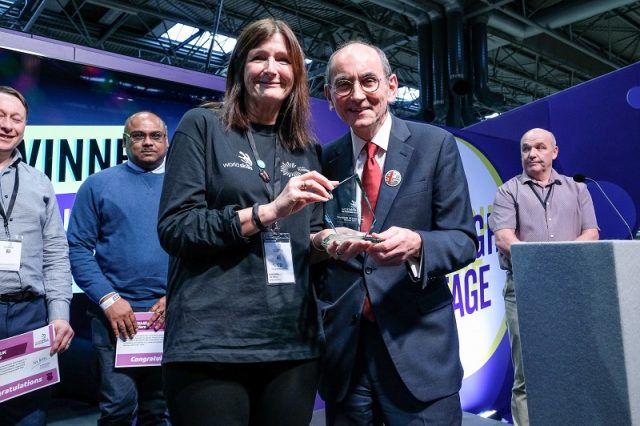 Rona Griffiths from Coleg Cambria was named the WorldSkills UK Local Heroes Winner 2017.
Five other skills heroes –  Jane Benefield from Warwickshire College Group, Darren Collins from Airbus UK, Christian Hatherall-Good from Brooklands College, Sureshkumar Kamadchisundaram from Nescot, and Patrick Roberts from Belfast Metropolitan College – were given highly commended awards for championing skills competitions.
Mr Lauener continued with his congratulations of Team UK, highlighting the amazing work of their "unsung heroes".
"Of course we celebrate all of the hard work that our competitors put in but there is one other group of people who we want to celebrate the contribution of," he said. "That is all the people who support Team UK in the competitions our training managers, performance coaches, and team leaders.
"When I get the privilege of going to competitions I get to see the fantastic work that all of those people make to build the skills and encourage and support our guys through the tough times, building the ethos of Team UK."
A special guest was then brought on to the stage and introduced to the audience. Douglas Hill, the first ever member of Team UK to compete in a WorldSkills competition.
He was the sole competitor to represent the UK in the 1953 competition, held in Madrid, Spain, and brought home a silver medal in cabinet making.
After walking on stage to a standing ovation, Mr Hill said: "I just went there, did the work I was given, and won silver. From then on whenever there was an opportunity to support WorldSkills I did, it changed my life and allowed me to build my own business. I was even able to buy an Aston Martin and I wouldn't have been able to do that without WorldSkills UK."
Following this, five awards were given to various members of Team UK. Mechanical engineering CAD competitor Betsy Crosbie won the Douglas Hill Award for overcoming obstacles to competitions, and Mechatronics competitor Tom Revell picked up the John Barnes award for boosting team morale.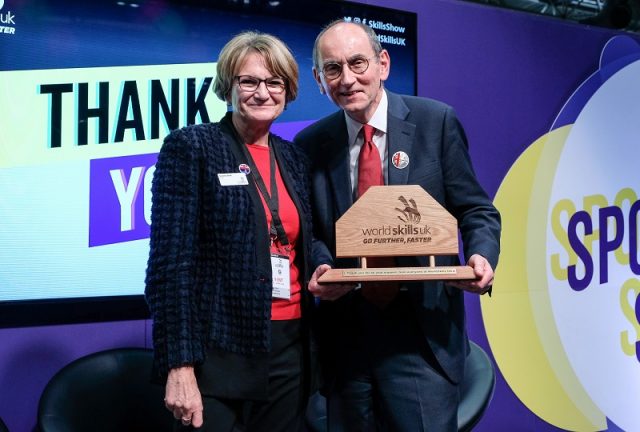 Three training managers – beauty therapist Jenna Bailey, stonemason Kevin Calpin, and plumbing and heating's Paul Dodds – also picked up awards for their honorary contribution to Team UK.
Lastly, Ms Stott took to the stage to once again congratulate all of Team UK, and present one final award to the UK's official delegate to WorldSkills.
"This is somebody who has worked tirelessly with this organisation over very many years. He is the person who champions the cause for us in the halls of power in Whitehall and Westminster when we go saying 'please give us more resources and support' and he has always recognised all of the achievements and everyone involved.
"He is always very calm and collected and walks thousands and thousands of miles around these shows. Can we please put our hands together for Peter Lauener."
FE Week & FE Week are proud media partner of WorldSkills UK, The Skills Show, WorldSkills UK Competition Finals. You can follow our live coverage on Twitter @feweek using the hashtag #SkillsShow17.