The FE sector faces an anxious wait before the budget is announced on November 22 after it united to make a last-ditch plea to reverse funding cuts.
The Support our Sixth Formers campaign, backed by major players including the Association of Colleges and Sixth Form Colleges Association, as well as FE Week, wants a £200 "SOS uplift" in 16-to-18 per-pupil funding rates.
Last week, the Sixth Form Colleges Association claimed colleges had reached "tipping point", after their overall Ofsted ratings fell for a third year running.
Cuts were largely blamed after just 69 per cent were rated 'good' or 'outstanding' in 2017.
The AoC's chief executive, David Hughes, said he was "hopeful but not optimistic" ahead of next week's announcement, and that it would be a "real shock" if any cuts to FE were made.
There is "still not enough money" to support students, particularly 16- to 18-year-olds and those undertaking adult education courses, he claimed.
"This country needs investment in colleges to improve skills, social mobility and productivity. All these words the government keeps saying," he added. "The most important thing is that students are missing out."
Providers and employers deserve more support to meet the challenges of social mobility, low productivity and Brexit skills shortages
Sue Pember, the boss of adult learning body Holex, wants to see a new basic adult skills fund for low-skill sectors, to ease the anticipated problems in home-grown recruitment post-Brexit.
She argued this should work alongside a new cross-department post-16 education, skills and employment strategy to help "meet the twin challenges of developing our own resident workforce in the context of a tighter EU immigration policy and increases in the state pension age".
"In this week's debate on Brexit, very little was said about what this means to ordinary working people," she said.
"We have a skills deficit, low productivity, and people in the workplace with poor skills ill-equipped to meet post-Brexit challenges. We need the chancellor to recognise these issues and fund accordingly."
For the AELP's chief executive, Mark Dawe, this budget is a chance for the government to "turn the rhetoric surrounding social mobility into reality".
"We would argue that this year the agenda has gone backwards, with the number of apprenticeships for 16- to 18-year-olds dropping by 44 per cent in the last quarter and traineeship opportunities falling over the year," he said.
"Providers and employers deserve more support to meet the challenges of social mobility, low productivity and Brexit skills shortages."
AELP wants a greater commitment to the traineeship programme, as well as equitable funding for additional maths and English provision on apprenticeship programmes, and an "open debate" on funding non-levy apprenticeships after April 2019.
The Learning and Work Institute has warned that there could be bad news on the horizon for the levy.
In an expert piece for FE Week, its chief executive Stephen Evans warned the amount it is expected to raise may be downgraded once again.
In last year's autumn statement, initial predictions that the levy would raise £3 billion in 2019/20 were revised down by £200 million.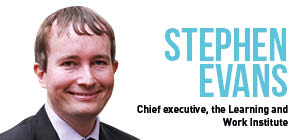 Mr Evans, based on his organisation's analysis, now believes the levy revenue estimate may drop by as much as a further £100 million.
SFCA's deputy chief executive, James Kewin, said the budget was an opportunity for the chancellor "to start giving sixth-form students a fair deal" after the association's funding impact survey found two thirds of schools and colleges were forced to drop extracurricular activities and student support services due to funding cuts.
He claimed education funding for 16- to 18-year-olds, which is stuck at 2013 levels, is "chronically" lacking, and "young people are being short changed as a result".