Skills Minister Nick Boles has tried to reassure colleges undergoing post-16 education and training area reviews that mergers were "nothing to be afraid of".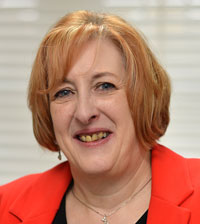 He was told today by Shadow Consumer Affairs and Science Minister Yvonne Fovargue (pictured right) that colleges in her Makerfield constituency feared that their local Greater Manchester review launched last month with the "strong presumption" that mergers were "the only way forward".
When the former Shadow Education Minister for Young People then asked, during the education questions in Parliament this afternoon, if other ways to achieve financial stability and good outcomes for learners would be given "serious consideration", Mr Boles said: "We are certainly open to a whole range of options."
But, he added: "I would disagree that there is somehow there is anything necessarily to be afraid of from mergers.
"A merger can mean that you save on a whole lot of administrative and management costs, so that you can actually put more money into paying for teachers doing the job we all want them to do."
It comes after FE Commissioner Dr David Collins told delegates at the Higher and Further Education Show, in London on October 14, that "divorces" as well as "marriages" would be encouraged as viable options between colleges undergoing area reviews, as reported in edition 151 of FE Week.
Area reviews have so far been announced for 83 general FE colleges and sixth form colleges in the West Yorkshire, Tees Valley, Sussex Coast, Solent, Birmingham and Solihull, Greater Manchester, and Sheffield city areas.
However, a number of principals involved, along with sector leaders, have told FE Week of their concerns that school sixth forms were not necessarily subject to the reviews.
When questioned during today's Commons hearing on the issue, Mr Boles said: "The regional school commissioner, who has responsibility for commissioning school provision in his or her area, is always going to be part of these reviews and can bring in the perspective of sixth forms in schools.
"But I don't think he or she would think it practical to include every single school with a sixth form in this review and actually achieve a result.
"We are determined to achieve a result in a short space of time so we have strong, specialist insitutions able to achieve high quality education."
Bob Blackman MP (pictured left) also asked Mr Boles what discussions had taken place over the "VAT treatment of SFCs".
It comes after the government's policy of continuing to charge SFCs VAT while schools and academies are entitled to a refund of the 20 per cent tax sparked a campaign for reform by the Sixth Form Colleges' Association (SFCA), backed by sector leaders and dozens of MPs, before the May general election, as reported in FE Week. There has still been no change from the government so far on the issue.
But Mr Boles told MPs that he "entirely understands those arguments" and had "some sympathy with them".
However, he said that any decision on this would lie with Chancellor George Osborne, which "we all wait for… with baited breath".
He added that SFCs "might want to link up with groups of schools, with multi-academy trusts in order to be stronger themselves".
An SFCA spokesperson told FE Week after the debate: "We hope that ending the unfair VAT treatment of SFCs will be a key priority in the spending review."
She added: "We are very much in favour of academisation and the opportunity to link up with schools."