The flag-bearing best young tradesmen and women of the world were urged to share with everyone the life lessons of competing in Sao Paulo as the curtain went up on the 43rd WordSkills competition.
[Slide show of pictures at end of article]
WorldSkills president Simon Bartley addressed the thousands gathered in Ibiraquera Gymnasium last night after around 1,200 competitors took part in the ever-popular parade of nations. This year it included a growing number of team chants and presentations — including Team UKs which even managed to raise a smile with the audience.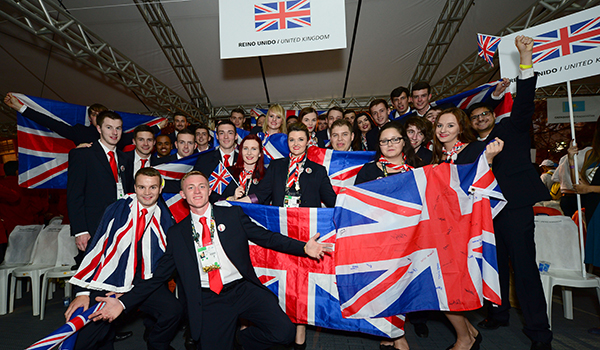 However, Mr Bartley's speech delivered a message of the benefits that skills can bring to lives across the globe.
"Thank you everyone," he said. "Thank you Sao Paulo 2015 competition organisers. Thank you CNI. Thank you Senai. Thank you sponsors. Thank you volunteers. Thank you for everything you have done for this our 43rd WorldSkills competition and our first in Latin America.
"Your dedication and hard work will make sure or competitions have the opportunity to show the world a level of expertise that ensures our message that young people are more than capable of improving our world with the power of skills.
"That message should be heard louder and clearer than ever before."
The ceremony, which started at around 7pm and closed at around 9.30pm, took place at a venue around four miles from here the competitions will get under way today, at Anhembi Park.
It was hosted by television presenter Didi Wagner and included presentations on the concept behind the medal designs, as well as competitor and expert oaths.
"Tonight, we choose. Over 1,200 skilled young professionals chose to represent their countries and regions at their professions as competitors," said Mr Bartley.
"Over 1,100 dedicated trainers, teachers and industry representatives choose to represent their countries and regions and their professions as experts. Over 800 of us choose to be volunteers.
"We all choose to be part of the greatest skills movement in history, raising the awareness of the power of skills to transform lives, economies and society.
"And if we are choosing, so is the world — tonight the world is choosing to join us. Our families, our friends, our work and college colleagues have chosen to be part of the millions on social and digital media watching you in every time zone and in every continent and in every country of the world. They want you to succeed. They need you to succeed.
"The next four days are going to be tough. Tougher than anything you have experienced so far, but let me ask you to do four things. First — compete fairly and in the spirit of friendship and mutual development. Second — make friends with your fellow competitors.
"The next four days are the first days of the rest of your lives. Lives where you will treasure those that you have met here in Sao Paulo.
"Third — share what you are doing with everyone, colleagues, experts, WorldSkills, the world. You will never have an experience like Sao Paulo, so fourthly enjoy yourselves and good luck to you all."
[slideshow_deploy id='38603′]