They're questions that will have kept many others in the FE sector awake at night. They include how do you guarantee good quality vocational education? How do you measure success when there's no simple FE outcome measure? How are the steps to address low levels of literacy and numeracy working?
And then there's how do you equip people already in the workforce with said skills and how much of an impact does it have to get those skills later in life, as opposed to when they were younger?
And, as director of the new Centre for Vocational Education Research (CVER), it's going to be Sandra McNally's job to help answer them.
The centre, based at the London School of Economics (LSE), was launched in March to start filling the gaping hole in research into the sector.
Historically there's been much less research on FE than there is on schools and universities

 
As we sit in McNally's airy office in the LSE's buildings in Central London, I am struck by how mammoth the task facing her and her colleagues is.
"Historically there's been much less research on FE than there is on schools and universities — there is some, but not as much really good research that gets published in really good places," she says.
"The data hasn't been as good either, but that is changing and we're accessing data for the first time — linking the individual pupil data base to the national records which has only just become available and we'll get even better data sets soon.
"One of our roles is to use that data ourselves to answer important research questions, and the other role is to try and get other people in the wider academic community to use the data and help facilitate that."
Softly-spoken McNally, aged 43, is someone who is clearly more comfortable talking about her work than herself.
"I'm quite private and introverted," she lets slip. But, she tells me, she's "well-suited" to research.
"I didn't decide to be an academic when I was young, but looking back I don't think it's terribly surprising that this is where I am," she says.
"I've always been somebody who's interested in research as well as current affairs and politics."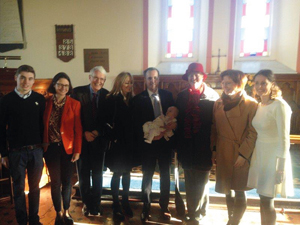 And while most people wouldn't connect those interests, McNally insists they're vital to each other.
"Because I'm working in such an applied area, education and skills, you can't do good work in that area without being clued into what's going on around you," she explains.
"You just have to be well informed and interested in what's going on or you research won't be very good."
McNally was born in Dublin, and describes her childhood as "a very happy life", with her parents John (a banker, who, McNally jokes, "retired a long time before the financial crisis") and Annajane as well as siblings Hugh and Jennifer.
Sadly, Annajane died from breast cancer in 1987, when McNally was 15.
"That was obviously very painful," says McNally.
"It does have an impact, losing a parent when you're young has a profound impact on you for the rest of your life — I miss her hugely."
"She was only 40, and at that time a lot people died from breast cancer. At that time it was at its peak in Britain and Ireland.
"But now, although it's still as prevalent as it was the treatment has improved, people don't die from it as often as they did back then."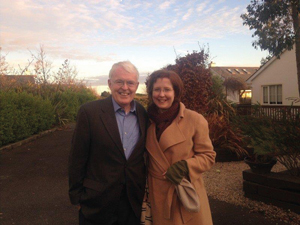 At 18 McNally went to Trinity College Dublin to study economics before moving to London to study an MSC in environmental economics at UCL.
"I absolutely loved London," she says. "It was just so different from my life before that and it was the first time I became friends with people who weren't Irish.
"I lived in international halls and I had so many friends of different cultures and doing different things — I just thought London was a fantastic place."
After graduating, she found a job in Cambridgeshire at the Centre for Ecology and Hydrology as an environmental economist.
Pretty soon however, she realised she was going to need to expand her research skills and started a PhD.
"Doing the PhD alongside my job was a challenge. Although my job was very related to what I was doing for my PhD so I think it really helped me do my job because before that, I wasn't highly skilled enough to be a really good researcher," she concedes.
"I was using the skills I was learning in college to do my work so it was a little bit like an apprenticeship — an unusual sort of apprenticeship."
In 2001, McNally started her career in education research, when she moved to the LSE's centre for economic performance and centre for the economics of education.
The move, she admits, was largely "opportunistic".
"I really wanted to work in an environment where there was sort of a public policy issue and education just happened to come up," she says.
"But working here is fantastic, the projects I was working on were really very interesting and gradually I came to know a lot about education in the UK.
"I think what I like about working in education is that as somebody who's been through education yourself you can relate to a lot of the issues — that wasn't the case when I was working in environment and agriculture where I didn't really have much personal background of that although it was quite interesting.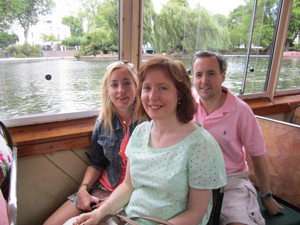 "I do like the sense of focussing on a research area that I really believe is very important to try and improve things for people — that's a very attractive part of it."
McNally now splits her time between LSE and the University of Surrey, where she started teaching two years ago — the first time in her career she'd had any interaction with students.
"That was quite difficult, actually," she says.
"It was quite a steep learning curve and it is very strange to see the university from that other perspective and to engage with other people is a very different thing."
McNally's father remarried, and now has two sons in his second marriage, Mark aged 17, and Stephen, 19.
"It's funny, when I'm teaching all my students stats in Surrey I think they all look a little bit like Stephen and his friends," she says.
But, she adds: "It's been very good as well — it's nice to engage with young people and be involved in teaching.
"And it's affected my research because you have to know subjects so well in order to teach them, I feel it's probably deepened my own knowledge of the areas that I've been teaching in and also extended my knowledge because I have to go into other areas of labour economics apart from education."
However, it looks like McNally will be scaling back her teaching to focus on the CVER, which will have be designing its first project at a steering group meeting in May — working out which of those earlier questions will be answered first.
Losing a parent when you're young has a profound impact on you for the rest of your life — I miss my mother hugely

 
"We're hopefully going to be designing an interesting programme of research," she says.
"Initially we're looking around few main themes. Like what are the returns on vocational education for individuals and society more generally? How do you improve quality? And what's good?
"What are the broad benefits and how can you improve careers advice through what is a very complicated system?
"That's about where we're starting at and that will evolve over time."
So what does she hope will come of it?
"Really good quality academic research — but that's very policy-relevant and very motivated by what's important to the country," she says.
"I'd like the research to facilitate better, evidence-based decision-making at policy level and thereby improve things for people, especially for young people coming through the system."#
It's a personal thing
What's your favourite book?
Anna Karenina by Leo Tolstoy. I like the character development of it — the main character is a portrayal of Tolstoy himself and I like that it tells you what he's thinking and the phases he goes through in his life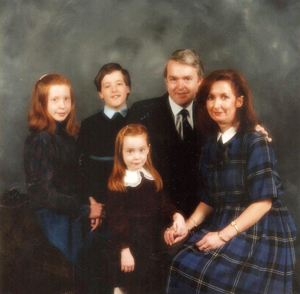 What do you do to switch off from work?
I read a lot and I like walking. And I watch TV miniseries — I'm watching Poldark at the moment and I love Downton Abbey and the Swedish ones like The Killing and The Bridge
What's your pet hate?
I don't like people who have long conversations on their phone on the train and speak twice as loud as they need to
If you could invite anyone, living or dead, to a dinner party, who would it be?
Seamus Heaney [Nobel Prize-winning Irish poet]
What did you want to be when you were growing up?
I went through various phases, but I wanted to be a journalist at school and ran the school magazine and it was great experience. I suppose some of the research I do now uses similar skills