As her heart raced, her mouth dried and her imagination ran wild with the tragic scenes that could lay ahead after reports of a gunman on campus, Sam Parrett was calmed by the wise words of her then-principal.
"No matter how much you're panicking inside, all the people in that building are panicking much, much more so our job is to keep everybody calm, keep the show on the road, make sure the students become safe, and that the police take away the person with the gun," she was told by then-Plymouth College principal Bill Grady.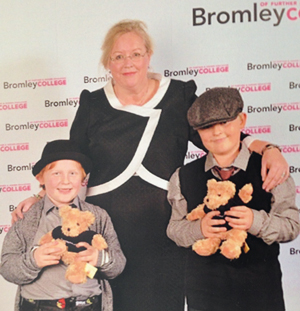 Parrett was his vice principal at the time — around 10 years ago — and together they were responding to news a student had brought a gun to college and shot another student.
"I was like 'Oh my God, what are we going to do?' and I got into real panic mode," she explains.
Thankfully, it turned out no student had been shot, while the gunman was swiftly arrested.
However, those wise words in time of extreme stress have stayed with Parrett, principal of Bromley College, in South East London.
"You just learn from that, that so much of your job running a college is to keep the show on the road — whatever it is that's going on outside," says 44-year-old Parrett.
"You have to decipher in your own mind which are the policies which are going to impact on you, which aren't, which are opportunities, which are threats and keep your organisation stable."
You have to decipher in your own mind which are the policies which are going to impact on you

 
The mother-of-two tells me this while sitting in the college's plush new training restaurant — itself perhaps testament to her belief in differentiating between challenges and opportunities.
The restaurant is part of a bid to revamp the Orpington campus and make the most of the town centre regeneration — but it's also the result of a surprise announcement Parrett faced on her second day as principal of Bromley in 2010.
"The principal of Orpington College came to see me and said Orpington was a million and a half in the red, its numbers were falling and the governors had instructed him to find a merger partner," she says.
"So in that first year where you're on probation and you're trying to make a go of being in your first principal's job, I also had a merger to deal with."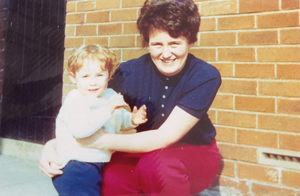 And the restaurant development, says Parrett, was part of cementing that merger.
"I decided we needed to create a focus for Orpington so the staff felt we were investing in Orpington — it wasn't a takeover or about running it down and then closing this site down," she said.
At the time of the interview, the restaurant had only been open four weeks, and was staffed by nervous 14-year-old Careers College students — but already it was full and attracting people from outside the college.
Parrett's own education became something of a "cornerstone" for her, she says, a constant when her father Phil's job as a salesman meant she had lived in Yorkshire, Lancashire, Gloucestershire and North Wales by the time she was 11, when the family settled in Dorset.
Her parents' work ethic (her mum Jackie was a sales rep for Pedigree dog food) was passed on to Parrett, who passed her grade eight flute exam — equivalent to a level three qualification — by the time she was 12.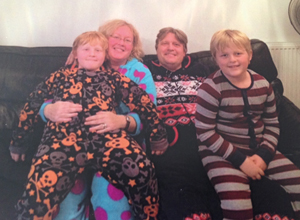 However, her A-level results were lower than predicted — thanks, she says, to TV heartthrob Jason Donovan.
"I was doing my GCSEs and A-levels in the first three years of Neighbours," she explains.
"And I used to run home from sixth form at lunch to watch it, and I never went back afterwards.
"So my A-levels weren't quite where I wanted them to be so I didn't go to my first choice university and life began — at Kingston, rather than Warwick."
However, she says, she should probably thank Mr Donavon, as alongside her sociology degree, she carried on her retail career at Kingston's newly-opened John Lewis.
By the time she'd finished university and a postgraduate diploma in HR the recession had hit and there were no HR jobs available.
But in her job at John Lewis she had progressed to become a staff trainer and so was able to get a part-time job as an assessor in retail in the early days of NVQs for private provider Link Training.
So much of your job running a college is to keep the show on the road — whatever it is that's going on outside

 
"So none of my education was at all relevant — but because I'd done this part time job for six years, I had a lot of experience in the retail sector," she says.
After three years at Link as a regional manager in Berkshire, she was asked by the local training and enterprise council to help pilot the new modern apprenticeships.
Surprisingly, the work was not a million miles away from the focus of today's apprenticeships reform, she says.
"I think that's always been the case that apprenticeships are employer-led," she says.
"Even right back in the early days, we would go out and meet with employers and you had the opportunity to design a local framework and that's exactly what we were doing 20 years ago."
The pilots were successful — but Parrett felt she was "in an ivory tower telling people how to do it, which just wasn't me".
So in 1997, Parrett walked into an FE college for the first time as a business development manager for work-based learning at Bracknell and Wokingham College, and within six years become a vice principal before heading to the Association of South Eastern Colleges.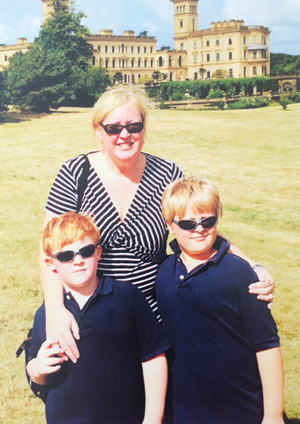 From there, she was told she needed more experience in colleges if she wanted to be a principal and was pointed in the direction of Plymouth College, where, she was told, the principal would be able to mentor her.
When a job came up, she applied and was successful — but in between getting the role and starting, the college was slapped with an Ofsted grade four, prompting the principal to leave.
Experienced college troubleshooter Mr Grady was drafted in part time, but the rest of the time Parrett and her fellow vice principal were left holding the reins, an experience she describes as "career defining".
But after the aforementioned gun incident, Parrett began to look for a college to call her own.
"I went for a job at another college and got down to the last two but wasn't chosen," she says.
"And the recruitment agent said, 'Don't worry Sam, you get the college which you deserve in my experience — and I've got a college up which I think is the right one for you.'"
What makes Bromley College right for Parrett, she says, is its connection with the community.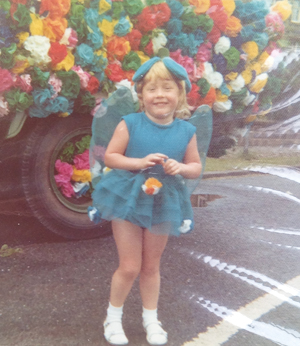 "The principal who left Plymouth College just after I arrived said to me: 'Don't live within 30 miles of the college — you won't be able to into Sainsbury's on Saturday without a student serving you or everybody knowing your business'," Parrett tells me.
"And I remember thinking 'How weird — why would you want to live that far away from the college and the community that you're working with?'
"And I made up my mind that that wasn't me really — I live 400 yards from the Bromley campus."
She adds: "When I talk to my colleagues in the sector there are principals who go round to lots of different colleges, stay for five years and then move on — and then there are others who stay somewhere for 15 years and they get it to outstanding."
And there seems to be little doubt in Parrett's mind that Bromley is where she'll stay.
"I fit here in Bromley," she says.
It's a personal thing
What's your favourite book?
It's always the latest one that I'm reading — at the moment its Boris Johnson's The Churchill Factor. It's all about his leadership style and you'd think there could be nothing new written about that but it's got the Boris Johnson insight and his interpretation so it's really an interesting read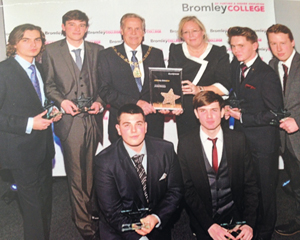 What do you do to switch off from work?
Family stuff because I work really long hours so I rarely see my kids during the week, so we go to the gym, kids' yoga and keep fit tennis. And I'm doing a PhD in my spare time
What's your pet hate?
Jobsworths — "computer says no" people. I come across far too many of those. And also people who say "that'll never work", who aren't open to trying new things
If you could invite anyone, living or dead, to a dinner party, who would it be?
Gary Barlow, not only because I am of the right era to be a massive Take That fan, but also I had a stillborn baby about three years ago and he went through a similar thing at the same time and he wrote this lovely song called Let Me Go. And [renowned crime writer] Martina Cole — she's been a really great advocate of the Bromley Children's University work we're doing with children here
What did you want to be when you were growing up?
I always thought I was going to be a social worker because I was one of those kids at school who looked after everybody