The controversial new apprenticeship levy was drawn up in "a darkened room", leading FE organisations to feel they were left "outside the tent" during the drafting process, according to speakers at an FE Week parliamentary debate.
The event, which was hosted by shadow skills minister Gordon Marsden and sponsored by OCR, featured a panel including Gemma Gathercole (pictured top right), head of policy at OCR; Martin Doel (pictured middle right), chief executive of the Association of Colleges; and Mike Cox (pictured bottom right), operations director of the Association of Employment and Learning Providers (AELP).
Ms Gathercole insisted that examining bodies had been shut out of the reforms, in a speech to a packed committee room at the Palace of Westminster on Tuesday (May 3).
She said: "At this point I couldn't even tell you where the tent was, that's how far outside of the tent I think awarding organisations have been kept.
"I think I can speak on behalf of the awarding organisation community — we have a lot of experience in this sector, a lot of experience on assessment, [but] we're not even allowed to talk to employers and providers on assessment policy because we've got to be invited in."
Saying that bodies like OCR had been kept "at arm's length would be the most positive understatement" she could make for the situation, she added.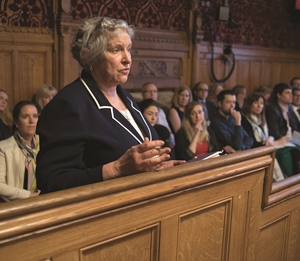 Mr Marsden also addressed sector engagement in responding to a question from Linda Hausmanis, director of education at BIFM (pictured left), who asked: "Is anybody looking at employers, who say for instance may have a current employment bill of £3.5m?
"Some sharp corporate lawyers might be thinking we are going to start splitting the companies up so that it will take them below that £3m parapet."
He stressed the importance of sector engagement, saying: "If you don't want to get the mass displacement that's been talked about, such as chopping up groups to escape the levy, you've got to engage with the sector.
"If you don't involve people who are on the ground, providers, learners and all the rest, the finest minds in the civil service will get it wrong."
Mr Marsden added that the government should "be prepared to take the flack".
"Better to do that and get it right", he said, "than plough ahead regardless and find yourself in an undignified scrabble after being rejected by many of the people you need to work with, because basically you haven't listened to them".
Fellow panellist Mike Cox, shared the concerns and said: "We have been consulted very lightly."
He stressed that AELP had been "very strong and robust" in answering the government's formal consultation process, but added that "outside of that" there had been few opportunities to comment.
"The parallel I suppose I would draw is with the introduction of the study programme and traineeships — I felt there was a lot more consultative behaviour and there were working groups that we put in place to really help hone the detail on those," he said.
"I suspect as a result of that there will be an awful lot of follow-ons and clarifications, and that worries me a little bit because at the moment we can't answer the questions."
Mr Doel drew a parallel between the levy preparations and his previous work in military planning.
"One of the things we did in any operation is scenario-plan the reaction to whatever we would do, from the opposition's perspective.
"The way you get to that is actually not just having extraordinarily clever civil servants writing rules in a darkened room," he said.
"They should come out to the sector and ask how you will react to this bit of policy guidance, then try to anticipate that and how you might go ahead with that policy."
FE Week put the concerns to the Department for Business, Innovation and Skills, but it declined to comment.