The Skills Funding Agency (SFA) will be contacting lead providers who have failed to publish subcontracting information in a crackdown on non-compliance.
The SFA told FE Week on Wednesday (May 4) that it had found evidence of providers failing to publish full details of their subcontracting figures — including fees and charges — despite previous threats that this would caus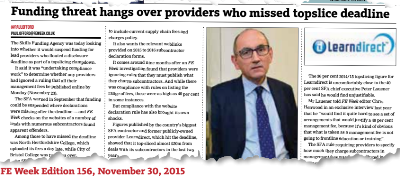 e their funding to be suspended.
A spokesperson said: "As a result of our non-compliance subcontracting work, we will be writing to our lead providers who are non-compliant in: publishing their fees and charges for 2014 to 2015 and/or 2015 to 2016; and those that are non-compliant in producing a valid audit certificate on their subcontractors, to advise them of the next steps."
The SFA declined to explain what these next steps would be.
The threat comes after the agency warned last September that it would suspend public money for lead providers who failed to publish what they charged each of their subcontractors in 2013/14 and 2014/15.
The SFA had previously introduced a rule requiring providers to reveal their management fees — before FE Week found (pictured) that it was being ignored by a number of providers.