Another flagship national college is set to dissolve after facing insolvency and requiring government bailouts to stay afloat.
The National College for Advanced Transport and Infrastructure (NCATI), formerly known as the National College of High Speed Rail, is consulting on plans to dissolve its FE corporation and reform as a subsidiary company of the University of Birmingham.
The college's two campuses, in Birmingham and Doncaster, will transfer if the greenlight is given to the proposal. This is being led by the university but supported by partner organisations, including City & Guilds, Trafford College Group and railway training overseers the National Skills Academy for Rail.
A consultation document published on the college's website says this new model is "expected to enable financial sustainability to be achieved in order to meet the future needs for the rail, transport and infrastructure sectors".
It would be the second of the five national colleges to dissolve, following the National College Creative Industries.
NCATI needed £4.55 million from the Department for Education to sign off its 2017-18 accounts and was placed in formal intervention in December 2019.
An FE Commissioner report published last February told how NCATI's board had been advised on how to operate while facing a "potential insolvency" and that "radical change" was "urgently required".
The college, the report said, needed a commitment of 12 months of continued emergency funding for the board to sign off their 2018-19 financial statements as a going concern.
The college's 2018-19 accounts are yet to be published. A spokesperson told FE Week this week that the financial statements are currently with the auditors.
When the FE Commissioner's report was published, DfE ministers placed NCATI in supervised status and a structure and prospects appraisal was launched to find organisations to partner with NCATI, which led to the proposal to become part of the University of Birmingham.
The consultation document also confirms NCATI has lost its place on the register of apprenticeship training providers (RoATP), meaning it cannot start any new apprentices.
An Ofsted inspection in November 2019 rated the college as 'inadequate' and slapped the same grade on its apprenticeship provision. According to Education and Skills Funding Agency rules this usually means that a provider is removed from the register.
This has had an impact on the college's attempts to improve its finances, with the consultation document admitting the removal from RoATP was one of the reasons "it has been unable to secure the growth in income that it needed to be sustainable".
NCATI is planning to resume recruiting apprentices by regaining its position of RoATP but says it will be able to do so "in the meantime via the university's registration".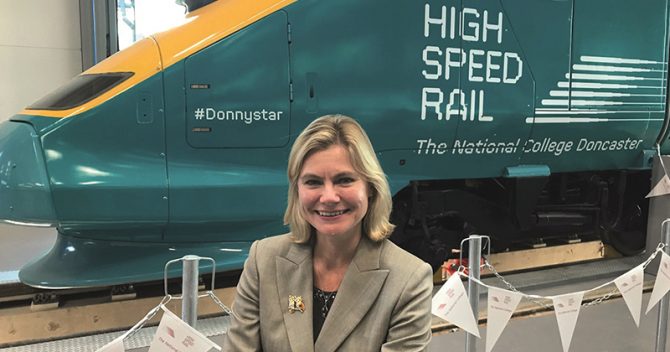 NCATI has had a torrid time since being opened by then-education secretary Justine Greening in 2017 (pictured, left) as the National College for High Speed Rail. It has struggled to recruit learners due to delays in announcing contractors for the High Speed 2 railway project, which meant employers were unable to commit to the apprentice volumes they had originally anticipated.
FE Week exclusively revealed in February 2020 that NCATI had taken Ofsted to court over the grade four report, blowing £73,000 on the legal challenge, which it eventually abandoned.
What is now being proposed by NCATI and the university, whose bid was announced in August as the preferred one for taking over the college, is very similar to what happened to the National College Creative Industries.
The college dissolved having only made it through 2017-18 as a going concern thanks to a £600,000 bailout from the DfE.
After dissolving, the National College Creative Industries reformed last year as a limited company, NCCI Ltd, which licensed provision to Access Creative College and South Essex College.
This process was overseen by NCCI's interim principal, Sue Dare – who now works as interim principal of NCATI.
A spokesperson for NCATI told FE Week any potential job losses will not be decided until at least mid-February, after the public consultation has ended and NCATI's board has approved its outcome.
The consultation is running until 5pm on Friday January 29, and more information is available at www.nchsr.ac.uk/consultation