Trouble-hit City College Coventry has been hit with its second 'inadequate' Ofsted report in less than three years, FE Week can reveal.
The latest report out today rated the college as 'inadequate' for effectiveness of leadership and management, quality of teaching, learning and assessment, personal development, behaviour and welfare, outcomes for learners, 16 to 19 study programmes, and apprenticeships.
It comes after the college improved to grade three ('requires improvement') following an inspection in June 2014, from its previous grade four rating in April 2013.
The latest report said that "much teaching is inadequate, too few learners complete their qualification successfully and too few current learners make good progress in their learning", although it recognised that the leadership team had "secured successfully college finances".
It raised widespread quality concerns, stating: "Performance management of managers and staff is weak and has not raised the quality of provision to good across much of the college's work.
"Managers continue to overgrade the quality of teaching, learning and assessment, and do not use a wide enough range of measures to judge fully and reliably the quality of learning," the report added.
It comes after FE Week reported on December 11 that a new interim principal would take the reins at the college early next month.
Dr Elaine McMahon (pictured above) will start in the role at the 5,944-learner college on January 4, taking over from Steve Logan, who has spent just 18 months in the top post.
The 2013 'inadequate' rating previously prompted the departure of former principal Paul Taylor after 16 years in the job.
A further unfavourable Ofsted report was widely expected, after chair of the board of governors Maggie Galliers told FE Week two weeks ago: "We were disappointed by some of our success rates this year and the [Ofsted] inspection highlighted a number of important areas where significant changes and improvements are needed.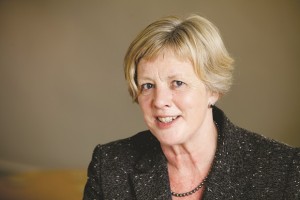 "We have therefore moved swiftly to appoint the right person to take the college forward.
"Elaine is an extremely experienced, well-respected and successful former principal, who is enthusiastic about joining us.
"Her priorities will be accelerating the pace of quality improvement, ensuring the continued financial health of the college and preparing for a local area review of FE provision announced for November 2016."
The college has an unhappy long-term history with Ofsted, which also gave it grade three ratings in April 2010 and May 2007.
No-one from the college was available to comment ahead of publication.