Three golds were crowned with an illustrious first for TeamUK as beauty therapist Rianne Chester was handed the award for best overall WorldSkills competitor in a glorious night in Brazil.
The Albert Vidal award went jointly to the Warrington Collegiate learner (pictured above) — the first time the UK has ever won the prize — while a further four silver and two bronze medals went to her team-mates.
The gold achieved by the 21-year-old, who runs Beauty By Rianne, was equalled by TeamUK plumbing and heating competitor Gary Doyle, from Northern Ireland's Southern Regional College and Kieran Trainor Plumbing and Heating and also 21.
And the skills of 21-year-old Chichester College learner Edward Harringman, who works for Harringman Cabinet Making, meant the gold achieved by fellow cabinet maker George Callow, who also went to Chichester College, two years ago in WorldSkills Leipzig was retained.
Silvers went to the UK landscape gardening team of 21-year-olds Matthew Beesley, from Cheshire's Reasheath College and Beesley Landscapes, and Jonathan Gill, from Northern Ireland's College of Agriculture, Food and Rural Enterprise and Jonathan Gill Landscapes.
The third silver was claimed by UK's 24-year-old aircraft maintenance competitor Shayne Hadland, who trains with RAF Cosford and works at RAF Benson. He also walked off with the best in nation award, while the fourth silver went to 21-year-old Christopher Bailie, from South Eastern Regional College and BL Refrigeration and AC Limited, in refrigeration and air conditioning.
The UK bronze medals were won by 20-year-old architectural stonemason Sam Turner, from York College and The Dean and Chapter of York Minster, and 22-year-old car painter Rebecca Wilson, from Northern Ireland's Riverpark Training and CM Accident Repair Centre.
[slideshow_deploy id='38884′]
Skills Minister Nick Boles offered his congratulations to the team, whose performance at Sao Paulo across four days of intense competition could get even better with medallions of excellence — awarded when competitors miss out on the top three spots, but hit scores of internationally-recognised standards — yet to be given out.
The haul of nine podium place medals, handed out at the Ibirapuera Gymnasium, was two up on WorldSkills Leipzig two years ago, when Team UK claimed two golds, one silver and three bronze, along with 17 medallions of excellence.
Skills Minister Boles said: "Congratulations to Team UK on its impressive medals tally and achievement at WorldSkills São Paulo.
"Their hard work shows how far apprenticeships and professional and technical training can take young people, and the skills they are learning will help drive them towards an exciting and rewarding career."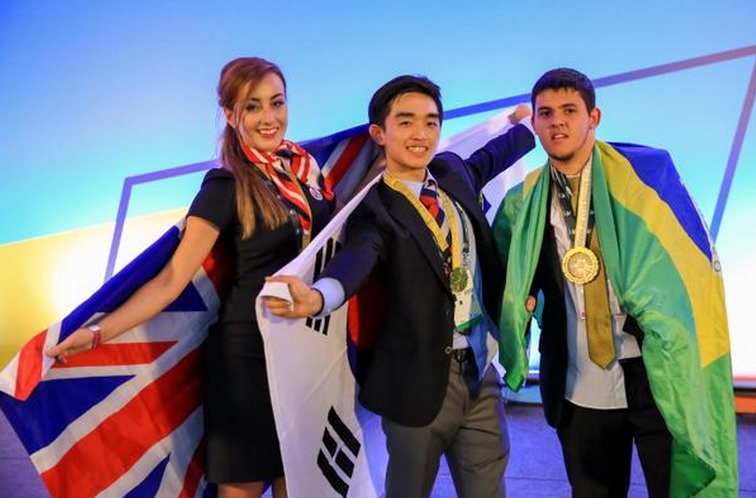 The evening included traditional Brazilian music and dancers, plus a retrospective video looking back at the entire competition, and there was also a video about Abu Dhabi, the host city for the 44th WorldSkills Competition in 2017.
The final award of the evening was the Albert Vidal prize, which Rianne shared with automobile technicians Jeong Woo Seo, from Korea, and Luis Carlos Sanchez Machado, from Brazil.
Carole Stott, chair of Find a Future, which manages the UK's entry into the WorldSkills competition, said: "WorldSkills São Paulo gave Team UK the opportunity to showcase the UK's vocational and FE system on a global stage.
"The hard work they have all put in over the last two years to prepare for the competition, alongside their committed training managers has really paid off and we are thrilled with the results they have achieved.
"We urge the nation to join us celebrating the success of Team UK and give them a champions' welcome on their return."