Some ingenious thinking about the difference between British and Brazilian plaster could lead TeamUK competitor Robert Johnson to gold.
The Redcar & Cleveland College 22-year-old had 80 bags of the stuff shipped to the UK from South America to make sure there were no nasty plaster-based surprises.
WorldSkillsUK stalwart Peter Moore, Robert's training manager, who works for Construction Skills Academy, was behind the brainwave and it may just have put TeamUK on a footing with plastering and drywall systems long-term achievers Germany.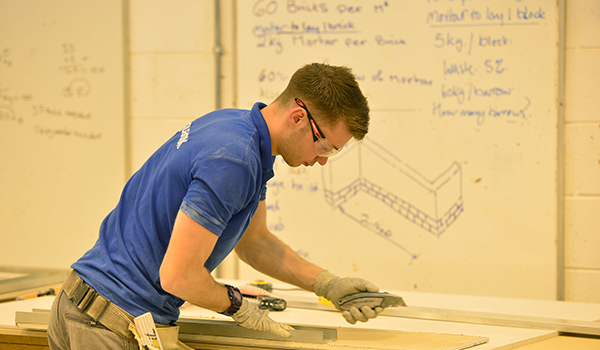 Robert, who works for dad Peter's Classic Plaster Moulds firm, told FE Week last night at the end of day two of competition: "The first two days of competition have been tough. There have been a few changes made but nothing that has affected my game.
"Tomorrow we start with the Brazilian plaster, which I've been practicing with at home — we got a ton shipped over for me two months ago to practice with. We had about 80 bags and I got through half of it.
"In Brazil the plaster is very different with a longer set time, because using our plaster in this heat it would just dry straight away. It's different to use and so I've had to learn a totally different technique to use it.
"On familiarisation day I didn't try it out because I didn't want to give any techniques away because I know how to use it — others don't.
"But the German competitor was the only other one who didn't try it either and they win it every year, so they've done the same I think. I've seen his work and, again, they're good."
He added: "No one wins with 100 per cent at my skill, but I'd put my score so far at 98 per cent — I lost out on just two measurements, which is a common fault. But that's a personal best so I can't complain."
There was also a positive view on TeamUK progress over at architectural stonemasonry, where 20-year-old Sam Turner was giving credit to his training manager, Kevin Calpin (pictured top), from Calpin Associates.
"I'm really happy with where I am today [end of day two]. My timing is really good. Yesterday was just as good. Everything's been spot on with my training and where I need to be," said Sam, from York College and who works at The Dean and Chapter of York Minster.
"There are three modules to the task — there are templates that are cut out of aluminium sheet, the second module is a letter and carving module then third is a masonry module which is similar to a column.
"The masonry is the hardest — it's got a lot of marks in it and a lot of work. I started it yesterday and it's got to be finished by 2pm on Saturday. I saw the plans before then but there was a 30 per cent change — but they made it easier if anything.
"My training manager's pushed me, but it's what I've needed to get me here."