Harrods provides the unexpected setting for the early career of Association of Colleges (AoC) president-elect Richard Atkins.
He admits it was a stint at the world famous London department store that gave him his first opportunity to grow as a person and pave his way to greater things.
It followed his adoption as a baby by Jim and Betty Atkins, with whom he enjoyed a "stable, happy family upbringing".
A "typical boy" at school, he blames an obsession with sport and not taking his studies seriously enough for the fact he left Belmont School, in Hereford, in 1971 with two "very ordinary A-levels".
"I had moved to London and was living in Hammersmith, and there was a temporary job over the summer to work as what they [Harrods] called the mobile," says Atkins, the 60-year-old principal of Exeter College.
"They would ring up each day and say they were short in this department or that department and needed an extra pair of hands. I did my first day in the floristry.
"I stayed for three years and got direct entry onto their management programme. There was the interview progress for graduates, but every year they took so many from within the business. And then we did day-release, block-release and all of the rest. Then I became a manager at the warehousing and distribution place in Barnes.
"I suppose I gained a whole range of business and employability skills which I like to think have stood me in good stead for the rest of my life."
Following his stint in retail, Atkins did teacher training at Bulmershe College, in Reading, between 1976 and 1979. He then taught business studies and history at Bishop Reindorp School in Guildford while studying at the University of Surrey for a Master's degree. During his studies, colleagues pointed him in the direction of FE — a path he had not considered before.
He says: "I was at the local university doing a MSc in education management. Most of the people there were in FE, and talking to them, they asked why I hadn't gone into FE. I said, like a million other people, I didn't really know about it."
His first job in the sector was at Chichester College in the early 1980s as a student liaison officer and lecturer, again in business studies and history. He then taught at Guildford College before joining the senior management team at York.
He then moved his family to Somerset and himself to Yeovil College as assistant principal, before being promoted to the top job within 10 months.
He says: "The year was 1994. It was immediately after incorporation — it was a very interesting time of change and we had a high average level of funding. My predecessor decided to retire, and I was principal there for seven years."
His move back to the West Country — having been born in Bristol in 1953 — brought about a change in family circumstances, as Atkins found himself living near his mother and sister Celia for the first time since he was 18.
The government is very concerned about skills, and so am I, but my college is about so much more than
just skills
They followed him and his wife, Vicky, to the village of South Petherton, Somerset, where they have now lived for more than 20 years and raised two children: Sarah, 25, and Beth, 22.
He says: "I had lived quite a long way from my parents and my sister until I was in my 40s when they moved to be in the same village as us.
"My father had died, my sister was a single parent at the time, and we all ended up living in the same village. We all had to get to know each other again in a different way really.
"By then I had been married for 10 years or more, we had two young children, and I had got used to the idea that I always lived a long way from my parents.
"For my children, growing up in the same village as their grandmother has been a very good thing, and something I didn't envisage at all in the years beforehand."
Atkins has run Exeter College since 2002 which, with 1,800 A-level students studying alongside 1,500 apprentices and 1,200 learners expected to move on to university this year, is unusual in its own right.
He says Exeter, like York and many other cathedral cities, has a "wide social spectrum in a fairly small geographical area", but that is not what makes his college stand out from the crowd.
"In Exeter there are still no school sixth forms in the city," says Atkins.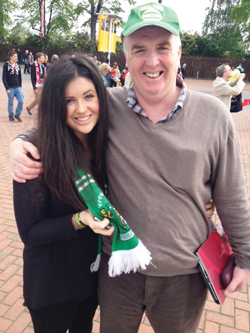 "The instant reaction of people is that it must make life easy, but my experience has been that you have to work extremely hard on the relationships with those schools because it's an undercurrent the whole time of 'shall we have a sixth form?', particularly with successive governments saying sixth forms are the answer.
"Whenever anybody arrives from away they scratch their heads and ask how we're doing all of this.
"Our answer is that we've been doing it the same way for 43 years and it's not gone too badly so far.
"One of the things we pride ourselves on is our sense of inclusiveness. I have in my college very middle class children, but I also have large numbers who come from a background of free school meals."
As he prepares for his year as president of the AoC, which will begin in August, Atkins makes it clear he will be not go easy on this government.
He makes no secret of his disdain for the "outrageous" cut in funding for 18-year-old learners, and the government's "salami-slicing" approach to funding cuts in general.
He adds: "The government is very concerned about skills, and so am I, but my college is about so much more than just skills. It is a significant asset for Exeter. I find the government takes a telescopic view of what we do."
He says he often has to deal with a Department for Education which "does not have a deep interest in FE or colleges", but also speaks with pride of his work over the last seven years on the AoC board.
He says: "I have really enjoyed working with other principals to develop the AoC and I think it is in good shape.
"It is more influential than it was. I believe the AoC is doing better, but as always a lot more could be done, and this sector does occupy the shadows a bit.
"I thought the response to the 18+ cut was fantastic, and it is so important at the moment that we act together and make a lot of noise."
—————————————————————————————————————————————————
It's a personal thing
What is your favourite book?
The Diary of a Nobody, by George and Weedon Grossmith
What do you do to unwind after work?
I spend time with family, watch and read 'Nordic Noir' films and books, and I follow Yeovil Town FC
If you could invite anyone, living or dead, to a dinner party, who would it be?
Abraham Lincoln, RA Butler, Ella Fitzgerald, Sofie Gråbøl [Danish actress and star of TV series The Killing], Gary Johnson [Yeovil Town manager] to be held at Gidleigh Park, Devon
What is your pet hate?
Lack of mutual respect
What did you want to be when you were growing up?
A police officer