Dr Mary Bousted's route to the top job at the Association of Teachers and Lecturers was (ATL) entirely unconventional.
This is no stereotypically duffle-coated, megaphone-wielding trade union leader.
The former teacher and university lecturer always considered herself a trade unionist, but never imagined she would lead the ATL.
Teaching initially in Harrow, West London, she joined the National Union of Teachers because "if you are a teacher, you are automatically a member of a trade union".
"I was the school rep," she says. "I used to go to branch meetings, I took part in the national industrial action in the 1980s and I was involved in the union but I wasn't a major activist. My primary concern was, as an English teacher who got promotion quite early and became head of English, I worked extremely hard. I did go to union meetings but the hours were spent in curriculum preparation, marking, measuring progress, the busy work of being a teacher.
"I did not look to the unions for a career. I looked to make my contribution, but I was pursuing a career in teaching. I saw the work of my parents, and I also thought I had been taught, many times, not well. I was possessed with a very strong desire to do it better."
Born in Bolton in 1959 to Edward and Winefride Bleasdale, Bousted became a self-confessed expert in "warfare and diplomacy" as the second youngest of eight children.
Her father, a Liberal supporter who would choose articles from the Guardian to inspire constructive debate at the dinner table, was the headteacher at St Osmunds Roman Catholic Primary School, where Bousted spent her early years. Her mother, a Labour supporter, was also a teacher.
"My father has always been the biggest professional influence on my life," she says.
"He was headmaster of a school in the middle of a big council estate in Bolton, which is a highly deprived area. The 11-plus was operating in Bolton and he got the highest rate of passes of any school because he was absolutely determined that those children should get the educational and life chances that he thought they deserved."
After leaving primary school, she followed what she calls a "very traditional" route — first to grammar school, then to the University of Hull for an English degree and to the University of Durham for a PGCE.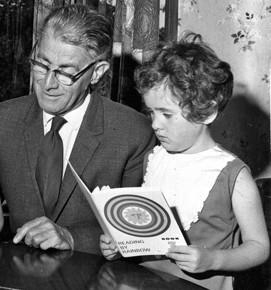 Her first teaching job, at a girls' school in Harrow, provided her with a wake-up call in terms of diversity, after a Roman Catholic education and higher education in very "monocultural" places.
"I had gone to a Roman Catholic school, so we saw the Asian population on the bus, but we didn't go to the same schools," she says.
"Then I went to Hull and then Durham, very monocultural higher education institutions. I started teaching in Harrow and immediately I was teaching in a school where a majority of girls were Asian, and that was a big cultural learning for me.
There was a big Afro-Caribbean population within the school and that is where I began to learn the importance of respecting and understanding difference
"There was also a big Afro-Caribbean population within the school and that is where I began to learn the importance of respecting and understanding difference, and not being threatened by difference. It is also where I learned the importance in education of children and young people seeing themselves in the curriculum. It was during the 1980s and the beginning of coursework in GCSE.
"There was a huge amount of work around teaching educational literature, teaching and dialect and around tackling issues of social justice through good prose and through poetry. It was a tremendously exciting and innovative time to be teaching, and I was tremendously involved in that and enthused by it."
After 10 years in North London, Bousted joined the University of York and set up their teacher training programme in English. She then moved to Edge Hill University in Lancashire, running their secondary teacher training programme, before moving to Kingston University as head of education. She also gained an honorary doctorate from Edge Hill along the way.
She got the top job at the ATL in 2003 after seeing an advert in the Guardian, and said she was surprised when she was offered it.
"I became general secretary having never been a member of the ATL, and having not gone through the usual union route of being elected through the executive," she says.
"I encountered a lot of people who were unpleasantly shocked, and there was a clear belief in the first two or three years that I had come a major cropper because you couldn't possibly run a union if you hadn't been involved in the executive and hadn't been a long-time staff employee.
"What I could do was see the union losing membership, losing profile, and seeing how it needed to be addressed and turned around. I am very proud of leading a modern union in the 21st century."
Bousted is, like her counterparts in other teaching unions, scathing of the Coalition and its "encroachment" on areas of policy she says should be firmly in the hands of the profession.
She also makes no secret of her distain for the vocational education credentials of the current governement. She says: "This government has not been interested in vocational education. Vocational education and training has come after, in their terms, sorting out the school curriculum, it is always an add-on. [Skills Minister] Matthew Hancock makes a lot of going to an FE college, which he did on a very temporary basis, and he is always on shaky ground when he talks about skills. They just don't get it. I think [Business Secretary] Vince Cable probably does, because he's a clever bloke."
She sees FE as having an "absolutely essential role", especially for those from working-class backgrounds who don't want "the debt or far-from-home aspects of higher education".
She adds: "If as a society we are serious about raising skill levels, then the current neglect of FE will have to stop. I think many in the FE feel and could argue legitimately that promises [ring-fencing of school budgets] have been made at the expense of decent funding for FE and for the agenda the government says it wants to promote, particularly when you get all the noise about apprenticeships, traineeships and youth unemployment.
"FE plays an absolutely key role in that, but it is clear that key role is not being backed by proper funding."
—————————————————————————————————————————————-
It's a personal thing
What is your favourite book?
A Room With a View — EM Forster. I think it is delightfully written and it re-acquaints me with the importance of difference. Mrs Honeychurch is one of the great comic creations in literature. She is delightful
What did you want to be when you were growing up?
I did flirt with being a nun. I did like going around with a towel on my head and I thought I would look very good with wimple. Once I hit adolescence that lost its allure
What is your pet hate?
Being in a crowded train carriage, when someone takes a phonecall and seems to think that the rest of the carriage is as interested in why they can't access their bank account as they are. I know people have to take phone calls on trains, but just keep the volume down
If you could invite anyone to a dinner party, living or dead, who would it be?
William Shakespeare, Jane Austen, Gregory Peck and Hilary Clinton
What do you do to switch off from work?
I am a keen cook. I like home cooking. I am a keen viewer of Nordic noir drama — like The Bridge and The Killing — and I also cycle