The government will only accept proposals from providers in 20 of England's 38 local enterprise partnership (LEP) areas for its upcoming Institutes of Technology tender.
Education secretary Gavin Williamson announced at the Conservative party conference in September that a further eight IoTs were to be created through a new £120 million competition.
His promise came months after the FE Week revealed cold spots with the first 12 IoTs, which began to open in September 2019. There were none planned for the north west and the east of England.
A 'wave two prospectus' was published by the Department for Education today and states that the new 12-month competition will launch "later in the year".
It adds that only proposals from the 20 LEP areas that are currently not covered by an IoT will be eligible to apply (see map).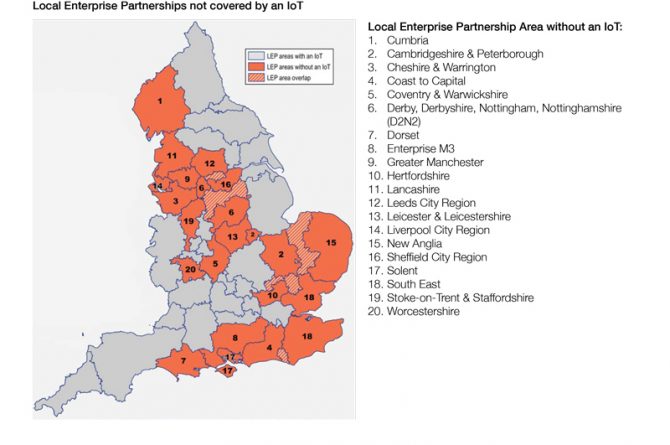 All applications must meet the "strict minimum conditions" set out in wave one and be a collaboration involving further education, higher education and employer partners.
The prospectus does not detail the exact criteria, but the first IoTs had to involve colleges with at least a grade two from Ofsted and have good financial health.
The first wave of IoTs are being created through a £170 million pot of capital funding.
They are a collaboration between colleges, universities and employers, and specialise in delivering higher level technical training at level 4 and 5 in STEM subjects, including digital, advanced manufacturing and engineering.
Williamson said: "Institutes of Technology will play a vital role in our plan to transform higher technical education across the country, helping to level up skills and unlock growth and opportunities.
"We are making good progress to establish the first wave of IoTs and I look forward to welcoming the second wave of applicants, completing our high-quality national network."