The 20 colleges which will take part in the first year of the WorldSkills UK Centre of Excellence have been announced today.
The "centre", run by WorldSkills UK with £1.5 million from awarding organisation NCFE, will involve training up teachers in international best practices, as well as digital workshops featuring talks from training managers from other countries.
Education secretary Gavin Williamson said the "innovative partnership" between WorldSkills UK and NCFE will ensure "young people receive the best vocational training possible and help businesses access the talented workforce they need to rebuild after Covid-19".
The 20 colleges (see list below), picked from 55 applications by general FE colleges, will have five staff members taught by high performance skills coaches – who also work as WorldSkills UK training managers – how to use techniques the coaches used to train competitors with students at their college.
This will not only involve teaching technical skills, but will also incorporate the psychological conditioning competitors receive during their preparations for the international WorldSkills and EuroSkills tournaments.
WorldSkills UK's deputy chief executive Ben Blackledge said: "It's about taking those learnings, and also the technical learnings, and applying that to anyone in the college, whether they are doing a level 6 or a level 1."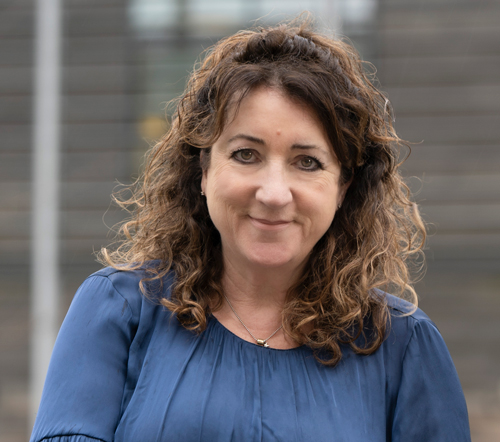 As one of the participating colleges, Trafford College said getting involved was a "no-brainer", having been very proactive with skills competitions. One of their students, Ben Metcalfe, is a potential competitor for WorldSkills Shanghai next year.
Assistant principal Joan Scott (pictured) said they are hoping they will get a "brilliant" development programme for the five educators they have chosen for training from a performance coach assigned to them by WorldSkills.
There is, Scott says, "often a gap between what you're doing in colleges and those international standards, so we're hoping we could empower our teachers to really help and boost standards of the delivery of technical education.
"It's not just about putting people in competitions."
And with the economy stalling and unemployment rising, Scott highlights the importance of equipping students with high level skills to compete in the job market, while also helping employers to be more competitive.
The college is hoping the training from the centre of excellence will give students a "base from which to get jobs and be more successful".
This programme is not about competitions and getting the UK more gold medals
Raising standards to international levels was also brought up by the chief executive of Chichester College Group, Shelagh Legrave, when she spoke to FE Week about taking part in the centre.
She is "absolutely thrilled" the college has been chosen, as she wants more of their students participating and winning WorldSkills UK's annual National Finals and getting onto Team UK.
Another reason for taking part in the centre and taking on that international practice is: "You don't know if the benchmark you are achieving is the benchmark the rest of the world is achieving."
Chichester is already deeply involved with WorldSkills UK: Lecturer Andy Pengelly is the WorldSkills UK training manager for joinery, and head of furniture studies Christian Notley is training manager in cabinet making.
Legrave says a "really welcomed" opportunity with the centre is to "expand the practice we have in WorldSkills in furniture making" across the college "more systematically".
Blackledge said WorldSkills UK is "keen" on involving colleges who have not participated with WorldSkills before, like City of Liverpool College and Barking and Dagenham College, this year: "This programme is not about competitions and getting the UK more gold medals – it's about how do you take the learning and benefits from the competition and making sure they are more widely embedded."
The Centre of Excellence programme will also involve using WorldSkills UK's "unique insight into global skills systems" to help develop assessments and qualifications, as well as independent research into how other countries improve the teaching in their skills system.
In addition to the 20 colleges, a further 35 will be invited to join the WorldSkills UK Innovation Network, with access to the digital workshops, and with an opportunity to join the centre next year. Independent training providers are also set to be invited to join the programme from next year.
Speaking ahead of the Centre of Excellence's national launch at Trafford College today, WorldSkills UK chief executive Neil Bentley-Gockmann OBE said: "This is a radical new way of working with college leaders to bring global best practice to local economies and level up skills across the country – ensuring that we can embed international standards into training programmes and deliver what employers need in order to kick-start the economy."
Colleges selected to be part of the first year of the WorldSkills UK Centre of Excellence 
College

Region

North Warwickshire and South Leicestershire College

East Midlands

West Suffolk College

East of England

Barking and Dagenham College

London

Sunderland College

North East

East Durham College

North East

Middlesbrough College

North East

City of Liverpool College

North West

Wirral Met College

North West

The Trafford College Group

North West

Preston's College

North West

Dumfries and Galloway College

Scotland

New College Lanarkshire

Scotland

Chichester College Group

South East

Havant & South Downs College

South East

Wiltshire College

South West

Cardiff and Vale College

Wales

Coleg Gwent

Wales

Dudley College of Technology

West Midlands

Rotherham and North Notts Group

Yorkshire and the Humber

Doncaster College and North Lindsey College

Yorkshire and the Hum

ber